Archive 1 (October 13, 2012 - October 13, 2013)
Song of the Week
Paul McCartney - Queenie Eye
1 10pxe/pD8-uczf3sk$3 (click to play)
Chat and messages
Find me on chat. I'm usually on during evenings, sometimes during afternoon, and rarely in the morning (so don't check around that time). If I'm not in and you wanna leave me a message or just talk, leave a message on my talk page, which you are on right now.
If you like to chat in a browser, like me, click on this link here
My usual chat hours (Effective September 4th, 2013 - June 23rd, 2014):
Monday - Thursday: 6:00 PM - 10:00 PM
Friday: 4:00 PM - 10:30 PM
Saturday - Sunday: Varies - 10:30 PM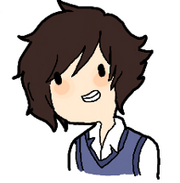 Quick Disclaimer
Don't forget to add headings to every message and don't forget to add your signature by adding the 4 ~'s.


The 2nd Law

01:09, April 27, 2013 (UTC) :)
AAAAAH
QQQ.