Welcome, have a look around
About Me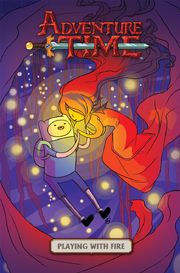 Hello reader, welcome to my user page. I am an avid editor who enjoys editing characters' personalities, appearances, relationships and many other sections. As English is not my first language, I might have made many grammar errors in the pages I edited, so please correct them if you can. I first watched Adventure Time on 15 January 2013. The first episode I watched is "Blood Under the Skin" and I joined the fandom in early Season 5, right after losing interest in my previous favorite show.
My Favorite Characters
I have not been a big fan of Flame Princess until "Vault of Bones," where her character development and badassery came in. Since then, even after her break-up with Finn, I am still a big fan of her. I find her interesting, complex and relatable, and even decided to analyze her on one occasion. She is a rather realistic character who always make me very excited whenever it is announced that an episode would be focused on her due to her lack of appearances in the show. She is also one of the main reasons I started to watch this show and the first character that I realized to have several similarities with.
Ever since "Henchman" aired, I took a liking to her for being a trickster and even more when "It Came from the Nightosphere" showed more of her character. I really like her character development, backstory (most of them are this) and relationship with others. But after "Simon & Marcy" aired, I find her less interesting, so she was kinda pushed back on my list for quite a while.... "Stakes" only make me like her more.
They are both tied for third place, and I like them for obvious reasons, I believe. They are relatable, and well-developed characters with interesting backstory respectively.
Again, for obvious reasons, he has an interesting backstory and good character development. He makes me feel emotional, I feel sympathetic for him.
Flame Princess' Outfits
My Favorite Episodes
Season 1
Season 2
Season 3
Season 4
Season 5
Season 5.2
Season 6
Community content is available under
CC-BY-SA
unless otherwise noted.