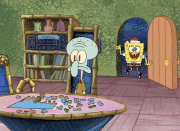 About me
I am Fsaenz0125, a television (although not very much often nowadays) viewer. I watch a lot of cartoons including this show. The picture to the right is from SpongeBob SquarePants, a show with Tom Kenny as the titular sponge. It is the best show ever and I am trying my best to ignore the post movie haters. They're all the over the place (Internet).
As for Adventure Time, I like the show, but it's not the best thing that CN had nowadays (Regular Show, Steven Universe, We Bare Bears, and even Uncle Grandpa is better). Here on this Wikia, I will not do that much since it looks like there's already a bunch of crew members pages being done (I will edit on other cartoons' wikia if I need to, especially if there's not enough pages. I usually create pages for the people who writes for a show, as well as directors and more crew members.)
My score
Season 1
Overall season: 8.5/10 (Paper scores coming soon)
Season 2 (Paper scores coming soon)
Overall season: 8/10
Season 3
Conquest of Cuteness: 9/10
Morituri Te Salutamus: 7/10
Memory of a Memory: 9/10
Hitman: 10/10
Too Young: 10/10
The Monster: 6/10
Still: 8/10
Wizard Battle: 8/10
Fionna and Cake: 10/10
What Was Missing: 10/10
Apple Thief: 9/10
The Creeps: 10/10
From Bad to Worse: 10/10
Beautopia: 9/10
No One Can Hear You: 7/10
Jake vs Me-Mow: 8/10
Thank You: 2/10
The New Frontier: 6/10
Holly Jolly Secrets (Parts 1 and 2): 8/10
Marceline's Closet: 7/10
Paper Pete: 6/10
Another Way: 3/10
Ghost Princess: 9/10
Dad's Dungeon: 8/10
Incendium: 7/10
Season 4
Hot to the Touch: 8/10
Five Short Graybles: 10/10
Web Weirdos: 4/10
Dream of Love: 8/10
Return to the the Nightosphere: 7/10
Daddy's Little Monster: 8/10
In Your Footsteps: 5/10
Hug Wolf: 6/10
Princess Monster Wife: 3/10
Goliad: 8/10
Beyod This Earthy Realm: 7/10
Gotcha!: 9/10
Princess Cookie: 10/10
Card Wars: 10/10
Son of Mars: 8/10
Burning Low: 7/10
BMO Noire: 7/10
King Worm: 10/10
Lady and Peebles: 9/10
You Made Me: 10/10
Who Would Win: 10/10
Ignition Point: 7/10
The Hard Easy: 6/10
Reign of Gunters: 9/10
I Remember You: 10/10
The Lich: 10/10
Season 5
Finn the Human: 10/10
Jake the Dog: 10/10
Five More Short Graybles: 10/10
Up a Tree: 6/10
All the Little People: 10/10
Community content is available under
CC-BY-SA
unless otherwise noted.