Finn&JakeHero425
I love Video Games and Skateboarding
Name
Finn&JakeHero425
Gender
Female
Relatives
AwesomeAdventureTimes1 (real life BFF)
Occupation
Teenaged Slave
Age
As old as the stinky cheese in your refrigerator drawer
Fun Fact
I believe the Berenstein/Berenstain Bears theory could be possible
Fun Fact
It is my goal to find A113 in all Pixar™ movies
Fun Fact
I asked for the (sciencedance) emote to be created
Birthday
August 20
Click Here For Most Hilarious Vid Ever!
Hi, person! I am Finn&JakeHero425 but my friends call me F&J, Hero or FJ. Here's some info about myself:
Favorite colors (in order): Green, Yellow, Blue, Orange
Favorite TV shows: Adventure Time(obviously), Regular Show, Gravity Falls, The Amazing World of Gumball, Steven Universe, Wander Over Yonder, Star vs The Forces of Evil, Star Wars Rebels, The 7D, Foster's Home For Imaginary Friends, CatDog, Murdoch Mysteries, Supergirl, The Flash, Arrow, DC's Legends of Tomorrow, Boy Meets World(it's old) and Girl Meets World(see previous)
Favorite movies: The Maze Runner, Harry Potter, Star Wars, Lord of the Rings, The Hobbit, Back to the Future, The Matrix, Ghostbusters, The Da Vinci Vode, Jurassic Park and Big
Favorite Pixar™ movies: Pretty much all of them except Frozen, but especially Toy Story
Favorite music genres: (from favorite to least favorite) Pop rock, Pop, Alternative Rock, Indie, Hard Rock, Punk, Rap, Disco
Favorite bands: twenty one pilots, Panic! At The Disco, Fall Out Boy, Green Day, AC/DC, Make Out Monday
Favorite songs: (other than from the above bands) Lost Boy, Ex's and Oh's, Stompa, Riptide, Hall of Fame, Prayer In C, Thriller, Footloose, Wake Me Up Before You Go Go, We Built This City, Eye of The Tiger, Rock Me Amadeus, Alphabet Aerobics
Favorite videogames: Minecraft, Tomb Raider Trilogy, Killzone, Sonic Unleashed, Star Wars Battlefront, Minecraft Story Mode, Adventure Time: Finn and Jake Investigations, Adventure Time: EXPLORE THE DUNGEON BECAUSE I DON'T KNOW! and Little Big Planet
Favorite dessert: Cake (not the cat of course!)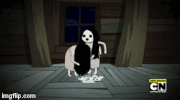 Fun Facts About Myself
I have a pet dwarf rabbit named Yoda.
I am looking forward to the Adventure Time Movie.
My favorite episodes
(in no specific order)
1. Lady Rainicorn of the Crystal Dimension
5. Video Makers
6. BMO Lost
7. Jake the Dog
10. Food Chain
11. The Dark Cloud
12. I Am a Sword
My Favorite Adventure Time Songs
(in no specific order)
2. Fry Song
5. My Best Friends in the World
7. Friends
Community content is available under
CC-BY-SA
unless otherwise noted.