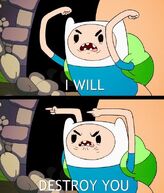 I guess This Is Where Bmo learned How to Kill in Incendium----------------->
My theory is Beemo was Watching This Part Off-Screen.Then Analyze it. Free sigs!

Inferno Flygon

Inferno Arcanines
Blazing Arcanine
05:40, June 15, 2012 (UTC) Current sig 1

Gorgo The Great

Current sig 2
About me
Nyeh...Not much im an AT Fan and have a lot of knowledge bout Grammar but not too muh.
My Poems
Roses are Red Violets are blue.... Jake likes to smell dog poo... and im holding a potato and im gonna shoot it at you
The Potato got mashed... And your Face got Trashed. It isn't fun Since Everyone is Laughing Hard like Cinnamon Bun
Your Face is Sore. I picked up some Ice from the Grocery Store..... you looked at it With a Smile.
And i Shot it at you like a Cannon Pile by Pile.
You Cried like a troll.. Since i told you to do A Barrel Roll. You had to Refused.. Now your Infused. With my powerful Flare Blitzes! You got the Splitzes. Halves were Fallen... And im Laughing liek a Kracken..
I picked you up.. and Patched you some stuff.... I'll do it again next time.. If you let me... Ill give you 2500$ for Getting Optimus Prime'd.
Vandalisms Of Lolness.No offense to you guys.
1. Princess Bubblegum stabbed her with a katana and a dagger and then Flame Princess died
Comments:So Full of Win! Sorry to the Fp fans.I dont like Fubblegum that much but this is really funny.
2.Aghhhhhh (also called Tobuscus Mayo), who happens to be Jake's dad, goes on a mild rampage after Jake releases him from the Left Square Bracket, causing great destruction for Finn. (Lol dude.. thats from it came from the nightosphere. FULL VERSION http://adventuretime.wikia.com/wiki/It_Came_from_the_Nightosphere?diff=prev&oldid=298115)
My OC'S
Flamegum the Vampire Queen
Name
Flamegum the Vampire Queen
Gender
Female
Age
1049
Species
Flame Candy Vampire Elemental
Country
The Land of Ooo(?)

Land of the Vampiric Burning Food.(?) Pokemon world (?)

Occupation
Spaghetti Eater Instrument Player

Destroyer of Kingdoms(one time)

Father
Flameson Butler Abadeer
Relatives
Arcanine (Loyal PET Pokemon.Has the ability to fire Lazers.Also watcher of the CandyFire Kingdom.
Motto
We shall always deny a guest.Unless its a Pokemon/AT/Tawog guy
Swampert
Name
Swampert
Gender
Male
Species
Mud Fish
Country
Pokemon World
Occupation
Saving the World... As many times players choose me in their games.
Relatives
Arcanine
Motto
I got nothing..