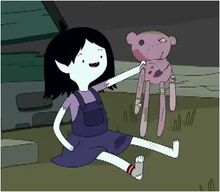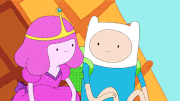 Hi! My name's Maura. I made this account two years ago and I'm still a supporter in this fandom. You can contact me and see my newest art at www.tumblr.bluestar99.com
Some of My Drawings
I really love to draw anyone from Adventure Time! That's basically the only thing I draw besides cats. Take a look at some of my drawings! My all time favorite character to draw would have to be Princess Bubblegum.( As you can probably tell ) Hope you like them! I try to post new ones ASAP but it doesn't always work out.
Favorite Characters
Okay all the Adventure Time characters are great but I like some more than others ( Sorry others :D )
My Favorites!
Princess Bubblegum - I decided I liked her as my favorite. Especially 13 year old PB.
Marceline the Vampire Queen - She fell to second favorite. Sorry Marcy.
Finn - I am loving this kid.
Jake - His quotes are amazingly funny
Favorite Episodes
Some of my favorite episodes are...
Evicted!
What is Life?
Dungeon
Henchman
Rainy Day Daydream
It Came From the Nightosphere
The Eyes
To Cut a Woman's Hair
Chamber of the Frozen Blades
The Pods
The Real You
Death in Bloom
Susan Strong
Mystery Train
Go With Me
Videomakers
Mortal Folly/Mortal Recoil
Conquest of Cuteness
Memory of a Memory
Too Young
Still
Wizard Battle
Adventure Time with Fionna and Cake
What Was Missing
From Bad to Worse
Beautopia
No One Can Hear You
Jake vs. Me-Mow
The New Frontier
Holly Jolly Secrets Part 1 and 2
I just figured out how long a list this is...I just couldn't choose one.
Favorite Adventure Time Songs
If I put a * at the end of one then I can play it ok ukelele/guitar

-You Are My Best Friends In the World by Finn, Jake, Marceline, PB, and Beemo (Rebecca Sugar Demo Video >>>>>>>>>>>>> over there)
-I'm Just your Problem* by Marceline
-Oh Fionna* by Prince Gumball
-The Fry Song* by Marceline and Finn
-Susan Strong(song)* by Finn
-House Hunting Song* sung by Pen featuring Marceline
-As a Tropical Island* by Jake
-A Song About Noodles by Finn
-Margret's Lullaby by Margret*, sung by Finn
Picture Time!!!
Pictures for you
to enjoy!
Community content is available under
CC-BY-SA
unless otherwise noted.