Doctor Strange in The Multiverse o Madness - The Loop
Play Sound
"The Suitor" is the twenty-first episode in the fifth season of Adventure Time. It's the one hundred and twenty-fifth episode overall.
Synopsis
A suitor named Braco tries to win the heart of Princess Bubblegum with whatever it takes, even as she ignores his feelings.
Plot
The episode begins with Peppermint Butler practicing dark magic inside The Lich's old prison in the tree of the Candy Castle to summon a demon called Ogdoad who holds the key to the Shadow Realm. Peppermint Butler uses Cinnamon Bun, who is tied upside-down above Peppermint Butler, described a willing vessel. Before Peppermint Butler can negotiate with Ogdoad, a Gumball Guardian grabs Peppermint Butler and tells him that he should find a suitor for Princess Bubblegum because she has been working too hard on her lab that she needs to go out and socialize. The Gumball Guardian shows Peppermint Butler all the available suitors. Peppermint Butler refuses, saying that Princess Bubblegum will not date those "old bags." The Gumball Guardian tells him that he must try.
Peppermint Butler is put into the room with the suitors, but all of them are too old (one said that he had waited over 300 years). Peppermint Butler goes along the line and sees a young-looking suitor named Braco, who is sitting on the skeleton and says he was born to court the Princess Bubblegum. Braco says he is 21 and that he inherited his father's place in line after he died. Peppermint Butler then decides to give Braco a shot at courting the princess.
Once they enter the lab, Peppermint Butler introduces Princess Bubblegum to Braco, who asks her for a date, which she declines. Peppermint Butler, who seems cross, says that she needs to get outside and do some research on boys. Princess Bubblegum says that it is "way out of line" and that they are "donking up her research." Suddenly, Braco tells her that he loves her so much that it hurts. She tells him that it is infatuation, that the pain is a product of Braco overvaluing a projected imaginary relationship with her. Braco states that what he feels is real and tells her to meet him at the garden at night then jumps out of the balcony, landing on Mr. Cupcake. Princess Bubblegum accepts, but tells him that it is only for research.
As they were walking that night, Braco gives Princess Bubblegum a rose while she observes her device that she connected on his forehead. She says that she has what she needs "for now" and calls the Morrow, flying her back to the castle.
The next day, Braco tries his grandfather's art of "peacocking," wearing his grandfather's suit and hat, to win the princess' heart. But she only responds by firing an X-ray gun at Braco and then leaving.
At her lab, Princess Bubblegum calls for Finn and Jake and asks them to get her a soul stone which is at the Vapor Swamps and gives them a map of its location. Later, Braco asks them for the map so that he can bring the stone to the princess so that she will love him. Finn gives Braco the map, but states that "the road you're on leads to nowhere."
Braco goes to the Soul Stone's location, encounters monsters and badly burns himself trying to get a key that opens the stone's "chest." He is then asked by The Beast why he stole his treasure, to which Braco replies that it is for the one he loves. The Beast tells him to take the stone.
Back at the lab, Braco gives Princess Bubblegum the Soul Stone but she says that she does not need it anymore as she just finished programming a proper simulation of a soul and that it is much easier to manipulate than a real one. Braco returns to his room. In frustration, he smashes the Soul Stone and shoves his things off of his desk, then asks himself why Princess Bubblegum will not love him. Then, a Gumball Guardian grabs him and brings him to Peppermint Butler, who is demanding Ogdoad to give him the key to the Shadow Realm. Braco decides to give up his pursuit of Bubblegum's love, but Peppermint Butler offers to help him with Shadow Demon magic. In exchange for Ogdoad's freedom, he must turn Braco into a walking "love magnet." Ogdoad agrees but turns Braco into a three-legged monster.
Braco asks Peppermint Butler if he is now a walking "love magnet." Peppermint Butler says that he indeed paid the price and that he wants to have Braco's babies. Gratified, he runs back to the castle and into Princess Bubblegum's lab, who is discovered to have made a robot version of herself. Braco asks her if she loves him now. She explains that she does love him, however, it is the undifferentiated love she feels for all candy citizens and that she could not permit one of her citizens to suffer the way Braco did over her so she made him P-bot. He says he feels that it is wrong. P-bot kisses him and tells him that they should get out of the lab. Satisfied, Braco carries P-bot and jumps off the lab's balcony, thanking Princess Bubblegum. She watches from the window and sheds a tear as they make their way through the Candy Kingdom.
Peppermint Butler shows up and asks where Braco is. Princess Bubblegum explains that she knew Braco could not be happy without her so she built him a robo-wife. Peppermint Butler responded angrily, saying "you should have given him to me!" before slapping her.
Characters
Major characters
Minor characters
Music
Trivia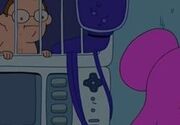 Episode connections
Cultural references
Storyline analysis
Production notes
Errors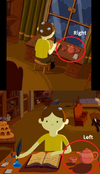 Videos
Gallery
Official art
Background art
Screenshots
References