Jurassic World: Dominion Dominates Fandom Wikis - The Loop
Play Sound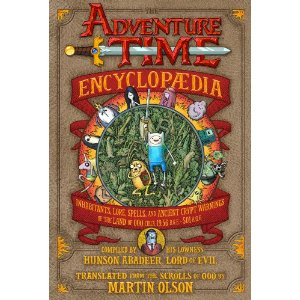 The Adventure Time Encyclopædia: Inhabitants, Lore, Spells, and Ancient Crypt Warnings of the Land of Ooo Circa 19.56 B.G.E. - 501 A.G.E. is the first official guide to Adventure Time. It was written by Martin Olson. The book itself is told from the point of view of the character he voiced, Hunson Abadeer. Pendleton Ward also contributed new content. Artists including Renee French, Tony Millionaire, Celeste Moreno, Aisleen Roman, and Mahendra Sing added 150 full-color illustrations. It was designed by Sean Tejaratchi.[1] It is 160 pages long, was published by Abrams Image and Summit Media and was released on July 22nd, 2013.[2]However, the book may be non canon for example it says Marceline can levitate as a child, but she could not since she only was able to do it as a vampire shown in Adventure Time Mini-Series: "Stakes".
Summary
[This summary taken from the back cover]
EVERYTHING YOU NEVER WANTED TO KNOW ABOUT ADVENTURE TIME!
Written by Lord of Evil Himself, Hunson Abadeer (a.k.a Marceline the Vampire Queen's dad) to instruct and confound the citizenry of the Nightosphere, Adventure Time Encyclopædia is perhaps the most dangerous book in history. Although seemingly a guidebook to the Land of Ooo and its post-apocalyptic inhabitants, it is in fact an amusing nightmare of literary pitfalls, bombastic brain-boggles and ancient texts designed to drive the reader mad. Complete with secret lore and wizard spells, fun places you should visit and places where you will probably die, advice on whom to marry and whom not to marry, how to make friends and how to destroy your enemies--this volume includes hand-written marginalia by Finn, Jake, and Marceline. Arguably the greatest encyclopedia ever written since the beginning of the cosmos, it is also an indispensable companion to humans and demons who know what time it is.
Adventure Time!
Cartoon Network Ad Summary
[This summary taken from the official ad on the Cartoon Network website]
Think you know your way around the Land of Ooo? Then you won't want to miss The Adventure Time Encyclopædia, the first-of-its-kind definitive guide to the show's characters and world! The Adventure Time Encyclopædia includes everything anyone will ever need to know about the Land of Ooo and its inhabitants—secret lore and spells, fun places you should visit and places where you will probably die, what to eat and not to eat, whom to marry and whom not to marry, how to make friends and how to destroy your enemies.
Book one: Worthless Inhabitants of the Land of Ooo
Book two: Utterly Insignificant Inhabitants of the Land of Ooo
Encyclopedia Proper
Ice King presents Ooo-La-La!!!
BMO's Instructional Pamphlet and User's Guide
Book three: The Land of Ooo and You
Princess Bubblegum's official travel guide to the Candy Kingdom and beyond!
Marceline's Travel Blog for Demon Backpackers
Book four: The Lost Texts of Ooo
The Enchiridion: Gauche Excerpts Selected by the Curator at Hades Archives of the Nightosphere Municipal Library
Spells and Secrets of the Land of Ooo
Abadeer Industries Novelty Spells and Curses
Book five: Forbidden Chapters in the Enyclopædia of Ooo
If you read this chapter you will DIE.
Please Help Me: a wizard turned me into this page
The Nightosphere Rebus: The Most Pathetic Magical Equation in the Land of Ooo
The Nightosphere Rebus Disclaimers
How to Stop reading this Book (In Which the Book Itself Implores You to Stop Reading It)
Foreword Going Backward
This Foreword is written in a backward manner designed to test the Fortitude and Worthiness of, as well as to annoy, the Reader, and by way of providing a Formal Initiation through which the Reader must Endure the backward reading of this Precious Text. Only the most Diligent, Courageous, and, Stalwart Alphabet Absorbers will even continue reading in such an irritating, time-consuming manner, as reading backward, and even You want to stop but somehow find that you must go on, for fear of missing the Secret Material that surely must be included at the end, rather,at this case, the Beginning , of this Backward Forward.However, in fact, there is no Secret to Be Revealed at the end of All. This is only a Practical Device to Torture You the Reader, to make You Worthy of Further Reading. For it is Only by overcoming this Aggravation of the decidedly abrasive and off-putting literary drudgery that one can qualify to be a Reader of Hidden Secrets. And since You are about to reach the end, or rather, the Beginning, You now have proven Yourself of this Encyclopaedia of the Land of Ooo and Its Priceless Secrets Hidden inhere. The End.
Scribbled Message in page 33 (unreadable, possibly latin)
ga. Untimr oy ______ut etur? Quis rerum asilitatiunt as sant mnore dole_______ones prae loritual maximus
BMO's Korean Messages
Under the congratulations note:
Descriptions and blue text:
Hazards:
The Nightosphere Rebus
I decree that decoding this rebus makes you immortal. Also, decoding rebuses is a crime punishable by life behind bars. Pack your bags, immortal one for your cell awaits!
Gallery
Video
References