Content posted on this page should only pertain to improving the article itself.
For all other types of discussion, please post them in the forums.
This includes (but is not limited to) theories, fanon images, discussion about how great someone is, fanon stories, etc. You have been warned.

---

Remember to sign your post by typing four tildes: (~~~~) Click here to start a new topic.
This talk section is a mess!
Song in the preview (where F&J turn into birds) is an electronic version of the Queen of the Night's aria (Hell's Vengeance) from the opera The Magic Flute by W.A. Mozart. Peronium (talk) 04:58, April 22, 2014 (UTC)peronium
This episode will probably be eighth in 6 season.
Finn might also get his arm back somehow between the episodes "Sad Face" and this one.
Mrboy101 (talk) 18:51, May 16, 2014 (UTC)
And you are right!!!


FinnManusia Malaysia
16:52, June 10, 2014 (UTC)
Erin the first non-royal relationship of Finn
The claim that Erin is the first relationship Finn has with a non-royal doesn't take into account his marriage to Roselinen from the episode "Puhoy". (Redreynard (talk) 13:26, June 14, 2014 (UTC))
Air Date?
I see that the air date for "Food Chain" is being moved from June 30th to July 3rd. Is there any verification on this date? The source simply states it's set to air in June, which may suggest a Thursday earlier than July 3rd, such as June 12th, 19th or 26th. -- Glenn L (talk) 20:13, May 21, 2014 (UTC)
Cartoon Network moved Adventure Time and the other cartoons to Thursday nights. that's why you see the air dates being changed. IHeartJaketheDog (talk) 21:27, May 21, 2014 (UTC)
Spelling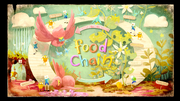 How to spell the title??? It is "Food Chain" or "food Chain"???
If you see the title card, it refer to "food Chain". 


FinnManusia Malaysia
08:36, June 10, 2014 (UTC)
That's just sylized
Rreg29 (talk) 05:46, June 5, 2016 (UTC)
Wow, this was odd
This episode had no significance whatsoever. It just shows how they let people who know nothing about the show make their own episode. DONTLOOKFORME (talk) 00:28, June 13, 2014 (UTC)
This type of discussion belongs in the forums. Please keep talk page posts to about only improving the article itself. Bellamybug (talk) 00:42, June 13, 2014 (UTC)
Well when there are reasonable citable sources it probably would make sense to somehow mention how this episode is completely different than every other one produced thus far, more like some spinoff series made specifically for kindergarten and below. And also maybe how it is of such low quality.Wisnoskij (talk) 02:27, June 13, 2014 (UTC)
Plot Finished
I have finished the plot. Anyone want to add anything inside or should we delete the under construction template? Maybe you guys can edit the grammar a little or something. Adventure time 4Ever!! (talk) 11:39, June 17, 2014 (UTC)