Wiki Targeted (Entertainment)
Play Sound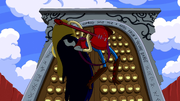 Adventure Time features various songs throughout the show, as a theatrical element or simply woven into the regular narrative.
List of songs
Season 1
Season 2
Episode
Song
Time
Sung
It Came from the Nightosphere
Fry Song
00:46
Marceline, Finn (beatboxing)
Stompin' On Ants
00:06
Hunson Abadeer
Blood Under the Skin
Finn the Blushing Baby
00:09
Lyre Player
Power Animal
Where Is Finn?
00:17
Jake, BMO
Crystals Have Power
Apple Pie
00:07
Tree Trunks
Her Parents
The Decorating Song
00:22
Finn, Jake
The Lucky Ones
00:20
Bob, Ethel
The Silent King
Goblin Song
00:22
Finn
Guardians of Sunshine
Computer Song
00:15
Finn, Jake
The Pods
Ice Cream Marathon Song
00:12
Pendleton Ward
Susan Strong
Susan Strong
00:38
Finn
The Limit
Sing 'Cause Yo Mama Said
00:11
Finn, Jake
Video Makers
Friends
00:41
BMO
Belly of the Beast
Bears
00:26
Party Pat, Finn, Jake
The Stuff Song
00:56
Finn, Jake
Mortal Recoil
Not Feelin' Good Song
00:20
Jake
Heat Signature
Oh, Baby Yeah
00:04
Finn, Jake
Season 3
Season 4
Season 5
Season 6
Episode
Song
Time
Sung
The Tower
Baby's Building a Tower into Space
00:40
Finn
Breezy
Lost in the Darkness/Love
01:38
Finn, Breezy, Princess Bubblegum
Food Chain
We're Plants
00:32
Finn, Jake
Food Chain (song)
01:25
Finn,Princess Bubblegum
Furniture & Meat
Money
00:21
Finn, Jake
The Prince Who Wanted Everything
That's All I Need
00:53
Lumpy Space Prince
Little Brother
Little Brothers
01:07
Shelby, Kent
Princess Day
Breakfast Song
00:11
Marceline, Lumpy Space Princess
Joshua and Margaret Investigations
Puppy Jake Song
00:05
Jake
Is That You?
Prismo's Ritual
01:16
Finn, Jake
The Cooler
A Kingdom from a Spark
01:02
Flame Princess
Evergreen
Slimy D's Rap
00:02
Slimy D
Astral Plane
Yeah, Girl, It Stinks
00:42
Marceline
Dark Purple
Super Porp Jingle
00:09
Marceline, Super Porp Mutants
Walnuts & Rain
7718's Rap
00:16
Seven
Jermaine
Booboo Sousa Song
00:19
Booboo Sousa
Water Park Prank
Finn's Underwear Song
00:17
Finn
Chips and Ice Cream
Chips and Ice Cream's Song
00:26, 00:40 (reprise)
Chips and Ice Cream, Jake
You Forgot Your Floaties
What Remains
00:09
Normal Man
Be Sweet
Goodnight Lullaby
00:13
Lumpy Space Princess
Hot Diggity Doom
I'm a Princess
00:18
King of Ooo
The Comet
Everything's Falling into Place
00:37
Finn
All's Well That Rats Swell
Mustaches Belong In The Cupboard
00:07
BMO
The Gift That Reaps Giving
Lonely Bones
00:33
Caramel Sally
Season 7
Season 8
Season 9
Season 9
Other
See also
Community content is available under
CC-BY-SA
unless otherwise noted.