This is a list of references to Adventure Time as well as its characters in other media. For appearances in official Cartoon Network video games, see Category:Real world games.
MAD Magazine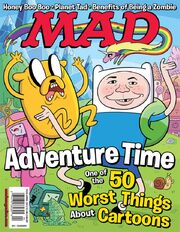 The five-hundred & twentieth issue of
MAD Magazine
has multiple features parodying 
Adventure Time
. The first of which is the issue's cover that depicts
Finn
 as Alfred E. Neuman, while some of the show's major characters (such as
Jake
,
Princess Bubblegum
,
BMO
, 
Lady Rainicorn
, and
Snail
) are shocked and dismayed by this revelation.
Later in the magazine is an article titled The 50 Worst Things About Cartoons. Number One on the list is the fact that Adventure Time is bizarre and trippy. An image headlining the article features many characters from the show rendered in an abstract style, as a viewer goes insane in the center.
The final Adventure Time-themed feature is a game called MAD'S Do-It-Yourself Adventure Time Episode. This template has been used in previous MAD issues that featured subjects such as Twilight and Batman. The reader must pick one box from each category to make a nonsensical Adventure Time plot.
This, however, is not the first time Adventure Time appeared on
MAD Magazine
.
In issue five-hundred & eighteen (Twilight Spoof) on page 19, on the top right corner after the man made a bubble saying "...but THAT lady gives me the creeps!" one can see
Marceline
taking one of her fangs out of her mouth.
Gaia Online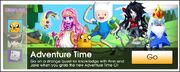 The online forum and game site Gaia Online teamed up with Adventure Time creators to create virtual items. First, a chance item (CI) called "Adventure Time & The Quest for Knowing" will lead the Gaia player on a quest with Finn and Jake, which will lead to exclusive items themed around Adventure Time characters. There are three deluxe items that re-imagine Adventure Time characters in Gaia style: Sugar Royalty, Mathematical Knight and Vampire Sound. The game also introduced an Adventure Time forum and live hangout, plus an interview with the show's creator, Pendleton Ward, which occurred at 6pm PT on March 22, 2012. Also, one of the owners of the "Factori" as of October is dressed as BMO.
Gallery
Jimmy Kimmel Live
Clips from Adventure Time have appeared multiple times on Jimmy Kimmel's "This Week in Unnecessary Censorship" segment. The appearances have been appreciated or at least noticed by Pen Ward, as evidenced by this Twitter post.[1]
South Park
South Park
episode "A Nightmare on Face Time," in one scene you can see a trick or treater dressed as Finn in the background.
MAD
MAD is a Cartoon Network television series which has featured Adventure Time on occasion.
"Malcolm in the Middle Earth"
MAD
version it is more rounded at the end. His jowls appear to be slightly longer.
"Avenger Time"
"Avenger Time" is a parody of Adventure Time and is a crossover on the show and Marvel comics. It aired on May 30, 2011, along with the sketch "TwiGH School Musical."
Captain America, Iron Man, Thor, and the Hulk have defeated the Red Skull and got the Cosmic Cube away from him. When Iron Man warns that the Cosmic Cube can be dangerous, Captain America says that he wants everything to be simpler again, and suddenly, the Avengers are in sixties animation, much to their dismay. Iron Man then takes the Cosmic Cube and says that he wants to get back home, but also mentions "short and sweet." Soon, the Avengers appear in "Super Hero Squad," and the Hulk takes the Cosmic Cube to get home, but mentions the word "time." The Avengers now appear in "Adventure Time" animation.
Thor's hammer is now a lollipop and Hulk has turned into a dog. Hulk suddenly develops long legs and runs away with joy of his new power, much to the others' dismay. Suddenly, they are attacked by a giant waffle monster, and Iron Man tries to stop it, but learns that he can only shoot rainbows and glitter, so they run away. They try to start looking for Hulk so they can return home with the Cosmic Cube, but are suddenly warned by a gnome that the Ice King is coming. They confuse Ice King for help and they are suddenly approached by him, who asks if they have Princess Bubblegum. When they respond no, Ice King freezes Captain America in a block of ice, which Iron Man criticizes on.
In his mind, Captain America meets the
Watcher
on the moon and the Watcher tells him that they are in the Cartoon Network series
Adventure Time
and that they must return to their own time, otherwise they will be stuck there forever. Referring to the animated short was Finn's mind is transported back in time and to Mars with Abraham Lincoln. They then discuss the possible success of
MAD
before Captain America busts out of his iceberg and finds Iron Man and Thor playing a card game. Suddenly, Hulk comes back and says that he was with Princess Bubblegum but wants to go home as their new relationship is "complicated." At the mere mention of the word "home," the Avengers return to their own time and animation. They vow to never speak of
Adventure Time
again, but are dismayed that Hulk has brought
Finn
and
Jake
with them, and they now appear as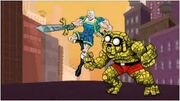 a super-powered
Batman
and the
Thing
.
Avengers characters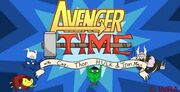 Captain America (as Finn)
Iron Man (as BMO)
The Incredible Hulk (as Jake)
Thor (as the leader Marauder)
The Watcher (as Abraham Lincoln)
Adventure Time characters
Finn (as a super-powered Batman)
Jake (as the Thing)
Princess Bubblegum (mentioned; named "Bubblegum Princess")
Giant Waffle Monster
"The Mixed Martial Artist"
In the episode "The Mixed Martial Artist / Aquaman vs. Wild" which aired on July 30, 2012, Jake picks a fight with Uggie after he claims to be the only talking dog around, but Uggie tears Jake to shreds. Also, Finn makes a cameo in the background, cheering for Jake.
"MADvent Calendar"
In the episode "The Blunder Games / The Poop-seidon Adventure" which aired on August 6, 2012, Disney redesigns the seven dwarfs from Snow White, which they call 7D, but what the rest of the world calls Adventure Time.
"The Land Before Adventure Time"
In the episode "The Perks of Being a Wallcrawler / Regular Shogun Warriors" which aired on January 28, 2013, there is a short that involves a cross-over of Adventure Time and The Land Before Time. In the short, Finn and Jake appear being attacked by a T-rex and pterodactyl. In the background, Ice King can be seen dragging Princess Bubblegum to the Ice Kingdom; both are dressed as cavepeople.
"1600 Finn"
In the episode "Papa / 1600 Finn" which aired on May 13, 2013, Finn and Jake move into the White House because that's where Finn's dad, President Dale Gilcrest, lives. Dale apparently sent Finn to make him grow up, but he doesn't want him beating up wizards and kissing hot fire ladies so he brought Finn back. Dale tells Finn to keep out of trouble while someone comes over for a meeting. However, the 'someone' is the Ice King, so, naturally, Finn attacks. Dale tells Finn it's ok. Later, the Ice King is speaking about freezing the whole world, so Finn starts attacking again until Dale explains that's the plan to stop Global Warming. Finn goes out of the White House and sits, facing away, saying that maybe the Ice King actually is a good guy. Behind Finn, we see the Ice King freeze Dale, then kicks the White House. Jake tells Finn that, but Finn says that it's probably all part of the plan. An alien ship lowers itself over the White House and blasts it to bits. Jake tells Finn this too, to which Finn says 'Shmowzow!' Then he says it's still part of the plan.
Trivia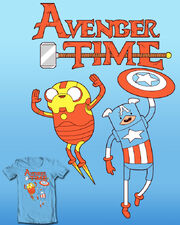 There is actually an Avenger Time T-shirt that was posted on the Adventure Time blogs. However, Jake is Iron Man instead of Hulk. This may have been inspiration for the episode.
When in the Adventure Time dimension, Captain America resembled Finn and Hulk represented Jake. Captain America also had Finn's misshaped teeth and Hulk got Jake's stretching powers. Iron Man also seemed to resemble BMO and Thor resembled the leader Marauder.
When Ice King freezes Captain America in a block of ice, Iron Man remarks sarcastically that he cannot stop getting frozen, a reference to when Captain America gets frozen in a block of ice during World War II and gets unfrozen during the 21st century.
The scene where Captain America meets the Watcher on the moon is a reference to the pilot episode, where Pen (now Finn in the series) meets Abraham Lincoln on Mars after the Ice King froze him.
In 1600 Finn, when the president is taking the oath of office, Ice Queen appears in the background.
Toonix
Toonix is an interactive game on the Hispanic Cartoon Network where users can create characters that resemble Cartoon Network characters. They recently released Adventure Time costumes of Finn and Jake.
Within Toonix, users can play a game called "Copa Toon: Champions." They can pick out of four teams, one of which is Adventure Time cast. In this game you travel across the Land of Ooo playing soccer with the characters in the show. Sometimes you go on quests by different characters. The soccer game consists of the two opponents picking a card with a soccer move on it. Some cards are Adventure Time related; like Finn's hair, Forest Wildfire, and Karaoke Time. A spinner with a side for both teams and when it reaches your side you get the move. It's a chance of luck whether or not it goes it get your team a goal. After you defeat the Ice King in a game of soccer you collect the part of the shield with a Finn hat on it representing Adventure Time. You can go to other shows universes like, The Amazing World of Gumball, Generator Rex, and Ben 10. When you complete the shield you have won the game.
Regular Show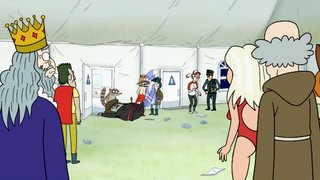 In the
Regular Show
episode "See You There" there is a character at the party dressed similarly to the
Ice King
.
Gemibears
In the background for the iOS app Gemibears, a book on the shelf in the background has the Adventure Time logo on it.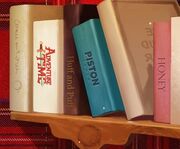 Music
Tyler, The Creator referenced the show in his 2011 song "Yonkers," with the lyrics, "I went home and watched Adventure Time". He also references the show in the song "She" later in the album, with the lyrics, "we can begin the pretend game, I wanna be Finn from Adventure Time."
Thrash/Power Metal band Sonic Pulse covered the theme song.[2]
Xbox Live Marketplace
Xbox Live users can purchase anything with Microsoft points, and in the marketplace, the members have the choice to purchase clothes for their avatar.
Trivia
There are T-shirts that are very similar in real life. 
The prices vary from how popular the item is, such as Ice King's crown being 160 Microsoft points, and Finn's golden sword being 320 Microsoft points. [3]
Futurama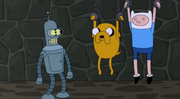 In the episode "Leela and the Genestalk," while Leela, Fry and Bender attempt to escape from Mom's dungeon, they run down a staircase (Bender takes a railchair down), where Bender sees both Finn and Jake handcuffed against a wall. Jake sees Bender and asks, "What Time is It?" (Finn and Jake's signiature quote) and Bender replies "Time for you to shut up!" This is ironic because both Bender and Jake are characters voiced by John DiMaggio.
Minecraft

In an upcoming update to the game, there will be a new achievement referencing the show. The achievement is called "Adventuring Time," and it can soon be unlocked by going to all of the game's different biomes.
League of Legends
The character Jinx's dance animation is a direct reference to the dance Jake teaches the dancing bug in "Power Animal."
Skullgirls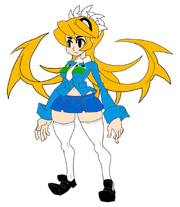 In Skullgirls, a 2D fighting game, the character Filia has a color pallet that resembles
Fionna
.
Just Dance 2014
Many people have noticed that the dancers from She Wolf and Where Have You Been look very similar to the Ice Queen and the Flame Princess. It's also noticeable how they both represent different stories that reflect on themselves. The dance in She Wolf looks like a tragic song about her betrayals and her frozen heart. The dance in Where Have You Been resembles her hard childhood, and being a person of the flame, makes sense.
References
Community content is available under
CC-BY-SA
unless otherwise noted.