Princess Bubblegum's diary is first seen in "Burning Low" after she barges in her room, upset about the situation of Flame Princess being unstable.
Appearance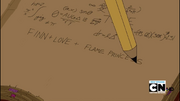 Princess Bubblegum's diary has a tan cover with blue letters, along with a blue and gold insignia at the bottom half of the book, and plating towards the top. Inside the entries that can be seen include: FINN + LOVE + FLAME PRINCESS, a formula containing the Traditional Chinese and Japanese character for romantic love, 愛, and ∞, the symbol for infinity. Another formula contains the information "AUG," "18," and "y=2012." Andy Ristaino mentioned this (August 18, 2012) as the date that background painter Santino Lascano would be married.[1]
References
Community content is available under
CC-BY-SA
unless otherwise noted.