Jurassic World: Dominion Dominates Fandom Wikis - The Loop
Play Sound
Ward Taylor Pendleton Johnston, known professionally as Pendleton Ward, or simply Pen Ward, is the creator of Adventure Time and the original Animated short. Pendleton Ward currently works for Cartoon Network Studios and Frederator Studios. He was born on September 23, 1982, and grew up in San Antonio, Texas.[citation needed]
Early life
Pen became interested in animation at an early age, inspired by his mother, Bettie Ward, who was an artist and worked with animators. He started drawing flipbooks in first grade.[1]
At the Adventure Time panel at San Diego Comic-Con 2011, Matt Groening, creator of The Simpsons and Futurama, made a surprise appearance, telling a story about Pendleton's childhood. His mother brought him to visit his house to get advice on how to be an animator. However, he couldn't remember what advice he had given to him.[2]
Pen attended CalArts, where he became friends with JG Quintel. (They later worked on Flapjack together, and in 2009, Quintel went on to create Regular Show). At a "Producers Show" at CalArts, Pen met Eric Homer from Frederator Studios, which was his first lead in working with Frederator.[1]
Early animation work

In 2002/2003, Pendleton Ward published a webcomic titled Bueno the Bear. He later took down the comics because he thought they were "terrible."[3] However, he retains the name "buenothebear" for his website and his handle on sites like Twitter. Later, Pen created a short for Frederator Studios titled "Barrista" starring Bueno the Bear.
Pen continued to work on short animations for Frederator's Random! Cartoons which aired on Nicktoons. There, he worked with several people who later join him on the Adventure Time series, including composer Casey James Basichis, Adam Muto and Niki Yang. His two shorts were "The Bravest Warriors" and the "Adventure Time" animated short. The "Adventure Time" short was made in 2006 and went on to become an internet phenomenon in 2007, with over 1,000,000 views by November of that year.[4] (Internet searches seem to indicate it first went viral in mid-January 2007, although the original versions of the video on YouTube have since been removed.) Pen pitched Adventure Time as a full series in 2006 or 2007 to Nickelodeon, however, they passed it up for Fanboy & Chum Chum, a CGI animated Television series. It took some time until Cartoon Network decided to pick up the show, which, some fans believe, was better then the show being in the hands of Nickelodeon.
In 2008, Pendleton Ward worked on Cartoon Network's The Marvelous Misadventures of Flapjack (along with JG Quintel, creator of Regular Show) as a writer and storyboard artist. Flapjack was a storyboard-driven show, meaning that the storyboard artists also wrote the episodes, based on an outline. The experience inspired Pen to run Adventure Time the same way, once it was picked up as a series.[5]
Adventure Time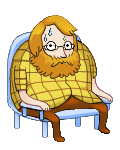 For more on the development of the series, see Adventure Time.
Pen is the creator of Adventure Time. He is also the former showrunner but handed the position to Adam Muto during Season 5.[6] Pendleton has stated that it was because "it was driving him nuts". He was also a writer and storyboard artist, but also gave up those positions during the beginning of Season 7 as he was focusing on an Adventure Time movie, but still looked over episode outlines and provided input.[7] He voice acts as Lumpy Space Princess, one of the Business Men, Shelby, the Snow Golem, and Abraham Lincoln. Along with this, he voices the Mountain woman in "Memories of Boom Boom Mountain." In the Adventure Time short, Pen is named after him. Pen stated that he changed the name of Pen to Finn because he "didn't want to see his name on the back of sweat jeans." Some of the people he follows on Twitter have done voices on Adventure Time, like Andy Milonakis and Melinda Hill.
Episodes storyboarded are "Prisoners of Love", "The Enchiridion!", "My Two Favorite People", "Freak City", "Rainy Day Daydream", "Dad's Dungeon", "James Baxter the Horse" and "Bad Timing".
Bravest Warriors
Frederator Studios has announced that Pendleton Ward's "Bravest Warriors" is being developed as a web series for the relaunch of its Cartoon Hangover internet animation channel in 2012.[8] It is based on the 2006 short that Pen created for Frederator's Random! Cartoons. Former Adventure Time lead designer Phil Rynda is working on new character designs for the series. The series premiered during the fall of 2012 through Cartoon Hangover's YouTube channel.[9][10] The first season was 12 episodes long. Pen provides the voice of the computer.
The series centers on four teenagers named Chris, Beth, Wallow, and Danny. They go on many adventures and meet many different characters, similarly to Finn and Jake on Adventure Time.
There has also been a KaBoom! comic that releases issues monthly.[10]
Frederator is posting early production information on its Bravest Warriors blog.
The Midnight Gospel
In 2019, Pendleton Ward begun working on a new series alongside Duncan Trussell, titled "The Midnight Gospel". The series was based on Trussell's podcast, titled Duncan Trussell Family Hour, which Ward discovered while working on Adventure Time. In 2018, Ward approached him to show a rough concept; taking a podcast conversation about drug addiction and playing it over an animatic of Trussell and his guest fighting off a zombie invasion.
This rough sketch would later be turned into the pilot for the series. They sent the concept to Mike Moon, head of adult animations at Netflix. In 2019, Netflix ordered eight episodes, which premiered on April 20th, 2020. 
Other works
In 2011, Pen and Natasha Allegri created a short parody animation called "Pikapew Poop Chu!" that they posted on YouTube.
Pen started making a short video series called "Animation Pals" with Ian Jones-Quarley (voice of Wallow on "Bravest Warriors"). They post these videos on the Animation Pals Tumblr.
Pen has been involved in the production of two albums by the Lapfox alias Renard, A PICTURE OF FINN FARTING and ROBOT BRAINSTRONAUT BLASTOFF!!!, and is featured in several tracks between them. Pen also did the artwork for A PICTURE OF FINN FARTING via a note sent to him by Renard.
Pen had worked as a story consultant on the D&D 5e game: Tomb of Annihilation
Characters voiced on Adventure Time
Episodes worked on
Written and Storyboarded by
Story by
Videos
Trivia
Gallery
External links
References