Pendleton "Pen" Ward is the creator of Adventure Time and the original Animated short. Pendleton Ward works for Cartoon Network Studios and Frederator Studios. He was born on September 23, 1982, and grew up in San Antonio, Texas.[citation needed]
Early life
Pen became interested in animation at an early age, inspired by his mother, who was an artist and worked with animators. He started drawing flipbooks in first grade.[1]
At the Adventure Time panel at San Diego Comic-Con 2011, Matt Groening, creator of The Simpsons and Futurama, made a surprise appearance, telling a story about Pendleton's childhood. His mother brought him to visit his house to get advice on how to be an animator. However, he couldn't remember what advice he had given to him.[2]
Pen attended CalArts, where he became friends with JG Quintel. (They later worked on Flapjack together, and in 2009, Quintel went on to create Regular Show). At a "Producers Show" at CalArts, Pen met Eric Homer from Frederator Studios, which was his first lead in working with Frederator.[1]
Early animation work

In 2002/2003, Pendleton Ward published a webcomic titled Bueno the Bear. He later took down the comics because he thought they were "terrible."[3] However, he retains the name "buenothebear" for his website and his handle on sites like Twitter. Later, Pen created a short for Frederator Studios titled "Barrista" starring Bueno the Bear.
Pen continued to work on short animations for Frederator's Random! Cartoons which aired on Nicktoons. There, he worked with several people who later join him on the Adventure Time series, including composer Casey James Basichis, Adam Muto and Niki Yang. His two shorts were "The Bravest Warriors" and the "Adventure Time" animated short. The "Adventure Time" short was made in 2006 and went on to become an internet phenomenon in 2007, with over 1,000,000 views by November of that year.[4] (Internet searches seem to indicate it first went viral in mid-January 2007, although the original versions of the video on YouTube have since been removed.) Pen pitched Adventure Time as a full series in 2006 or 2007, but it took some time before Cartoon Network decided to pick it up.
In 2008, Pendleton Ward worked on Cartoon Network's The Marvelous Misadventures of Flapjack (along with JG Quintel, creator of Regular Show) as a writer and storyboard artist. Flapjack was a storyboard-driven show, meaning that the storyboard artists also wrote the episodes, based on an outline. The experience inspired Pen to run Adventure Time the same way, once it was picked up as a series.[5]
Adventure Time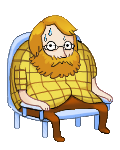 For more on the development of the series, see Adventure Time.
Pen is the creator of Adventure Time. He is also the former showrunner but gave up that position to Adam Muto during Season 5.[6] He was also a writer and storyboard artist, but also gave up that positions during the beginning of Season 7 as he is focusing on an Adventure Time movie, but still looks over episode outlines and provides input.[7] He voice acts as Lumpy Space Princess, one of the Business Men, Shelby, the Snow Golem, and Abraham Lincoln. Also, he voices the Mountain woman in "Memories of Boom Boom Mountain." In the Adventure Time short, Pen is named after him. Pen stated that he changed the name of Pen to Finn because he "didn't want to see his name on the back of sweat jeans." Some of the people he follows on Twitter have done voices on Adventure Time, like Andy Milonakis and Melinda Hill.
Episodes storyboarded are Prisoners of Love, The Enchiridion!, My Two Favorite People, Freak City, Rainy Day Daydream, Dad's Dungeon, James Baxter the Horse and Bad Timing
Bravest Warriors
Frederator Studios has announced that Pendleton Ward's Bravest Warriors is being developed as a web series for the relaunch of its Cartoon Hangover internet animation channel in 2012.[8] It is based on the 2006 short that Pen created for Frederator's Random! Cartoons. Former Adventure Time lead designer Phil Rynda is working on new character designs for the series. The series premiered during the fall of 2012 through Cartoon Hangover's YouTube channel.[9][10] The first season was 12 episodes long. Pen provides the voice of the computer.
The series centers on four teenagers named Chris, Beth, Wallow, and Danny. They go on many adventures and meet many different characters, similarly to Finn and Jake on Adventure Time.
There has also been a KaBoom! comic that releases issues monthly.[10]
Frederator is posting early production information on its Bravest Warriors blog.
Other works
In 2011, Pen and Natasha Allegri created a short parody animation called "Pikapew Poop Chu!" that they posted on YouTube.
Pen started making a short video series called "Animation Pals" with Ian Jones-Quarley (voice of Wallow on Bravest Warriors). They post these videos on the Animation Pals Tumblr.
Pen has been involved in the production of two albums by the Lapfox alias Renard, A PICTURE OF FINN FARTING and ROBOT BRAINSTRONAUT BLASTOFF!!!, and is featured in several tracks between them. Pen also did the artwork for A PICTURE OF FINN FARTING via a note sent to him by Renard.
Characters voiced on Adventure Time
Episodes worked on
Written and Storyboarded by
Story by
"The Enchiridion"
"It Came From The Nightosphere"
"The Eyes"
"Loyalty to the King"
"Blood Under the Skin"
"Storytelling"
"Slow Love"
"Power Animal"
"Crystals Have Power"
"The Other Tarts"
"To Cut a Woman's Hair"
"The Chamber of Frozen Blades"
"Her Parents"
"The Pods"
"The Silent King"
"The Real You"
"Guardians of Sunshine"
"Death in Bloom"
"Susan Strong"
"Mystery Train"
"Go With Me"
"Belly of the Beast"
"The Limit"
"Video Makers"
"Mortal Folly"
"Mortal Recoil"
"Heat Signature"
"Conquest of Cuteness"
"Morituri Te Salutamus"
"Memory of a Memory"
"Hitman"
"Too Young"
"The Monster"
"Still"
"Wizard Battle"
"Fionna and Cake"
"What Was Missing"
"Apple Thief"
"The Creeps"
"From Bad to Worse"
"Beautopia"
"No One Can Hear You"
"Jake vs. Me-Mow"
"Thank You"
"The New Frontier"
"Holly Jolly Secrets Part I"
"Holly Jolly Secrets Part II"
"Marceline's Closet"
"Paper Pete"
"Another Way"
"Ghost Princess"
"Dad's Dungeon"
"Incendium"
"Hot to the Touch"
"Five Short Graybles"
"Web Weirdos"
"Dream of Love"
"Return to the Nightosphere"
"Daddy's Little Monster"
"In Your Footsteps"
"Hug Wolf"
"Princess Monster Wife"
"Goliad"
"Beyond this Earthly Realm"
"Gotcha!"
"Princess Cookie"
"Card Wars"
"Sons of Mars"
"Burning Low"
"BMO Noire"
"King Worm"
"Lady and Peebles"
"You Made Me"
"Who Would Win"
"Ignition Point"
"The Hard Easy"
"Reign of Gunters"
"I Remember You"
"The Lich"
"Finn the Human"
"Jake the Dog"
"Five More Short Graybles"
"Up a Tree"
"All the Little People"
"Jake the Dad"
"Mystery Dungeon"
"All Your Fault"
"Little Dude"
"Bad Little Boy"
"Vault of Bones"
"The Great Bird Man"
"Simon and Marcy"
"Puhoy"
"Princess Potluck"
"James Baxter the Horse"
"Shh!"
"The Suitor"
"The Party's Over, Isla de Senorita"
"One Last Job"
"Another Five More Short Graybles"
"Candy Streets"
"Wizards Only, Fools"
"Jake Suit"
"Be More"
"Sky Witch"
"Frost & Fire"
"Too Old"
"Earth & Water"
"Time Sandwich"
"The Vault"
"Love Games"
"Dungeon Train"
"Box Prince"
"Red Starved"
"We Fixed a Truck"
"Play Date"
"The Pit"
"James"
"Root Beer Guy"
"Apple Wedding"
"Blade of Grass"
"Rattleballs"
"The Red Throne"
"Betty"
"Bad Timing"
"Lemonhope Part One"
"Lemonhope Part Two"
"Billy's Bucket List"
"Wake Up"
"Escape from the Citadel"
"James II"
"The Tower"
"Sad Face"
"Breezy"
"Furniture & Meat"
"The Prince Who Wanted Everything"
"Something Big"
"Little Brother"
"Ocarina"
"Thanks for the Crabapples, Giuseppe!"
"Princess Day"
"Joshua & Margaret Investigations"
"Ghost Fly"
"Everything's Jake"
"Is That You?"
"Jake the Brick"
"Dentist"
"The Cooler"
"The Pajama War"
"Astral Plane"
"The Gold Stars"
"The Visitor"
"The Mountain"
"Dark Purple"
"The Diary"
"Walnuts and Rain"
"Friends Forever"
"Jermaine"
"Chips and Ice Cream"
"Graybles 1000+"
"Hoots"
"You Forgot Your Floaties"
"Be Sweet"
"Orgalorg"
"On the Lam"
"Hot Diggity Doom"
"The Comet"
"Bonnie and Neddy"
"Varmints"
"Cherry Cream Soda"
"Mama Said"
"Football"
"Marceline the Vampire Queen"
"Everything Stays"
"Vamps About"
"The Empress Eyes"
"May I Come In?"
"Take Her Back"
"Checkmate"
"The Dark Cloud"
"Angel Face"
"President Porpoise is Missing!"
"King's Ransom"
"The Music Hole"
"Daddy-Daughter Card Wars"
"High Strangeness"
"Imaginary Resources"
Videos
Trivia
He is 2 months and 5 days older than J.G. Quintel.
Forbes Magazine named him as one of the "30 under 30" people in entertainment.[11]
Pen occasionally takes over in some animatics (e.g., "BMO Noire").
Pendleton appears as a hostage you can rescue in the 2013 Run-and-Gun game Mercenary Kings by Tribute Games.

He appears in the mission X-File under the "Corporal" rank. You can rescue him, but it is not required to complete the mission.

In the Adventure Time game Candy Scramble, one of the players on team Lumpy Space Princess is named Bueno, a reference to Bueno the Bear.
Gallery
External links
References
Community content is available under
CC-BY-SA
unless otherwise noted.