Hi Finnythehuman, welcome to the Adventure Time Wiki! You're receiving this automated message because you made your first contribution to this wiki. Someone will probably see your edit to the Jake page shortly.
Please take a look at our rules and manual of style to learn about how to correctly create and edit pages on our wiki.
Leave a message on my talk page if I can help with anything! FIame Princess (talk) 03:15, August 6, 2013 (UTC)
Hey Flame Princess! (Finnythehuman (talk) 03:10, August 11, 2013 (UTC))
Oh-My-Glob!!
Edit
Hello Finnythehuman!  I'm AVP3 and I just happened to notice that you are an Adventure Time fan (well of course) and love playing Minecraft. :O
ME TOO!!!
Minecraft is awesome and we all know that. :)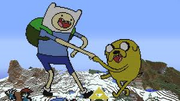 —Preceding unsigned comment added by AVP3 (talk • contribs)
Please remember to sign your posts with four tildes (~~~~).Heeeeeeeeeeeere's JOHNNY

!!!

19:02, August 12, 2013 (UTC)
OH MY GOSH! REALLY!
I am sooo into that kind of thing!  I even named my wolf on there Finn!
(Finnythehuman (talk) 22:54, August 14, 2013 (UTC)) Finnythehuman!
Community content is available under
CC-BY-SA
unless otherwise noted.