Pilot: 2008
Season 1: 2010
Title card
Title
Viewers
(in millions)
Prod. code
Airdate
140px
Slumber Party Panic
2.50
692-009
April 5, 2010
Finn and Princess Bubblegum must protect the Candy Kingdom from a horde of candy zombies they accidentally created.
Trouble in Lumpy Space
2.50
692-015
April 5, 2010
Finn must travel to Lumpy Space to find a cure that will save Jake, who was accidentally bitten by Lumpy Space Princess at Princess Bubblegum's annual 'Mallow Tea Ceremony.'
Prisoners of Love
1.85
692-005
April 12, 2010
Having discovered that the Ice King kidnaps a number of princesses he sees as potential brides, Finn and Jake team with the prisoners to set everybody free.
Tree Trunks
1.85
692-016
April 12, 2010
Finn and Jake join Tree Trunks in search for the rare Crystal Gem Apple, but question whether Tree Trunks has what it takes to adventure.
The Enchiridion!
2.10
692-001
April 19, 2010
Finn and Jake go on a quest for a magical book that would prove them worthy of being righteous heroes.
The Jiggler
2.10
692-011
April 19, 2010
A jiggly creature attracted by Finn's auto-tuned singing follows Finn and Jake home but soon feels ill effects of separation from its family.
Ricardio the Heart Guy
1.91
692-007
April 26, 2010

After saving Princess Bubblegum from the Ice King yet again she offers them a party, but during the party Finn grows jealous of a suspicious heart-shaped man that is wooing with Princesss Bubblegum and sets out to prove that he's evil.

Business Time
1.91
692-014
Official: April 26, 2010
Sneak Peek: March 11, 2010
Finn and Jake fall victim to their own laziness when they delegate their adventuring responsibilities to a group of businessmen thawed from an iceberg.
My Two Favorite People
1.65
692-004
May 3, 2010
Jake feels neglected when his plan to spend time with both Lady Rainicorn and Finn backfires.
Memories of Boom Boom Mountain
1.65
692-010
May 3, 2010
Finn reflects on an upsetting experience in his past and pledges to help everyone in need, but this proves more difficult than imagined.
Wizard
1.82[1]
692-020
May 10, 2010
Finn and Jake are coaxed by a skeleton man to enroll in a course for free magic powers, but are ultimately tricked into helping stop an asteroid.
Evicted!
1.88
692-003
Official: May 17, 2010
Sneak Peek: March 18, 2010
Finn and Jake search the land of Ooo for a new home after Marceline claims the duo's treehouse as her own.
City of Thieves
1.83
692-012
May 24, 2010
Finn and Jake enter the City of Thieves to confront a thief king who has been stealing from little girls.
The Witch's Garden
1.81
692-022
June 7, 2010
Jake loses his enthusiasm for adventure when a witch strips him of his powers for trespassing in her garden.
What is Life?
1.64
692-017
June 14, 2010
Finn builds a pie-throwing robot to seek revenge against Jake, but the machine's conscience is conflicted by the will of the Ice King.
Ocean of Fear
2.00
692-025
June 21, 2010
Jake tries to help Finn overcome his fear of the ocean.
140px
When Wedding Bells Thaw
1.92
692-013
June 28, 2010
The Ice King suppresses his kidnapping urges to wed a suspicious bride and convinces Finn and Jake to throw him a manlorette party, but then realizes he'll have to give up his hobby of kidnapping.
Dungeon
2.48
692-023
July 12, 2010
Finn's headstrong decision to explore a dungeon to find the Crystal Eye in defiance of Jake and Princess Bubblegum's warnings puts him in great danger.
The Duke
1.84
692-019
July 19, 2010
Finn turns Princess Bubblegum green and bald, and faces a moral quandary--whether to confess his mistake and be hated by his friend forever, or let Princess Bubblegum wrongly accuse the Duke of Nuts instead.
Freak City
2.03
692-008
July 26, 2010
After being transformed into a foot by a magic man, Finn joins forces with a band of misfits to fix the problem.
Donny
?
692-018
August 9, 2010
Finn and Jake help a bullying grass ogre named Donny turn his life around, without realizing the ecological damage they may be causing in the process.
Henchman
2.17
692-021
August 23, 2010
Finn takes the place of Marceline's henchman, but finds it hard to obey her seemingly evil commands.
Rainy Day Daydream
2.17
692-002
September 6, 2010
Stuck inside the treehouse due to a knife storm, Finn and Jake use their imagination to pass the time, but then Finn finds out that whatever Jake imagines becomes real.
What Have You Done?
1.54
692-006
September 13, 2010
Without giving good details, Princess Bubblegum tells Finn and Jake to capture the Ice King as their prisoner, but they struggle to defend their actions when they try to interrogate him.
His Hero
1.83[2]
692-026
September 20, 2010
The great warrior Billy inspires Finn and Jake to practice non-violence, but the duo finds it difficult to resist their old ways.
Gut Grinder
1.77[3]
692-024
September 27, 2010
When the Soft People's gold has been devoured by a culprit only known as "The Gut Grinder," Finn and Jake team up to track him down.
Season 2: 2010-2011
Season two contains 26 half episodes and originally aired from October 2010 to mid-2011. Their titles and production codes were revealed on the Frederator Blog.[4]
Title card
Title
Viewers
(in millions)
Prod. code
Airdate
It Came from the Nightosphere
2.00[5]
1002-029
October 11, 2010
Marceline's evil father goes on a soul-sucking rampage after Finn and Marceline accidentally release him from the Nightosphere.
The Eyes
2.27[6]
1002-031
October 18, 2010
Finn and Jake try to rid themselves of a weird horse that creeps them out.
Loyalty to the King
2.54[7]
1002-027
October 25, 2010
Finn and Jake pledge to serve the new "Nice King" who has come to Ooo, but they soon realize that he looks suspiciously like someone else they know.
Blood Under the Skin
1.95[8]
1002-028
November 1, 2010
When some knights mock his lack of armor, Finn must endure a series of embarrassing trials on his quest to get the Magical Armor of Zelderon.
Storytelling
2.15
1002-030
November 8, 2010
When Jake is sick in bed, Finn goes on an adventure so he can have a story to tell him.
Slow Love
2.09[9]
1002-032
November 15, 2010
When a giant snail named Snorlock threatens to destroy their tree house, Finn and Jake must help to find him a mate.
Power Animal
2.23[10]
1002-033
November 22, 2010
Jake has to rescue Finn from a group of evil gnomes who have kidnapped him to harness his endless awesomeness.
Crystals Have Power
2.00
1002-036
November 29, 2010
Jake takes a vow of non-violence, which is inconvenient when they're attacked by marauders from the crystal dimension, under the orders of someone they thought had died.
The Other Tarts
1.97[11]
1002-038
January 3, 2011
Due to the Old Tart Toter having gone mad and old, Princess Bubblegum asked Finn and Jake to volunteer to tote the Royal Tarts through the Royal Tart Path for Ooo's Annual Back-rubbing Ceremony but instead, Finn tried to create his own brilliant plan that would take them to a very wrong turn.
To Cut a Woman's Hair
1.89[12]
1002-035
January 10, 2011
Finn must obtain a lock of a princess's hair to save Jake from being sucked into a balding tree witch's butt.
The Chamber of Frozen Blades
?
1002-037
January 17, 2011
When the Ice King goes away to treat a sick Gunter, Finn and Jake perform a ninja stakeout of his lair to try and find proof he's captured another princess.
Her Parents
2.18[13]
1002-034
January 24, 2011
Jake pretends to be a rainicorn in order to impress Lady Rainicorn's parents.
The Pods
1.94[14]
1002-039
January 31, 2011
Finn and Jake meet a dying frog-turned gnome knight who is bestowed upon three seeds; two of them are good, one is bad, and he vowed that they will never be planted. Finn accepted the bean quest but he planned to plant the beans so that after the pods grow he could destroy evil.
The Silent King
1.53[15]
1002-040
February 7, 2011
Finn and Jake get to live like royalty, but soon find the easy life doesn't suit them. Or at least not Finn.
The Real You
1.83[16]
1002-041
February 14, 2011
Finn has to give a speech at Princess Bubblegum's science barbecue and seeks a quick fix to make himself smarter.
Guardians of Sunshine
1.73[17]
1002-042
February 21, 2011
When Finn and Jake complain about one of BMO's games being too easy, they sneak inside the game and see how tough it truly is.
Death in Bloom
1.98[18]
1002-044
February 28, 2011
Finn and Jake are terrible house sitters and have to go on a quest to replace Princess Bubblegum's rare flower.
Susan Strong
2.38[19]
1002-045
March 7, 2011
Finn is excited to discover a tribe of "humans" living underground near the Candy Kingdom, but gets more than he expected when he tries to teach one of them about the surface world.
140px
Mystery Train
1.96[20]
1002-043
March 14, 2011
Finn & Jake get involved in a high-speed whodunit on Finn's 13th birthday.
Go With Me
?
1002-046
March 28, 2011
Finn needs a date to the movies and must balance the contrasting advice of Jake and Marceline in wooing Princess Bubblegum so he can see the movie with her.
Belly of the Beast
1.64[21]
1002-047
April 4, 2011
In order to cure the stomach ache of a giant, Finn and Jake must break up a party of bears happening in his belly.
The Limit
1.69[22]
1002-048
April 11, 2011
Finn and Jake must risk it all to see their dreams come true at the center of a magic wish-granting maze.
Video Makers
1.73[23]
1002-051
April 18, 2011
Finn and Jake can't decide on the genre of their home video.
Mortal Folly
1.92[24]
1002-049
May 2, 2011
Finn and Jake hunt down the evil Lich while the Ice King pesters them for approval to marry Princess Bubblegum. Part one of a two-part season finale.
Mortal Recoil
1.92
1002-052
May 2, 2011
Due to the events of the previous episode Princess Bubblegum has been brought back to life after a near-death experience. But the Lich has secretly taken possession of her body, and now Finn and Jake must face the princess as a monster to save her and possibly all life as they know it. Part two of a two-part season finale.
Heat Signature
1.98[25]
1002-050
May 9, 2011
Marceline pulls a prank on Finn and Jake, pretending to turn them into vampires.
Season 3: 2011-2012
Season 3 contains 26 half episodes and originally aired on July 2011 to February 2012. Their titles and production codes were revealed on April 6, 2011 on the Frederator Blog.[26]
Title card
Title
Viewers
(in millions)
Prod. code
Airdate
Conquest of Cuteness
2.69[27]
1008-053
July 11, 2011
Finn and Jake's tree house is invaded by Cute King and his army of Cuties.
Morituri Te Salutamus
1.78[28]
1008-054
July 18, 2011
Finn and Jake must fight gladiator ghosts in order to gain their freedom from the Fight King.
Memory of a Memory
2.26[29]
1008-057
July 25, 2011
Finn and Jake enter Marceline's mind to retrieve a spell from her memory.
Hitman
2.27[30]
1008-055
August 1, 2011
Ice King accidentally hires a hitman to take out Finn & Jake.
Too Young
2.09[31]
1008-059
August 8, 2011
The Earl of Lemongrab tries to claim the throne from Princess Bubblegum.
The Monster
2.24[32]
1008-056
August 15, 2011
The king and queen of Lumpy Space ask Finn to track down their daughter and bring her home.
Still
2.29[33]
1008-060
August 22, 2011
Finn and Jake are frozen by the Ice King in order to become better 'friends.'
Wizard Battle
2.30[34]
1008-061
August 29, 2011
Finn enters a wizard battle to prevent Ice King from winning a kiss from Princess Bubblegum.
Fionna and Cake
3.32[35]
1008-058
September 5, 2011
In this gender-swapped episode, Fionna and Cake fight the evil Ice Queen.
What Was Missing
2.18[36]
1008-062
September 26, 2011
Finn, Jake, Princess Bubblegum, and Marceline go after an evil door lord by becoming a genuine band to get their stuff back.
Apple Thief
1.99[37]
1008-067
October 3, 2011
Finn and Jake travel to a seedy part of the Candy Kingdom to track down Tree Trunks' stolen apples.
The Creeps
2.03[38]
1008-070
October 17, 2011
Finn and Jake receive an invitation to a masquerade dinner. It turns into a whodunit as guests start to meet their demise.
From Bad to Worse
2.21[39]
1008-064
October 24, 2011
A zombie epidemic strikes in Ooo... and it's Princess Bubblegum's fault.
Beautopia
1.92[40]
1008-065
November 7, 2011
Susan Strong asks Finn and Jake to help fight off the Lub Glubs and regain her people's home in Beautopia.
No One Can Hear You
2.48[41]
1008-066
November 14, 2011
Finn and Jake find themselves alone after the people of the Candy Kingdom vanish.
Jake vs. Me-Mow
2.26[42]
1008-071
November 21, 2011
A tiny cat assassin infiltrates Jake's nose, blackmailing him to kill Wildberry Princess
Thank You
2.33[43]
1008-063
November 23, 2011
The Snow Golem visits the border between the Fire Kingdom and the Ice Kingdom and discovers a lost fire wolf that needed the golem's help to get home.
The New Frontier
2.38[44]
1008-072
November 28, 2011
Jake dreams about his death, and Finn takes action when events from the dream start to come true.
Holly Jolly Secrets Part I
2.51[45]
1008-068
December 5, 2011
Finn and Jake find the Ice King's video diary and have a chance to unearth his secrets.
Holly Jolly Secrets Part II
2.51[46]
1008-069
December 5, 2011
Finn and Jake find the Ice King's video diary and have a chance to unearth his secrets.
Marceline's Closet
2.50[47]
1008-073
December 12, 2011
Finn and Jake are trapped in Marceline's closet.
Paper Pete
TBA
1008-075
January 16, 2012
The guardians of the books in the Library seek help from Finn and Jake to save them from the evil Moldos.
Another Way
TBA
1008-076
January 23, 2012
Finn is freaked out by Clown Nurses, so he searches for another way to heal his and Jake's broken toes.
Ghost Princess
TBA
1008-077
January 30, 2012
Finn and Jake head into Ghost Princess' Cemetery to find the cause of her death, while she finds something greater...and more tragic.
Dad's Dungeon
TBA
1007-078
February 6, 2012
Jake's dad presents a strange challenge to the guys when he appears to them in a holographic message.
Incendium
TBA
1008-074
February 13, 2012
Jake embarks on a solo mission to help a broken-hearted Finn.
Season 4: April 2012
Season 4 premiered on April 2, 2012. Episode titles were posted on the Frederator Blog in March 2012.[48]
Writing of the season started on or before May 2011.[49] According to Andy Ristaino, by February 2012, the season had been written, storyboarded and approved.[50] The season will see the premiere of the 100th episode of the series, "The Hard Easy" (previously titled "Prince Huge"). Adam Muto reported that characters not seen since Season 1 will return, with The Earl of Lemongrab, Magic Man, the Lich, Marceline's father and NEPTR being confirmed to return. Adam Muto said that both BMO and Marceline's backstories will be also explored a bit more in this season.[51] The season will feature guest voices by Donald Faison, George Takei, Erik Estrada, Andy Milonakis, Emo Phillips, Bobcat Goldthwait and Susie Essman. There will be two-part episodes in this season.[52] Jeremy Shada also mentioned that Marceline and Ice King will sing together.
Title card
Title
Viewers
(in millions)
Prod. code
Airdate
Hot to the Touch
2.655[53]
1008-082
April 2, 2012
Finn goes on a quest to prove Flame Princess isn't really evil, but ends up trying to stop Flame Princess from taking over the Goblin Kingdom.
Five Short Graybles
TBA
1008-079
April 9, 2012
A series of short stories all centered around the five senses.
Web Weirdos
TBA
1008-081
April 16, 2012
When Finn gets trapped in a giant spider web, he ends up playing marriage counselor to a couple of grumpy arachnids.
Dream of Love
TBA
1008-080
April 23, 2012
Tree Trunks is courted by an oinking suitor, but much to Jake's dismay, this interferes with her baking habits.
Return to the Nightosphere
1008-085
April 30, 2012
Marceline's dad banishes Finn and Jake to the Nightosphere, and it stinks. Literally.
Daddy's Little Monster
1008-086
April 30, 2012
Finn and Jake attempt to rescue Marceline and find out what's making her behave so strangely.
In Your Footsteps
1008-083
May 7, 2012
Finn and Jake befriend a bear, but what are the bear's intentions?
Hug Wolf
1008-084
May 14, 2012
Finn discovers a hug wolf and goes through a strange transformation. Becoming a hug wolf himself!
Princess Monster Wife
1008-088
May 28, 2012
The princesses are strangely losing body parts. So, Finn and Jake investigate.
Goliad
1008-087
June 4, 2012
Realizing her mortality, Princess Bubblegum creates an immortal replacement.
Beyond this Earthly Realm
1008-089
June 11, 2012
When Finn finds a porcelain lamb, it transports him into the spirit world and only the Ice King can help get him out!
Gotcha!
1008-090
June 18, 2012
In order to do research for her tell-all memoir about men, Lumpy Space Princess goes undercover working for Finn and Jake.
Princess Cookie
1008-091
June 25, 2012
Finn and Jake are called to solve a Candy Kingdom hostage crisis when a rogue cookie takes over.
Card Wars
1008-092
July 16, 2012
Finn and Jake play Card Wars, an epic card game.
Sons of Mars
1008-093
July 23, 2012
Jake becomes a copy of Magic Man after a run-in with him.
Burning Low
3.504[54]
1008-094
July 30, 2012
Princess Bubblegum may be jealous when Finn starts hanging out with Flame Princess.
BMO Noire
1008-095
August 6, 2012
BMO tries to find Finn's sock.
King Worm
1008-096
August 13, 2012
All of Ooo appears in Finn's vivid dream. [55]
Lady & Peebles
1008-098
August 20, 2012
Princess Bubblegum and Lady Rainicorn search for a missing Finn and Jake.
140px
You Made Me!
1008-099
August 27, 2012
When a creepy sleep-peeping Lemongrab upsets Princess Bubblegum with his creepy ways, Finn and Jake need to tend to some issues in the Outer Realm.
Who Would Win
1008-097
September 3, 2012
Finn and Jake challenge a monster to a fight but end up battling each other.[56]
Ignition Point
1008-101
September 17, 2012
Finn and Jake sneak into the Fire Kingdom and are caught in a family feud.[57]
The Hard Easy
1008-100
October 1, 2012 [58]
Frog People seek protection from an evil lizard who's attacking their swamp.[59]
Reign of Gunters
1008-102
October 8, 2012[60]
The Gunters cause chaos in Ooo.[61]
I Remember You
1008-103
October 15, 2012
Ice King and Marceline bond over memories.[62]
The Lich
1008-104
A visit from the Lich King sheds light on Ooo's secrets.
Season 5: November 2012
In an interview with Charlie Jane Anders, Pendleton Ward revealed that the writers are currently working on Season 5.[63] Jesse Moynihan revealed that as of July 30, 2012, works on season 5 storyboards has already ended. He also stated that the pairs working on those were: Jesse Moynihan and Ako Castuera, Cole Sanchez and Rebecca Sugar, Tom Herpich and Steve Wolfhard, Skyler Page and Somvilay Xayaphone with the help of Kent Osborne.[64] It was stated that the second Fionna and Cake episode titled "Bad Little Boy" will premiere this season. It will mark the return of Prince Gumball and Marshall Lee (voiced by Donald Glover). Flame Princess will come back to redeem herself. Lady Rainicorn's and Jake's children will be born. There will also be an episode animated by David O'Reilly, an Irish animator.[65] Season 5 will begin with the airing of a two-parter on Monday November 12, 7:30 p.m. (ET/PT) on Cartoon Network.[66]
Season 6: TBA
One of the show's storyboarders, Jesse Moynihan, has suggested there will be a sixth season. [67] He later said he would be coming back to work on this season in September. [68]
Unproduced episodes
These episodes were planned, and are known from design documents released by Frederator Studios in 2009 during the production of the first season. However, they were not produced for season one, and it is unlikely that they will actually be made into full episodes.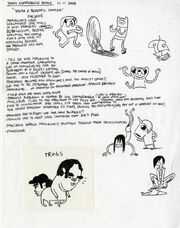 "Brothers in Insomnia" was originally episode #692-002. However, it was scrapped, and its production number was taken by "Rainy Day Daydream," which was actually one of the last episodes produced for season one.
[69]
The Frederator blog also posted notes for an episode that was thought to be titled "You're a Beautiful Dancer"[71]. However, Adam Muto later confirmed that "You're a Beautiful Dancer" was just a quote that Finn was saying to Jake and was never meant to be an episode title. He stated that the page in question only contained random story ideas that were never fully developed into episodes.[72]
Adam Muto has confirmed "Jakesuit" eventually worked its way into "The Silent King"[73], which may give hints about the plot outline of "Jakesuit."
References
content=