Pilot: 2007
Season 1: 2010
No.

overall

No. in season
Title card
Title
Viewers
(in millions)
Prod. code
Airdate
1
1
"Slumber Party Panic"
2.50
692-009
April 5, 2010
Finn and Princess Bubblegum must protect the Candy Kingdom from a horde of candy zombies they accidentally created.
2
2
"Trouble in Lumpy Space"
2.50
692-015
April 5, 2010
Finn must travel to Lumpy Space to find a cure that will save Jake, who was accidentally bitten by Lumpy Space Princess at Princess Bubblegum's annual 'Mallow Tea Ceremony'.
3
3
"Prisoners of Love"
1.85
692-005
April 12, 2010
Having discovered that the Ice King kidnaps a number of princesses he sees as potential brides, Finn and Jake team with the prisoners to set everybody free.
4
4
"Tree Trunks"
1.85
692-016
April 12, 2010
Finn and Jake join Tree Trunks in search for the rare Crystal Gem Apple, but question whether Tree Trunks has what it takes to adventure.
5
5
"The Enchiridion!"
2.10
692-001
April 19, 2010
Finn and Jake go on a quest for a magical book that would prove them worthy of being righteous heroes.
6
6
"The Jiggler"
2.10
692-011
April 19, 2010
A jiggly creature attracted by Finn's auto-tuned singing follows Finn and Jake home but soon feels ill effects of separation from its family.
7
7
"Ricardio the Heart Guy"
1.91
692-007
April 26, 2010

After saving Princess Bubblegum from the Ice King yet again she offers them a party, but during the party Finn grows jealous of a suspicious heart-shaped man that is wooing with Princesss Bubblegum and sets out to prove that he's evil.

8
8
"Business Time"
1.91
692-014
April 26, 2010
Finn and Jake fall victim to their own laziness when they delegate their adventuring responsibilities to a group of businessmen thawed from an iceberg.
9
9
"My Two Favorite People"
1.65
692-004
May 3, 2010
Jake feels neglected when his plan to spend time with both Lady Rainicorn and Finn backfires.
10
10
"Memories of Boom Boom Mountain"
1.65
692-010
May 3, 2010
Finn reflects on an upsetting experience in his past and pledges to help everyone in need, but this proves more difficult than imagined.
11
11
"Wizard"
1.82[1]
692-020
May 10, 2010
Finn and Jake are coaxed by a skeleton man to enroll in a course for free magic powers, but are ultimately tricked into helping stop an asteroid.
12
12
"Evicted!"
1.88
692-003
May 17, 2010
Finn and Jake search the land of Ooo for a new home after Marceline claims the duo's treehouse as her own.
13
13
"City of Thieves"
1.83
692-012
May 24, 2010
Finn and Jake enter the City of Thieves to confront a thief king who has been stealing from little girls.
14
14
"The Witch's Garden"
1.81
692-022
June 7, 2010
Jake loses his enthusiasm for adventure when a witch strips him of his powers for trespassing in her garden.
15
15
"What is Life?"
1.64
692-017
June 14, 2010
Finn builds a pie-throwing robot to seek revenge against Jake, but the machine's conscience is conflicted by the will of the Ice King.
16
16
"Ocean of Fear"
2.00
692-025
June 21, 2010
Jake tries to help Finn overcome his fear of the ocean.
17
17
"When Wedding Bells Thaw"
1.92
692-013
June 28, 2010
The Ice King suppresses his kidnapping urges to wed a suspicious bride and convinces Finn and Jake to throw him a manlorette party, but then realizes he'll have to give up his hobby of kidnapping.
18
18
"Dungeon"
2.48
692-023
July 12, 2010
Finn's headstrong decision to explore a dungeon to find the Crystal Eye in defiance of Jake and Princess Bubblegum's warnings puts him in great danger.
19
19
"The Duke"
1.84
692-019
July 19, 2010
Finn turns Princess Bubblegum green and bald, and faces a moral quandary—whether to confess his mistake and be hated by his friend forever, or let Princess Bubblegum wrongly accuse the Duke of Nuts instead.
20
20
"Freak City"
2.03
692-008
July 26, 2010
After being transformed into a foot by a Magic Man, Finn joins forces with a band of misfits to fix the problem.
21
21
"Donny"
TBA
692-018
August 9, 2010
Finn and Jake help a bullying grass ogre named Donny turn his life around, without realizing the ecological damage they may be causing in the process.
22
22
"Henchman"
2.17
692-021
August 23, 2010
Finn takes the place of Marceline's henchman, but finds it hard to obey her seemingly evil commands.
23
23
"Rainy Day Daydream"
2.17
692-002
September 6, 2010
Stuck inside the treehouse due to a knife storm, Finn and Jake use their imagination to pass the time, but then Finn finds out that whatever Jake imagines becomes real.
24
24
"What Have You Done?"
1.54
692-006
September 13, 2010
Without giving good details, Princess Bubblegum tells Finn and Jake to capture the Ice King as their prisoner, but they struggle to defend their actions when they try to interrogate him.
25
25
"His Hero"
1.83[2]
692-026
September 20, 2010
The great warrior Billy inspires Finn and Jake to practice non-violence, but the duo finds it difficult to resist their old ways.
26
26
"Gut Grinder"
1.77[3]
692-024
September 27, 2010
When the Soft People's gold has been devoured by a culprit only known as "The Gut Grinder," Finn and Jake team up to track him down.
Season 2: 2010-2011
Season two contains 26 episodes and originally aired from October 2010 to mid-2011. Their titles and production codes were revealed on the Frederator Blog.[4]
No.

overall

No. in season
Title card
Title
Viewers
(in millions)
Prod. code
Airdate
27
1
"It Came from the Nightosphere"
2.001[5]
1002-029
October 11, 2010
Marceline's evil father goes on a soul-sucking rampage after Finn and Marceline accidentally release him from the Nightosphere.
28
2
"The Eyes"
2.264[6]
1002-031
October 18, 2010
Finn and Jake try to rid themselves of a weird horse that creeps them out.
29
3
"Loyalty to the King"
2.541[7]
1002-027
October 25, 2010
Finn and Jake pledge to serve the new "Nice King" who has come to Land of Ooo, but they soon realize that he looks suspiciously like someone else they know.
30
4
"Blood Under the Skin"
1.952[8]
1002-028
November 1, 2010
When some knights mock his lack of armor, Finn must endure a series of embarrassing trials on his quest to get the Magical Armor of Zelderon.
31
5
"Storytelling"
2.148
1002-030
November 8, 2010
When Jake is sick in bed, Finn goes on an adventure so he can have a story to tell him.
32
6
"Slow Love"
2.090[9]
1002-032
November 15, 2010
When a giant snail named Snorlock threatens to destroy their tree house, Finn and Jake must help to find him a mate.
33
7
"Power Animal"
2.228[10]
1002-033
November 22, 2010
Jake has to rescue Finn from a group of evil gnomes who have kidnapped him to harness his endless awesomeness.
34
8
"Crystals Have Power"
2.002
1002-036
November 29, 2010
Jake takes a vow of non-violence, which is inconvenient when they're attacked by marauders from the crystal dimension, under the orders of someone they thought had died.
35
9
"The Other Tarts"
1.974[11]
1002-038
January 3, 2011
Due to the Old Tart Toter having gone mad and old, Princess Bubblegum asked Finn and Jake to volunteer to tote the Royal tarts through the Royal Tart Path for Ooo's Annual Back-rubbing Ceremony but instead, Finn tried to create his own brilliant plan that would take them to a very wrong turn.
36
10
"To Cut a Woman's Hair"
1.886[12]
1002-035
January 10, 2011
Finn must obtain a lock of a princess's hair to save Jake from being sucked into a balding tree witch's butt.
37
11
"The Chamber of Frozen Blades"
TBA
1002-037
January 17, 2011
When the Ice King goes away to treat a sick Gunter, Finn and Jake perform a ninja stakeout of his lair to try and find proof he's captured another princess.
38
12
"Her Parents"
2.177[13]
1002-034
January 24, 2011
Jake pretends to be a rainicorn in order to impress Lady Rainicorn's parents.
39
13
"The Pods"
1.944[14]
1002-039
January 31, 2011
Finn and Jake meet a dying frog-turned gnome knight who is bestowed upon three seeds; two of them are good, one is bad, and he vowed that they will never be planted. Finn accepted the bean quest but he planned to plant the beans so that after the pods grow he could destroy evil.
40
14
"The Silent King"
1.532[15]
1002-040
February 7, 2011
Finn and Jake get to live like royalty, but soon find the easy life doesn't suit them. Or at least not Finn.
41
15
"The Real You"
1.825[16]
1002-041
February 14, 2011
Finn has to give a speech at Princess Bubblegum's science barbecue and seeks a quick fix to make himself smarter.
42
16
"Guardians of Sunshine"
1.729[17]
1002-042
February 21, 2011
When Finn and Jake complain about one of BMO's games being too easy, they sneak inside the game and see how tough it truly is.
43
17
"Death in Bloom"
1.981[18]
1002-044
February 28, 2011
Finn and Jake are terrible plant sitters and have to go on a quest to replace Princess Bubblegum's rare flower.
44
18
"Susan Strong"
2.378[19]
1002-045
March 7, 2011
Finn is excited to discover a tribe of "humans" living underground near the Candy Kingdom, but gets more than he expected when he tries to teach one of them about the surface world.
45
19
"Mystery Train"
1.958[20]
1002-043
March 14, 2011
Finn & Jake get involved in a high-speed murder mystery on Finn's 13th birthday.
46
20
"Go With Me"
1.270
1002-046
March 28, 2011
Finn needs a date to the movies and must balance the contrasting advice of Jake and Marceline in wooing Princess Bubblegum so he can see the movie with her.
47
21
"Belly of the Beast"
1.640[21]
1002-047
April 4, 2011
In order to cure the stomach ache of a giant, Finn and Jake must break up a party of bears happening in his belly.
48
22
"The Limit"
1.693[22]
1002-048
April 11, 2011
Finn and Jake must risk it all to see their dreams come true at the center of a magic wish-granting maze with the Hot Dog Knights.
49
23
"Video Makers"
1.733[23]
1002-051
April 18, 2011
Finn and Jake can't decide on the genre of their home video. Later, the two fight to see what kind of movie genre they shall release.
50
24
"Heat Signature"
1.975[24]
1002-050
May 9, 2011
Marceline pulls a prank on Finn and Jake, pretending to turn them into vampires.
51
25
"Mortal Folly"
1.920[25]
1002-049
May 2, 2011
Finn and Jake hunt down the evil Lich while the Ice King pesters them for approval to marry Princess Bubblegum. Part one of a two-part season finale.
52
26
"Mortal Recoil"
1.920
1002-052
May 2, 2011
Princess Bubblegum recovers from being dropped in the Well of Power by the Ice King; however, she is altered and her condition leads to an unlikely final showdown with one of the greatest evils in order to save all life in Ooo.
Season 3: 2011-2012
Season 3 contains 26 episodes and originally aired on July 2011 to February 2012. Their titles and production codes were revealed on April 6, 2011 on the Frederator Blog.[26]. Season 3 saw the debut of many recurring characters, such as Fionna and Cake, the Earl of Lemongrab, Flame Princess, Mr. Pig, and Abracadaniel.
No. overall
No. in season
Title card
Title
Viewers
(in millions)
Prod. code
Airdate
53
1
"Conquest of Cuteness"
2.686[27]
1008-053
July 11, 2011
Finn and Jake's tree house is invaded by Cute King and his army of "evil" Cuties who decide to murder Finn and Jake.
54
2
"Morituri Te Salutamus"
1.784[28]
1008-054
July 18, 2011
Finn and Jake must fight gladiator ghosts in order to gain their freedom from the Fight King.
55
3
"Memory of a Memory"
2.255[29]
1008-057
July 25, 2011
Finn and Jake enter Marceline's mind to retrieve a memory of a sleeping spell.
56
4
"Hitman"
2.273[30]
1008-055
August 1, 2011
Ice King accidentally hires a hitman to kill Finn & Jake.
57
5
"Too Young"
2.089[31]
1008-059
August 8, 2011
The Earl of Lemongrab tries to claim the throne from Princess Bubblegum, who is now 13 years old like Finn.
58
6
"The Monster"
2.242[32]
1008-056
August 15, 2011
The king and queen of Lumpy Space ask Finn to track down their daughter and bring her home.
59
7
"Still"
2.292[33]
1008-060
August 22, 2011
Finn and Jake are frozen by the Ice King in order to become better "friends."
60
8
"Wizard Battle"
2.302[34]
1008-061
August 29, 2011
Finn enters a wizard battle to stop Ice King from winning a kiss from Princess Bubblegum.
61
9
"Fionna and Cake"
3.315[35]
1008-058
September 5, 2011
In this gender-swapped episode, Fionna and Cake fight the evil Ice Queen from marrying Prince Gumball.
62
10
"What Was Missing"
2.185[36]
1008-062
September 26, 2011
Finn, Jake, Princess Bubblegum, and Marceline go after an evil door lord by becoming a genuine band to get their stuff back especially everyone's in Land of Ooo.
63
11
"Apple Thief"
1.996[37]
1008-067
October 3, 2011
Finn and Jake travel to a seedy part of the Candy Kingdom to track down Tree Trunks' stolen apples.
64
12
"The Creeps"
2.025[38]
1008-070
October 17, 2011
Finn and Jake receive an invitation to a masquerade dinner. It turns into a whodunit as guests start to meet their demise.
65
13
"From Bad to Worse"
2.216[39]
1008-064
October 24, 2011
A zombie epidemic strikes in Ooo... and it's Princess Bubblegum's fault.
66
14
"Beautopia"
1.922[40]
1008-065
November 7, 2011
Susan Strong asks Finn and Jake to help fight off the Lub Glubs and regain her people's home in Beautopia.
67
15
"No One Can Hear You"
2.483[41]
1008-066
November 14, 2011
Finn and Jake find themselves alone after the people of the Candy Kingdom vanish.
68
16
"Jake vs. Me-Mow"
2.263[42]
1008-071
November 21, 2011
A tiny cat assassin infiltrates Jake's nose, blackmailing him to murder Wildberry Princess.
69
17
"Thank You"
2.332[43]
1008-063
November 23, 2011
The Snow Golem visits the border between the Fire Kingdom and the Ice Kingdom and discovers a lost fire wolf that needed the golem's help to get home.
70
18
"The New Frontier"
2.387[44]
1008-072
November 28, 2011
Jake dreams about his death, and Finn takes action when events from the dream start to come true.
71
19
"Holly Jolly Secrets Part I"
2.513[45]
1008-068
December 5, 2011
Finn and Jake find the Ice King's video diary and have a chance to unearth his secrets.
72
20
"Holly Jolly Secrets Part II"
2.513[45]
1008-069
December 5, 2011
Finn and Jake find the Ice King's video diary and have a chance to unearth his secrets.
73
21
"Marceline's Closet"
2.504[46]
1008-073
December 12, 2011
Finn and Jake are trapped in Marceline's closet because they thought Marceline would suck their blood.
74
22
"Paper Pete"
TBA
1008-075
January 16, 2012
The guardians of the books in the Library seek help from Finn and Jake to save them from the evil Moldos.
75
23
"Another Way"
TBA
1008-076
January 23, 2012
Finn is freaked out by Clown Nurses, so he searches for another way to heal his and Jake's broken toes.
76
24
"Ghost Princess"
TBA
1008-077
January 30, 2012
Finn and Jake head into Ghost Princess' Cemetery to find the cause of her death, while she finds something greater...and more tragic.
77
25
"Dad's Dungeon"
2.596[47]
1008-078
February 6, 2012
Jake's dad presents a strange challenge to the guys when he appears to them in a holographic message.
78
26
"Incendium"
TBA
1008-074
February 13, 2012
Jake embarks on a solo mission to help a broken-hearted Finn.
Season 4: 2012
Season 4 premiered on April 2, 2012. Episode titles were posted on the Frederator Blog in March 2012.[48]
Writing of the season had started by May 2011.[49] The season saw the premiere of the 100th episode of the series, "The Hard Easy" (previously titled "Prince Huge"). Adam Muto reported that characters not seen since the earlier seasons would return, with The Earl of Lemongrab, Magic Man, the Lich, Hunson Abadeer and Neptr being confirmed to return. Prior to the season's airing, Adam Muto said that Marceline's backstory would be explored further, and Jeremy Shada also mentioned that Marceline and Ice King would sing together,[50], which took place in the episode "I Remember You." The season featured guest voices by Donald Faison, George Takei, Erik Estrada, Andy Milonakis, Emo Phillips, Bobcat Goldthwait and Susie Essman. The season featured one complete two-parter ("Return to the Nightosphere" and "Daddy's Little Monster"), however the season's introductory episode was a continuation of the season 3 finale, and the season 4 finale continued into season 5's two-part opening episode.
No. overall
No. in season
Title card
Title
Viewers
(in millions)
Prod. code
Airdate
79
1
"Hot to the Touch"
2.655[51]
1008-082
April 2, 2012
Finn goes on a quest to prove Flame Princess isn't really evil, but ends up trying to stop Flame Princess from taking over the Goblin Kingdom.
80
2
"Five Short Graybles"
TBA
1008-079
April 9, 2012
A series of short stories all centered around the five senses.
81
3
"Web Weirdos"
TBA
1008-081
April 16, 2012
When Finn gets trapped in a giant spider web, he ends up playing marriage counselor to a couple of grumpy arachnids.
82
4
"Dream of Love"
TBA
1008-080
April 23, 2012
Tree Trunks is courted by an oinking suitor, but much to Jake's dismay, this interferes with her baking habits.
83
5
"Return to the Nightosphere"
TBA
1008-085
April 30, 2012
Marceline's dad banishes Finn and Jake to the Nightosphere, and it stinks. Literally.
84
6
"Daddy's Little Monster"
TBA
1008-086
April 30, 2012
Finn and Jake attempt to rescue Marceline and find out what's making her behave so strangely.
85
7
"In Your Footsteps"
TBA
1008-083
May 7, 2012
Finn and Jake befriend a bear, but what are the bear's intentions?
86
8
"Hug Wolf"
TBA
1008-084
May 14, 2012
Finn discovers a hug wolf and goes through a strange transformation. Becoming a hug wolf himself!
87
9
"Princess Monster Wife"
TBA
1008-088
May 28, 2012
The princesses are strangely losing body parts. So, Finn and Jake investigate.
88
10
"Goliad"
TBA
1008-087
June 4, 2012
Realizing her mortality, Princess Bubblegum creates an immortal replacement.
89
11
"Beyond this Earthly Realm"
TBA
1008-089
June 11, 2012
When Finn finds a porcelain lamb, it transports him into the spirit world and only the Ice King can help get him out!
90
12
"Gotcha!"
2.392[52]
1008-090
June 18, 2012
In order to do research for her tell-all memoir about men, Lumpy Space Princess goes undercover working for Finn and Jake.
91
13
"Princess Cookie"
TBA
1008-091
June 25, 2012
Finn and Jake are called to solve a Candy Kingdom hostage crisis when a rogue cookie takes over.
92
14
"Card Wars"
TBA
1008-092
July 16, 2012
Finn and Jake play Card Wars, an epic card game.
93
15
"Sons of Mars"
TBA
1008-093
July 23, 2012
Jake becomes a copy of Magic Man after a run-in with him.
94
16
"Burning Low"
3.504[53]
1008-094
July 30, 2012
Princess Bubblegum may be jealous when Finn starts hanging out with Flame Princess.
95
17
"BMO Noire"
TBA
1008-095
August 6, 2012
BMO tries to find Finn's sock.
96
18
"King Worm"
TBA
1008-096
August 13, 2012
All of Ooo appears in Finn's vivid dream.[54]
97
19
"Lady & Peebles"
2.754[55]
1008-098
August 20, 2012
Princess Bubblegum and Lady Rainicorn search for a missing Finn and Jake.
98
20
"You Made Me"
TBA
1008-099
August 27, 2012
When a creepy sleep-peeping Lemongrab upsets Princess Bubblegum with his creepy ways, Finn and Jake need to tend to some issues in the Outer Realm.
99
21
"Who Would Win"
TBA
1008-097
September 3, 2012
Finn and Jake challenge a monster to a fight but end up battling each other.[56]
100
22
"Ignition Point"
2.256[57]
1008-101
September 17, 2012
Finn and Jake sneak into the Fire Kingdom and are caught in a family feud.[58]
101
23
"The Hard Easy"
2.643[59]
1008-100
October 1, 2012 [60]
Mudscamps seek protection from the Mega Frog who's attacking their swamp.
102
24
"Reign of Gunters"
1.845[61]
1008-102
October 8, 2012[62]
Gunter and his doppleganger cause chaos in Ooo.[63]
103
25
"I Remember You"
2.535[64]
1008-103
October 15, 2012
Ice King and Marceline bond over memories. [65]
104
26
"The Lich"
2.589[66]
1008-104
October 22, 2012
A visit from the Lich sheds light on Land of Ooo's secrets.
Season 5: 2012-2014
In an interview with Charlie Jane Anders, Pendleton Ward revealed that the writers were working on season 5.[67] Season 5 began with the airing of a two-parter on Monday November 12, 7:30 p.m. (ET/PT), 2012, on Cartoon Network titled "Finn the Human"/"Jake the Dog."[68] The episode titles and production codes were revealed by the Frederator blog. It was also revealed that this season was to contain a one-hour special (with the production codes 1014-125, 1014-126, 1014-127, and 1014-128), but it was pushed off for later, and eventually cancelled.[69] As of June 30, 2013, storyboarder Jesse Moynihan revealed that the one-hour "movie" was intended to divide season 5 in half, which has now been extended by another 26 episodes. On November 26, 2013, Jesse Moynihan announced on Twitter that the special had been scrapped. [70] This season consists of twice as many episodes as a normal season, making it the longest season so far. According to iTunes' synopsis, season 5.2 "heats up, cools down, then heats back up again as Flame Princess battles Ice King in a mathematical battle of the elements! And what will Princess Bubblegum discover in the aftermath?! Then P-Bubs joins Marceline on a top-secret mission in search of…wait…that's top secret! Nice try!! Then take a trip with Finn and Jake to the birthplace of BMO. It will be so cool. But also hot."[71]
No. overall
No. in season
Title card
Title
Viewers
(in millions)
Prod. code
Airdate
105
1
"Finn the Human"
3.435[72]
1014-105
November 12, 2012
Finn and Jake chase the Lich through a dimensional portal where they meet Prismo, who tells them that the Lich wished for the destruction of all life. This leads Finn to wish that the Lich "never even ever existed."
106
2
"Jake the Dog"
3.435[72]
1014-106
November 12, 2012
Finn gains powers from the Ice King's crown.
107
3
"Five More Short Graybles"
2.603[73]
1014-107
November 19, 2012
Short tales about Finn and Jake's thumbs, Marceline's search for a music shop and the Ice King's new bride.
108
4
"Up a Tree"
2.376[74]
1014-108
November 26, 2012
Finn and Jake's game of catch goes awry when their throwing disc is lodged in a large tree.
109
5
"All the Little People"
2.530[75]
1014-109
December 3, 2012
Finn receives a bag full of miniature versions of his friends.[76]
110
6
"Jake the Dad"
3.190[77]
1014-111
January 7, 2013[78]
Jake finds fatherhood challenging.[79]
111
7
"Davey"
2.310[80]
1014-112
January 14, 2013[78]
Finn is hailed as a hero everywhere he goes.[81]
112
8
"Mystery Dungeon"
2.709[82]
1014-113
January 21, 2013[78]
Ice King, Neptr, Tree Trunks, Shelby and Lemongrab must work together to escape a dungeon.[83]
113
9
"All Your Fault"
2.710[84]
1014-115
January 28, 2013[78]
The Earls of Lemongrab send a distress message, and Finn and Jake investigate.[85]
114
10
"Little Dude"
2.602[86]
1014-114
February 4, 2013[87]
Finn's hat comes to life while he and Jake are swimming.
115
11
"Bad Little Boy"
3.077[88]
1014-110
February 18, 2013
The princesses are sick and tired of Ice King's crazy Fionna and Cake stories, so Marceline stops by the Ice Kingdom to show him how it's done.[89]
116
12
"Vault of Bones"
2.700[90]
1014-116
February 25, 2013[91]
Finn's worried that Flame Princess still has evil tendencies in her and wants to shift her alignment to good.[92][93]
117
13
"The Great Bird Man"
2.579[94]
1014-117
March 4, 2013[95]
When Finn and Jake get lost in the badlands, they are saved by the ex-Goblin King.[96]
118
14
"Simon & Marcy"
2.600[97]
1014-118
March 25, 2013[98]
Ice King and Marceline 996 years ago.[99]
119
15
"A Glitch is a Glitch"
2.004[100]
1014-120
April 1, 2013 [101]
Ice King creates a computer virus to delete everybody except him and Princess Bubblegum.
120
16
"Puhoy"
2.750[102]
1014-119
April 8, 2013 [103]
Finn visits a new world while Jake builds a pillow fort during a knife storm.[104]
121
17
"BMO Lost"
2.394[105]
1014-123
April 15, 2013 [106]
BMO gets snatched away by a giant eagle and must find his way home.[107]
122
18
"Princess Potluck"
2.271[108]
1014-122
April 22, 2013 [109][110]
Ice King isn't invited to the princess's potluck, so he tries to ruin it.
123
19
"James Baxter the Horse"
2.210[111]
1014-124
May 6, 2013
Finn and Jake meet a horse named James Baxter and decide to act like him.
124
20
"Shh!"
2.350[112]
1014-129
May 13, 2013 [113]
Finn and Jake use signs to communicate.
125
21
"The Suitor"
2.409[114]
1014-130
May 20, 2013 [115]
Peppermint Butler lines up a suitor for Bubblegum, who he thinks is working too much.
126
22
"The Party's Over, Isla de Señorita"
2.107[116]
1014-131
May 27, 2013 [117]
Ice King throws in the towel after another scheme fails.
127
23
"One Last Job"
2.380[118]
1014-121
June 10, 2013
Jake Jr. gets mixed up with some bad eggs and Jake has to reunite with his old gang for one last job to save her.
128
24
"Another Five More Short Graybles"
2.270[119]
1014-132
June 17, 2013[120]
Finn and Jake build a time machine; Princess Bubblegum helps Cinnamon Bun conquer his fear of the dark. [121]
129
25
"Candy Streets"
2.087[122]
1014-133
June 24, 2013[120]
LSP is robbed but doesn't get a look at her assailant.[123]
130
26
"Wizards Only, Fools"
2.499[124]
1014-134
July 1, 2013[125]
Starchy asks Princess Bubblegum to use magic to cure him, but she does not believe in magic.[126]
131
27
"Jake Suit"
2.457[127]
1014-135
July 15, 2013[128]
Jake is sick and tired of Finn using his body as a suit of armor, so he convinces Finn to trade places to show him how much it really stinks.[128]
132
28
"Be More"
2.670[129]
1014-136
July 22, 2013[120]
Finn and Jake disguise themselves as MOs in order to infiltrate the MO factory in hopes of saving BMO from malfunctioning.[128]
133
29
"Sky Witch"
2.075[130]
1014-138
July 29, 2013[120]
Marceline is on a top-secret mission tracking Maja the Sky Witch. But when she loses the witch's trail, Marceline turns to Princess Bubblegum for help.[128]
134
30
"Frost & Fire"
3.009[131]
1014-137
August 5, 2013[120]
Flame Princess and Ice King battle, prompting Finn to have an exciting dream.
135
31
"Too Old"
2.384[132]
1014-140
August 12, 2013,[133]
Finn is already moving on after his breakup with Flame Princess and visits Castle Lemongrab with Princess Bubblegum.
136
32
"Earth & Water"
1.864[134]
1014-141
September 2, 2013[135]
Princess Bubblegum subjects Flame Princess to a series of tests to gauge Flame Princess' fiery tendencies. But when there's an emergency at the treehouse, and Princess Bubblegum leaves Cinnamon Bun to watch Flame Princess, her experiment might literally backfire in her face.[136]
137
33
"Time Sandwich"
1.984[137]
1014-139
September 9, 2013,[138]
Jake crafts the most delicious sandwich ever, but when Magic Man steals it, Finn must defy laws of space and time to win back Jake's creation.[139]
138
34
"The Vault"
2.256[140]
1014-142
September 16, 2013[141]
When Finn starts sleepwalking and dreaming about the Green Lady he filed away in his memory vault, Jake and BMO help him tap into his repressed memories to uncover a secret past.[139]
139
35
"Love Games"
2.022[142]
TBA
September 23, 2013[143]
Slime Princess needs a husband or else she'll lose the Slime Kingdom to her obnoxious sister. Finn steps in to save the day, but first they will need to win a series of Love Games to prove to Slime Princess's dad that they are really in love.[139]
140
36
"Dungeon Train"
2.043[144]
1014-144
September 30, 2013[145]
Finn and Jake discover a train where every car is a dungeon filled with a new foe for Finn to fight. Jake quickly gets bored and wants to leave, but Finn is having the best time and doesn't want to leave... ever![139]
141
37
"Box Prince"
1.991[146]
1014-145
October 7, 2013[147]
Finn meets the Box Prince (a cat with a box on its back) and discovers the Box Kingdom has been taken over by an imposter. Now, Finn must help the real Box Prince reclaim his rightful throne.[148]
142
38
"Red Starved"
1.772[149]
TBA
October 14, 2013[148]
Finn, Jake and Marceline are trapped in an underground cavern with no red in sight. If Marceline doesn't feed, like ASAP, she will turn into a vampiric beast and suck out all of Jake's blood! So, Finn heads off to explore the cave and find something red to satiate her until they can be rescued. But time is running out![148]
143
39
"We Fixed a Truck"
2.018[150]
TBA
October 21, 2013[148]
Finn finds an old truck, and Jake calls Banana Man to help with the repairs. But when BMO stays up all night working on the truck, he hears on a spooky radio talk show that Princess Bubblegum is a reptilian replicate. Is it just another one of Starchy's crazy conspiracy theories, or a fact? [148]
144
40
"Play Date"
1.916[151]
1014-149
November 4, 2013
Sick and tired of babysitting Ice King while the Ice Kingdom is being rebuilt, Finn and Jake call up an old friend to hang out with their annoying houseguest: Abracadaniel. But when Ice King and his new BFF accidentally unleash the demon Kee-Oth, Finn and Jake have to clean up their mess.[152]
145
41
"The Pit"
2.273[153]
1014-150
November 18, 2013
Kee-Oth the Blood Demon has kidnapped Jake, taken him back to his dimension and thrown him in a pit. If Finn wants to rescue his friend, he's going to need Lady Rainicorn's help... and a videotape that will reveal how to open the portal to Kee-Oth's messed-up dimension.[152]
146
42
"James"
2.614[154]
1014-151
November 25, 2013
Finn and Jake are excited when Princess Bubblegum invites them to help her collect samples in the Desert of Wonders. But when their vessel is attacked by nasty goo monsters, F&J start to think the mission has been sabotaged by Princess Bubblegum's robot helper James.[152]
147
43
"Root Beer Guy"
1.842[155]
1014-153
December 2, 2013
When Root Beer Guy claims Finn and Jake kidnapped Princess Bubblegum, no one believes him.[120]
148
44
"Apple Wedding"
1.857[156]
1014-148
January 13, 2014
The wedding of Tree Trunks and Mr. Pig becomes troubled by multiple problems, including exes, wedding crashers and a snoopy authoritarian.
149
45
"Blade of Grass"
2.610[157]
1014-154
January 20, 2014
When Finn tries to replace his broken sword with a grass sword, he learns the new one is cursed.
150
46
"Rattleballs"
2.213[158]
1014-156
January 27, 2014
Finn wants to be trained in sword fighting by an old gumball robot named Rattleballs, who lives in the junkyard.
151
47
"The Red Throne"
2.107[159]
1014-158
February 10, 2014
Flame King escapes prison and seizes control of the Flame Kingdom; Flame Princess turns to Finn for help.[160]
152
48
"Betty"
1.713[161]
1014-155
February 24, 2014
Ice King is turned back into Simon, and seeks help from Finn, Jake and Marceline in bringing back Betty.[162]
153
49
"Bad Timing"
1.446[163]
1014-160
March 3, 2014
Love is in the air when Lumpy Space Princess reconnects with an old classmate, but will her jealousy get in the way of finding true love?
154
50
"Lemonhope Part 1"
1.967[164]
1014-152
March 10, 2014
Tired of all of Princess Bubblegum's talk about "responsibility," Lemonhope yearns for true freedom. So he sets off on the greatest adventure of his lemony life.
155
51
"Lemonhope Part 2"
1.967[165]
1014-157
March 10, 2014
Though Lemonhope finds refuge from the desert with monster hunter Phlannel Boxingday, he might not be able to escape the ghosts of his past.
156
52
"Billy's Bucket List"
2.335[166]
1014-159
March 17, 2014[167]
Finn finds the hero Billy's bucket list and decides to complete the unfinished items as a final tribute.
Season 6: 2014-2015
On January 28, 2013, it was officially announced that the show had been renewed for a sixth season.[168] On June 30, 2013, storyboarder Jesse Moynihan announced that he would start season six the following week.[169] Season six is not to be confused with the second half of season five; the latter of the two has been referred to as season 5.2 by the writing staff.[170] The sixth season premiered on April 21, 2014, with the airing of the episodes "Wake Up" and "Escape from the Citadel."[171]
Following season 5's cliffhanger finale, the reveal of Finn's dad was prominently teased in the promos leading up to the season premiere. It was also confirmed by the writing staff that a total of eight episodes in season 6 will involve Finn and his dad, featuring some of the show's most cohesive storytelling to date.[172]
No. overall
No. in season
Title card
Title
Viewers
(in millions)
Prod. code
Airdate
157
1
"Wake Up"
3.321[173]
1025-166
April 21, 2014
Finn and Jake must commit a cosmic crime in order to find Finn's father.
158
2
"Escape from the Citadel"
3.321[173]
1025-163
April 21, 2014
Finn and Jake follow the Lich to the Citadel, where Finn meets his long lost dad. But just how far does the apple fall from the tree?
159
3
"James II"
2.033[174]
1025-164
April 28, 2014
Finn and Jake discover that a Clone James has been faking his own death to collect medals. Now there are 25 Jameses running amok!
160
4
"The Tower"
2.101[175]
1025-168
May 5, 2014
Finn doesn't like any of the new arms the princesses give him, so he builds a tower into space to find his dad and get his old arm back.
161
5
"Sad Face"
1.774[176]
1025-162
May 12, 2014
While Jake is asleep, his tail goes to work as a clown in a traveling bug circus.
162
6
"Breezy"
2.274[177]
1025-165
June 5, 2014[178]
With a friendly bee named "Breezy" as his wingman, Finn decides to get back into the dating game.
163
7
"Food Chain"
1.968[179]
1025-161
June 12, 2014[180]
Finn and Jake learn about the food chain by becoming the food chain!
164
8
"Furniture & Meat"
1.856[181]
1025-171
June 19, 2014[182]
Big money problems send Finn and Jake to the Wildberry Kingdom.
165
9
"The Prince Who Wanted Everything"
2.476[183]
1025-167
June 26, 2014[184]
Lumpy Space Prince flees his parents to start a new life.
166
10
"Something Big"
1.948[185]
1025-170
July 3, 2014[186]
Princess Bubblegum must rally her forces when the Candy Kingdom is rocked by a massive assault.
167
11
"Little Brother"
2.095[187]
1025-172
July 10, 2014[188]
Shelby is thrust into a new role after a party-related accident.
168
12
"Ocarina"
1.861[189]
1025-173
July 17, 2014[190]
Fed up with Jake's antics, his son Kim Kil Whan takes action.
169
13
"Thanks for the Crabapples, Giuseppe"
2.180[191]
1025-174
July 24, 2014[192]
Ice King and a band of misfit wizards go on a mystical road trip.
170
14
"Princess Day"
1.910[179]
1025-169
July 31, 2014[193]
It's Princess Day in Ooo! You know what that means? Yep, LSP and Marceline team up to prank Breakfast Princess!
171
15
"Nemesis"
1.900[194]
1025-175
August 7, 2014[195]
A shadowy figure named Peace Master targets the Candy Kingdom elite.
172
16
"Joshua and Margaret Investigations"
2.045[196]
1025-176
August 14, 2014[197]
Finn and Jake's parents hunt an unearthly menace in the woods.
173
17
"Ghost Fly"
1.298[198]
1025-181
October 28, 2014[199]
Jake kills a fly that gets into his soup. However, he and Finn must get creative when the fly returns as a powerful ghost to haunt them.
174
18
"Everything's Jake"
1.59[200]
1025-184
November 24, 2014[201]
Jake finds himself transported to an alien, yet familiar, world.
175
19
"Is That You?"
1.76[200]
1025-182
November 25, 2014[201]
Following Prismo's memorial service, Jake begins acting strangely.
176
20
"Jake The Brick"
2.00[202]
1025-177
November 26, 2014[201]
Jake wants to fulfill a bizarre lifelong ambition.
177
21
"Dentist"
1.40[203]
1025-188
November 28, 2014[204]
When Finn's toothache gets too much to take, he has no choice but to visit the dentist.
178
22
"The Cooler"
1.84[205]
1025-186
December 4, 2014
After a natural disaster hits the Fire Kingdom, Flame Princess is forced to team up with an unlikely ally.
179
23
"The Pajama War"
2.04[206]
1025-189
January 8, 2015
When Finn and Princess Bubblegum disappear from a slumber party, panic erupts among the remaining guests.
180
24
"Evergreen"
1.75[207]
1025-178
January 15, 2015
A wizard of ice tries to create a crown that will grant the first wearer's​ deepest wish in order to stop a deadly comet from wiping out all life on the planet.
181
25
"Astral Plane"
1.86[208]
1025-180
January 22, 2015
Finn has an out-of-body experience that takes him all over Ooo and beyond.
182
26
"Gold Stars"
1.85[209]
1025-179
January 29, 2015
Tree Trunks and Mr. Pig's child, Sweet P, runs into trouble on his first day at school.
183
27
"The Visitor"
1.71[210]
1025-183
February 5, 2015
Finn is led to both a friendly civilization, and a mysterious crash site.
184
28
"The Mountain"
1.67[211]
1025-187
February 12, 2015
Earl of Lemongrab and Finn go on an expedition through the Mountain of Matthew.
185
29
"Dark Purple"
2.15[212]
1025-185
February 19, 2015
Susan Strong and her allies infiltrate the mysterious Super Porp factory.
186
30
"The Diary"
1.91[213]
1025-190
February 26, 2015
Jake's son T.V. discovers a lost diary and sets out to solve a decades-old mystery.
187
31
"Walnuts & Rain"
1.68[214]
1025-193
March 5, 2015
When Finn and Jake stumble into two different holes, they meet two different fates.
188
32
"Friends Forever"
1.57[215]
1025-191
April 16, 2015

Ice King has a plan to form a perfect circle of confidants.
189
33
"Jermaine"
1.53[216]
1025-192
April 23, 2015

After a chilling dream encounter, Finn & Jake are determined to reconnect with their reclusive brother.
190
34
"Chips and Ice Cream"
1.69[217]
1025-194
April 30, 2015

BMO's favorite artists find a new home in the treehouse.
191
35
"Graybles 1000+"
1.58[218]
1025-195
May 7, 2015

Cuber must rely on his bag of Graybles to survive while marooned on an alien world.
192
36
"Hoots"
1.54[219]
1025-196
May 14, 2015

A charismatic stranger in Finn's dream leads Cosmic Owl to shirk his duties.[220]
193
37
"Water Park Prank"
1.42[221]
1025-202
May 21, 2015

After rescuing Princess Orangutan from Daddy-sad-heads, Finn and Jake head to a post-apocalyptic water park for a day of fun.[222]
194
38
"You Forgot Your Floaties"
1.57[223]
1025-197
June 1, 2015

Finn and Jake storm Magic Man's house to rescue his new apprentice.[224]
195
39
"Be Sweet"
1.67[225]
1025-199
June 2, 2015

A fed up Lumpy Space Princess leaves the woods for a glamorous career in babysitting.
196
40
"Orgalorg"
1.30[226]
1025-198
June 3, 2015

After a walrus race accident, Gunther starts to experience strange visions.
197
41
"On the Lam"
1.48[227]
1025-201
June 4, 2015

Finn's dad, Martin the Human, fights for freedom on a strange new planet.
198
42
"Hot Diggity Doom"
1.55[228]
1025-203
June 5, 2015

On election day, Princess Bubblegum's attention is diverted by a presence in the sky.
199
43
"The Comet"
1.55[229]
1025-200
June 5, 2015

Finn, Jake and Orgalorg converge with the comet and meet their destiny.
Graybles Allsorts: 2015
Main article: Graybles Allsorts
Season 7: 2015-2016
On July 25, 2014, the series was renewed for a seventh season.[230] According to Tom Herpich and Steve Wolfhard, the staff started to pitch story lines in late September of 2014.[231] According to storyboard artist Jesse Moynihan, production for the season began in October of 2014.[232] It was announced to have a stop motion episode in this season;[233] on February 18, 2015, Cartoon Network announced that a special miniseries will be introduced in this season, later known as Stakes,[234][235] after the success short series Over the Garden Wall, created by Patrick McHale, the former creative director of Adventure Time.[236] The miniseries consists of eight episodes, from "Marceline The Vampire Queen" to "The Dark Cloud". Former storyboard artist, Rebecca Sugar, returned to write a new song (Everything Stays) for the miniseries and to voice Marceline's Mom.[237][238] On October 9, 2015, it was announced for release date from season 7 will be aired on November 2, 2015.[239]
In the DVD release and official websites, Cartoon Network chose to end this season with its 26th episode, "The Thin Yellow Line,"[240] instead of originally planned season finale, "Preboot" and "Reboot".
No. overall
No. in season
Title card
Title
Viewers
(in millions)
Prod. code
Airdate
200
1
"Bonnie and Neddy"
1.07
1034-209
November 2, 2015

Under orders from the King of Ooo, Finn and Jake discover one of Ooo's greatest secrets.
201
2
"Varmints"
1.31
1034-208
November 3, 2015

Bubblegum turns to Marceline's help when something threatens the citizens of her homestead.
202
3
"Cherry Cream Soda"
1.22
1034-206
November 4, 2015

The arrival of a visitor causes Cherry Cream Soda's life to fall flat.
203
4
"Mama Said"
1.16
1034-218
November 5, 2015

The loyalty of Finn and Jake comes into question when the King of Ooo orders them to intercept a flying mushroom.
204
5
"Football"
1.26
1034-207
November 6, 2015

BMO and Football decide upon a deal, but one of them cannot keep up their end of the bargain.
205
6
"Marceline The Vampire Queen"
1.87
1034-212
November 16, 2015

Finn and Jake hunt a shadowy predator and Marceline asks Princess Bubblegum for a favor.
206
7
"Everything Stays"
1.87
1034-213
November 16, 2015

Marceline looks back on her life on her last day.
207
8
"Vamps About"
1.82
1034-214
November 17, 2015

Old foes surface from Marceline's past.
208
9
"The Empress Eyes"
1.82
1034-215
November 17, 2015

An old adversary targets the Ice Kingdom and Marceline has to save Simon.
209
10
"May I Come In?"
1.85
1034-216
November 18, 2015

While on the trail of the vampire known as The Moon, the gang is attacked by The Hierophant.
210
11
"Take Her Back"
1.85
1034-217
November 18, 2015

Princess Bubblegum searches for a cure for Marceline and Finn and Jake battle a vampire.
211
12
"Checkmate"
1.70
1034-222
November 19, 2015

Marceline's archenemy visits and makes an odd proposal right before battle.
212
13
"The Dark Cloud"
1.70
1034-219
November 19, 2015

The final confrontation begins.
213
14
"The More You Moe, The Moe You Know (Part I)"
1.20
1034-224
December 3, 2015

"Moe" visits the tree house with a special birthday mission for BMO. While BMO's mission stands on the brink of disaster, Finn and Jake host "Moe".
214
15
"The More You Moe, The Moe You Know (Part II)"
1.20
1034-228
December 3, 2015

"Moe" is actually revealed to be AMO, who attempts to destroy BMO and steal Finn and Jake for itself.
215
16
"Summer Showers"
1.10
1034-223
January 7, 2016
Jake's daughter Viola is up for a role in a play by a hot new director -- Lumpy Space Princess.
216
17
"Angel Face"
1.11
1034-210
January 11, 2016
BMO convinces his friends to join him in a live action cowboy role-playing game.
217
18
"President Porpoise is Missing!"
1.21
1034-211
January 12, 2016
Finn and Jake attempt to track down President Porpoise before Vice President Blowfish takes over.
218
19
"Blank-Eyed Girl"
1.12
1034-220
January 13, 2016
One over spooky night, Finn and Jake come face-to-face with an urban myth.
219
20
"Bad Jubies"
1.22
1034-205
January 14, 2016
A deadly storm hits the grasslands, so Finn, Jake, BMO and Lumpy Space Princess build a bunker.
220
21
"King's Ransom"
1.10
1034-221
January 15, 2016
Ice King suffers a heartbreaking loss and it's up to Finn and Jake to find the culprit.
221
22
"Scamps"
1.45
1034-225
January 21, 2016
Finn takes a group of at-risk Candy Kingdom youth on a camping trip they'll never forget.
222
23
"Crossover"
1.13
1034-226
January 28, 2016
Finn and Jake crossover into Farmworld Finn's dimension.
223
24
"The Hall of Egress"
1.24
1034-227
March 5, 2016
Trapped and alone, Finn must unravel the riddle of the weird cave with no exit.
224
25
"Flute Spell"
1.01
1034-231
March 12, 2016
Jake learns that Finn's been having clandestine meetings with a powerful wizard. But what are they up to?
225
26
"The Thin Yellow Line"
1.15
1034-233
March 19, 2016
Finn and Jake discover a conspiracy after infiltrating the Banana Guard ranks.
Season 8: 2016-2017
On July 7, 2015 Adventure Time was renewed for an eighth season according to The Hollywood Reporter.[241] Storyline writing for season eight began on August 10, 2015.[242] On September 8, 2015, storyboarding began according to Sam Alden.[243] During the season, the miniseries Islands aired at the end of January and the beginning of February 2017.[244] It was first hinted before Stakes aired, when head story writer Kent Osborne revealed that the show would likely produce several more miniseries.[245]
After the reshuffling of the previous season, March 26, 2016, when the episode "Broke His Crown" first aired, marks the premiere of season 8.[246] The season ended with the episode "The Light Cloud" as the season finale;[247] which is also the last episode of the miniseries Islands.
No. overall
No. in season
Title card
Title
Viewers
(in millions)
Prod. code
Airdate
226
1
"Broke His Crown"
1.13
1034-234
March 26, 2016
When Ice King's magic crown goes haywire, Marceline and Princess Bubblegum resort to extreme measures to help him.
227
2
"Don't Look"
1.13
1034-230
April 2, 2016
Finn unearths a treasure with a terrible price at the top of Dead Mountain.
228
3
"Beyond the Grotto"
1.06
1034-235
April 9, 2016
Finn and Jake follow their Sea Lard into the pond in front of their home, and in doing so, are led to a strange new world.
229
4
"Lady Rainicorn of the Crystal Dimension"
0.90
1034-232
April 16, 2016
Jake's son finds a hidden box and draws attention from a Rainicorn.
230
5
"I Am a Sword"
0.91
1034-236
April 23, 2016
Finn starts having guilt nightmares about his missing Finn Sword...but are the nightmares real?
231
6
"Bun Bun"
1.01
1034-240
May 5, 2016
Finn brings a special delivery for Cinnamon Bun to the Fire Kingdom, but it may come with a dangerous cost.
232
7
"Normal Man"
1.38
1034-241
May 12, 2016
Normal Man asks for Finn and Jake's help to rescue his brother.
233
8
"Elemental"
1.17
1034-242
May 19, 2016
Ice King digs up an item buried underneath the Ice Kingdom.
234
9
"Five Short Tables"
1.36
1034-237
May 26, 2016
Fionna and Cake go on a cooking adventure to take Cake's art to a new level.
235
10
"The Music Hole"
1.15[248]
1034-239
June 23, 2016
Finn hears a mysterious song while judging a Battle of the Bands.
236
11
"Daddy-Daughter Card Wars"
1.16[249]
1034-238
July 7, 2016
Jake needs his daughter's help in an underground Card Wars tourney to move on from his embarrassing past.
237
12
"Preboot"
0.77[250]
1042-243
November 19, 2016[251]
During an excavation of human artifacts, Finn, Jake, and Susan are greeted by a mysterious new stranger who may hold the key to the past.[251]
238
13
"Reboot"
0.77[250]
1042-244
November 19, 2016[251]
Finn and Jake take on one of the fiercest enemies they've faced when a powerful ally goes rogue.[251]
239
14
"Two Swords"
0.88[252]
1042-248
January 23, 2017[253]
Finn and Jake contend with a mysterious, but familiar, new being.[253]
240
15
"Do No Harm"
0.88[252]
1042-249
January 23, 2017[253]
Finn makes amends at the Candy Hospital while Jake tries to connect with their unexpected houseguest.[253]
241
16
"Wheels"
0.91[254]
1042-245
January 24, 2017[253]
Kim Kil Whan is worried about his daughter's future and asks Jake for some parental advice.[253]
242
17
"High Strangeness"
0.95[255]
1042-246
January 25, 2017[253]
An otherworldly encounter puts Tree Trunks on the trail of a conspiracy in the Candy Kingdom. [253]
243
18
"Horse and Ball"
0.76[256]
1042-247
January 26, 2017[253]
When disaster befalls James Baxter, it's up to Finn and Jake to help him pick up the pieces.[253]
244
19
"Jelly Beans Have Power"
0.91[257]
1042-250
January 27, 2017[253]
Princess Bubblegum's scientific mind must wrestle with her Elemental magic potential when she and her kingdom are faced with a Crystal Entity.[253]
245
20
"The Invitation"
1.20[258]
1042-251
January 30, 2017[253]
A mysterious craft invades Ooo and Finn believes it may hold the secrets to his past.[253]
246
21
"Whipple the Happy Dragon"
1.20[258]
1042-252
January 30, 2017[253]
Finn, Jake, and Susan set sail on a ocean voyage full of wonders and danger.[253]
247
22
"Mysterious Island"
1.09[259]
1042-253
January 31, 2017[253]
After waking up alone and shipwrecked, Finn investigates a bizarre island in search of his friends.[253]
248
23
"Imaginary Resources"
1.09[259]
1042-254
January 31, 2017[253]
Finn and Jake travel to a land where reality has been redesigned and improved.[253]
249
24
"Hide and Seek"
1.01[260]
1042-255
February 1, 2017[253]
While exploring some futuristic ruins, Susan sees glimpses of a familiar girl.[253]
250
25
"Min and Marty"
1.01[260]
1042-256
February 1, 2017[253]
An unexpected revelation from Susan leads Finn closer to answers about his past.[253]
251
26
"Helpers"
1.00[261]
1042-257
February 2, 2017[253]
Finn and his friends journey to a last refuge called Founders Island.[253]
252
27
"The Light Cloud"
1.00[261]
1042-258
February 2, 2017[253]
Finn confronts the power behind Founders Island, but will he ever return home to Ooo?[253]
Frog Seasons: 2016
Main article: Adventure Time Short: Frog Seasons
Title card
Title
Viewers
(in millions)
Prod. code
Airdate
"Frog Seasons: Spring"
TBA
1034-229A
April 2, 2016
Finn and Jake stalk a frog to see what happens when it puts on its crown.
"Frog Seasons: Summer"
TBA
1034-229B
April 9, 2016
Finn and Jake stalk a frog to see what happens when it puts on its crown.
"Frog Seasons: Autumn"
TBA
1034-229C
April 16, 2016
Finn and Jake stalk a frog to see what happens when it puts on its crown.
"Frog Seasons: Winter"
TBA
1034-229D
April 23, 2016
Finn and Jake stalk a frog to see what happens when it puts on its crown.
"Frog Seasons: Spring (Again)"
TBA
1034-229E
September 2, 2016
Finn and Jake follow a frog carrying a crown across the four seasons.
Season 9: 2017
Season 9 episodes were originally ordered as part of the series' eighth season, which would make "Three Buckets" envisioned as the eighth-season finale.[262] Under the new order, "Orb" through "Three Buckets" were then considered by Cartoon network to constitute the series' ninth season. [263] The season also features the third and the last miniseries of Adventure Time, Elements, aired on April 24, 2017 as part of the season.[264] It was first announced on March 31, 2017, by Cartoon Network during the unveiling of their 2017–18 program lineup.[264]
No. overall
No. in season
Title card
Title
Viewers
(in millions)
Prod. code
Airdate
253
1
"Orb"
0.71[265]
1042-259
April 21, 2017[266]
Finn, Jake and BMO's dreams fall under the influence of a mysterious orb.
254
2
"Skyhooks"
0.83[267]
1042-260
April 24, 2017[266]
When they return to Ooo, Finn and Jake discover that there have been radical changes in their absence.[268]
255
3
"Bespoken For"
0.83[267]
1042-261
April 24, 2017[266]
Ice King weaves a tale filled with drama, romance and men's fashion.[269]
256
4
"Winter Light"
0.98[270]
1042-262
April 25, 2017[266]
Finn, Jake and Ice King travel to the new Ice Kingdom to confront the person responsible for the changes.[271]
257
5
"Cloudy"
0.98[270]
1042-263
April 25, 2017[266]
Finn and Jake must escape exile in an endless sky before they can restore Ooo.[272]
258
6
"Slime Central"
0.92[273]
1042-264
April 26, 2017[266]
When Finn and Jake infiltrate the new Slime Kingdom, they become embroiled in a very heated skate battle.[274]
259
7
"Happy Warrior"
0.92[273]
1042-265
April 26, 2017[266]
Finn and his friends fight through a more brutal Fire Kingdom to find Flame Princess.[275]
260
8
"Hero Heart"
0.90[276]
1042-266
April 27, 2017[266]
A full-scale war breaks out between two kingdoms, and Ooo's most unlikely hero must put an end to the fighting.[277]
261
9
"Skyhooks II"
0.90[276]
1042-267
April 27, 2017[266]
Finn and Lumpy Space Princess work together to unlock one of Ooo's greatest secrets before time runs out.[278]
262
10
"Abstract"
0.77[279]
1042-268
July 17, 2017[280]
As Jake goes through some personal changes, he's haunted by a sinister dream encounter with his brother Jermaine.[281]
263
11
"Ketchup"
0.67[282]
1042-271
July 18, 2017[283]
BMO and Marceline swap stories about their recent adventures.[284]
264
12
"Fionna and Cake and Fionna"
0.69[285]
1042-269
July 19, 2017[286]
An unexpected critic shows up at Ice King's latest Fionna and Cake book reading.[287]
265
13
"Whispers"
0.76[288]
1042-270
July 20, 2017[289]
While safeguarding a frightened Sweet P, Finn is led into a confrontation with an old foe.[290]
266
14
"Three Buckets"
0.84[291]
1042-272
July 21, 2017[292]
Finn and Fern's carefree visit to some old ruins turns disastrous.[293]
Season 10: 2017-2018
Adventure Time was confirmed for another season (known as "Season 9" by the time) by Kent Osborne on July 21, 2016,[294] and it's the final season of the show.[295] According to Adam Muto, the number of episodes ordered by the network as part of the season was substantially lower than it had been, leading the production crew to believe that the series is either ending or going to end soon.[296]
Storyline writing for the season ended in mid-November 2016[297] and the last storyline meeting was held on November 21.[298] Osborne tweeted that the show's final script was pitched to storyboarders on November 28;[299][300] the episode was pitched to the show's producers during the third week of December 2016.[301][302] A number of voice actors, including Maria Bamford and Andy Milonakis, confirmed that voice recording for the season (and series) ended on January 31, 2017.[303][304][305] Regular production of the series ended on November 16, 2017.[306]
No. overall
No. in season
Title card
Title
Viewers
(in millions)
Prod. code
Airdate
267
1
"The Wild Hunt"
0.76[307]
1054-275
September 17, 2017[308]
A fierce creature is terrorizing the Candy Kingdom but before Finn can slay the beast, he must first overcome a guilty conscience.[308]
268
2
"Always BMO Closing"
0.76[307]
1054-273
September 17, 2017[308]
BMO and Ice King hit the road as door-to-door salesmen and stumble upon an irresistible opportunity.[308]
269
3
"Son of Rap Bear"
0.76[307]
1054-276
September 17, 2017[308]
When Flame Princess is coaxed into a high stakes battle against the indomitable Son of Rap Bear, Finn must help her search for a new strategy.[308]
270
4
"Bonnibel Bubblegum"
0.76[307]
1054-274
September 17, 2017[308]
A long lost artifact causes Princess Bubblegum to harken back to the creation of the Candy Kingdom.[308]
271
5
"Seventeen"
0.76 [309]
1054-281
December 17, 2017[310]
A mysterious knight crashes Finn's birthday bash and presents him with a dangerous gift. [311]
272
6
"Ring of Fire"
0.76 [312]
1054-277
December 17, 2017[313]
When an old flame comes calling on urgent business, Tree Trunks reconsiders both her wild past and her tranquil present.[314]
273
7
"Marcy & Hunson"
0.76[315]
1054-278
December 17, 2017[316]
Hunson Abadeer returns to Ooo to bond with his daughter Marceline, but will he be able to prove he's changed his soul-sucking ways?[317]
274
8
"The First Investigation"
0.76 [318]
1054-279
December 17, 2017[319]
Finn and Jake are tasked with investigating reports of a haunting at Joshua and Margaret's old office.[320]
275
9
"Blenanas"
0.53[321]
1054-280
March 18, 2018 [322]
Finn's latest literary work is met with only derision so he sets out to prove all the naysayers wrong.[323]
276
10
"Jake the Starchild"
0.53[324]
1054-283
March 18, 2018 [325]
In order to fulfill his grand destiny, Jake is spirited away by a strangely familiar shape-shifting alien.[323]
277
11
"Temple of Mars"
0.53[326]
1054-282
March 18, 2018 [327]
Searching for answers on Mars, Finn and Jermaine discover that they must first survive a cunning Martian mental trap.[323]
278
12
"Gumbaldia"
0.53[328]
1054-284
March 18, 2018 [329]
Finn and Jake, as ambassadors of the Candy Kingdom, travel to a powerful new city-state in a last ditch effort to stave off war.[323]
280
13
"Come Along With Me"
0.92[330]
TBA
September 3, 2018 [331]
The fate of Ooo is revealed to two adventurers in the distant future; Princess Bubblegum gathers her allies while Finn searches for a way to prevent the coming Great Gum War.[323]
Special
On November 17, 2017, it was announced that a bonus episode entitled "Diamonds and Lemons" would be produced by Microsoft's gaming studio Mojang and air sometime in the summer of 2018. The episode is based on the sandbox video game Minecraft.[29][30] According to Adam Muto, "Diamonds and Lemons" was produced separately from the show's final season.[285]
No. overall
No. in season
Title card
Title
Viewers
(in millions)
Prod. code
Airdate
279
N/A
"Diamonds and Lemons"
1.02[332]
TBA
July 20, 2018[333]
Finn and his friends experience setbacks and creative triumphs in a fantastic new vision of Ooo.[334]
DVD short
No. overall
No. in season
Title card
Title
Viewers
(in millions)
Prod. code
Airdate
N/A
N/A
"The Wand"
N/A
TBA
July 10, 2012
Finn and Jake come across a magic wand, but when the wand becomes uncontrollable, they must team up with the Ice King to stop it.
Distant Lands: 2020-2021
Main article: Adventure Time: Distant Lands
On October 23, 2019, the Cartoon Network officially announced that Adventure Time would see four new hour-long specials set to air some time in 2020, exclusively on HBO Max. Show-runner Adam Muto is credited for leading production of Adventure Time: Distant Lands with Jack Pendarvis and Kate Tsang announced as members of the writing staff.[335] Multiple storyboard artists have been confirmed to have a part in the upcoming series' development including former storyboard artist Hanna K. Nyström.[336]
No.
Title card
Title
Viewers
(in millions)
Prod. code
Airdate
1
"BMO"
TBA
TBA
June 25, 2020[337]
When there's a deadly space emergency in the farthest reaches of the galaxy, there's only one hero to call, and it's probably not BMO. Except that this time it is![338]
2
"Obsidian"
TBA
TBA
November 19, 2020[338]
Marceline and Princess Bubblegum journey to the imposing, beautiful Glass Kingdom — and deep into their tumultuous past — to prevent an earthshaking catastrophe.[338]
3
"Together Again"
TBA
TBA
May 20, 2021[339]
Finn and Jake reunite to rediscover their brotherly bond and embark on the most important adventure of their lives.[338]
4
"Wizard City"
TBA
TBA
September 2, 2021
Peppermint Butler starts over at the beginning, as just another inexperienced Wizard School student. When mysterious events at the campus cast suspicion on Pep, and his checkered past, can he master the mystic arts in time to prove his innocence?[338]
Unproduced episodes
These episodes were planned, and are known from design documents released by Frederator Studios in 2009 during the production of the first season. However, they were not produced for season one, and it is unlikely that they will actually be made into full episodes but it isn't unheard of for an unproduced episode to get produced eventually. Adam Muto has confirmed "Jakesuit" eventually worked its way into "The Silent King,"[citation needed] and it got its own full episode only five seasons later, "Jakesuit" became "Jake Suit."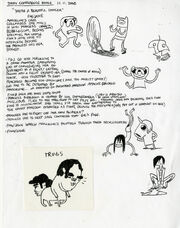 "Brothers in Insomnia" was originally episode #692-002. However, it was scrapped, and its production number was taken by "Rainy Day Daydream," which was actually one of the last episodes produced for season one.[340]
The Frederator blog also posted notes for an episode that was thought to be titled "You're a Beautiful Dancer."[342] However, Adam Muto later confirmed that "You're a Beautiful Dancer" was just a quote that Finn was saying to Jake and was never meant to be an episode title. He stated that the page in question only contained random story ideas that were never fully developed into episodes.[citation needed]
References