She-Hulk Trailer Dropped - The Loop
Play Sound
This is a quotes article made for notable quotations only.
Please use Template:Quote on each line.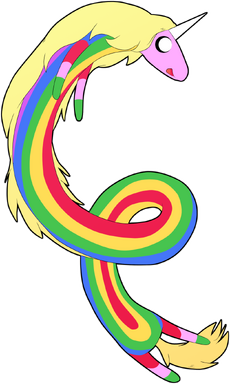 English quotes
"

And then, I ate all the peaches in the orchard. And that farmer was so angry...

"
"

Hop on my back! I'll give you both a ride home.

"
"

Come on my darling. Wrap your legs around me.

"
"

Well, light travels from the sun. Then, bounces off of our planet, and back into our eyes so we can perceive color. My body can intercept that light and dance around on it!

"
"

Do you wanna try gettin' some, Finn?

"
"

I thought you were behind us this whole time.

"
"

Oh, Honeypie. We probably couldn't hear you because of the cloud density.

"
"

I like you too, Finn.

"
"

(Gasp) Jake, what are you doing?

"
"

Jake, what's going on with you?

"
"

I'm hangin' out with Finn because you wanted us to get to know each other better.

"
"

Oh, sweet potato, I love you BECAUSE you're an idiot. You make me feel like a genius.

"
Translated quotes
Lady Rainicorn's quotes translated from Korean, in chronological order (original Korean and phonetic pronunciation included).
Season 1
"

좋아, 나 잡아봐봐~ [Na jab-a-bwa-bwa~]
Sure, catch me if you can!

"
"

뭐? 나? 웃겨 정말. 좋아 그래! 하자. [Mwo? Na? Ut-gyeo jeong-mal. Joa. Geu-rae, Ha-ja.]
Who? Me? So silly. Alright, let's do it.

"
"

진짜로. [Jin-jja-ro.]
Indeed.

"
"

고마워. [Go-ma-wo.]
Thanks.

"
"

(Yawns) 자러 가야겠다. [(Yawns) Ja-reo ga-ya-getda.]
(Yawns) I may have to go to sleep.

"
"

미안해. [Mi-a-nae.]
I'm sorry.

"
"

네가 늦게 왔잖아. [Ne ga neut-ge wat-jana.]
It's because you came late.

"
"

잘 자. [Jal ja.]
Good Night.

"
"

맞아. [Ma-ja.]
You're right.

"
"

누구세요? [Nu-gu-se-yo?]
Who is it?

"
"

어, 나도 들었어. 뭐야, 하나도 재미없잖아. [Eo, na-do deureo-sseo. Mwo-ya, ha-na-do jae-mi-eob-cha-na.]
Yeah, I heard him. What was that? It's not funny at all.

"
"

어.. 뭐가 있었을까? 아! 우리 완전히 다 벗고 상추밭 미친듯이 떠 다닌 거 기억 나? (Giggle) 그 농부 아저씨 완전 맛이 갔었지! [uh...Mwo-ga isseoseulkka? Ah! U-ri wan-jeoni da beot-go sang-chu-bat mi-chin-deu-shi dwi-eo-da-nin geo gi-eok na? (Giggle) Geu nong-bu a-jeo-ssi wan-jeon ma-shi gasseot-ji!]
Maybe... What could it have been? Ah! Do you remember when we got completely naked, and frantically float around in the farmer's cabbage patch? (Giggle) That farmer got crazy mad!

"
"

고마워, 나도 재밌었어. [Go-ma-wo, na-do jae-mi-seo-seo.]
Thanks, I enjoyed it too.

"
"

이게 더 좋아? [I-ge deo jowa?]
Do you like this better?

"
"

으으, 웃기시네! 너는 우리 공주님과 판결 상대도 안 될 그런 가치없는 놈이야! [Eu-eu, ut-gi-shi-ne! Neo-neun u-ri gong-ju-nim-gwa pan-gyeol sang-dae-do an dwel geu-reon ga-chi-eom-neun nomiya!]
Are you joking? You are not even worth my Lady's disdain.

"
"

말도 안 돼! [Mal-do an dwae!]
I cannot believe it!

"
Season 2
"

어, 나도 우리 부모님 때문에 걱정했었어. 우리 엄마아빠는 개라면 완전 맛이 가거든! 개가 전쟁터에서 우리 아빠 생명을 구해줬었어. [Eo, na-do u-ri bu-mo-nim ttae-mun-e geok-jeong-hae-sseo-sseo. Uri eomma-appa-neun gae-ra-myeon wan-jeon ma-shi ga-geo-deun! Gae-ga jeon-jaeng-teo-e-seo uri appa saeng-myeong-eul gu-hae-jweo-sseo-sseo.]
Oh, I was worried about my parents too. My mom and dad are crazy about dogs! A dog saved my dad in the war!

"

—"Her Parents"
"

아, 너무 좋았는데. [Ah, neo-mu jo-at-neun-de.]
Too bad. It was so fun!

"

—"Video Makers"
"

자기야, 너무 흥분하지 마. [Jagiya,neomu heungbunaji ma.]
Don't be too excited about this honey.

"

—"Video Makers"
Season 3
"

당연하지! 난 제이크랑 항상 한 몸이 되는데. [Dang-yeon-ha-ji. Nan Jake rang hang-sang han momi dwe-neun-de.]
Of course. Jake and I merge our bodies into one all the time.

"

—"The Creeps"
Translator's note: The original Korean quote has a nuance to the effect of "being in an state of intimacy."
"

아니야, 얘는 날 사랑해. [Aniya. Yae-neun nal sa-rang-hae.]
No, he loves me.

"
Season 4
"

흑흑흑 안돼. 내가 왜 그랬을까? [Heuk heuk heuk. An-dwae. Nae-ga wae geu-raessul-kka?]
(crying) No, no, no. What did I do?

"

—"Lady & Peebles" - In the igloo
"

걔네들 찾았어요? [Gyaenedeul chajasseoyo?]
Did you find them?

"

—"Lady & Peebles" - In the igloo
"

걔네들 안전할까요? [Gyae-ne-deul an-jeon-hal-kka-yo?]
Will they be okay?

"

—"Lady & Peebles" - In the igloo
"

제이크가 실종되기 전에 내가 월남국수 면이 질기다고 말했어요. 아, 내가 왜 그런 말을 했을까. 무슨 나쁜 일이 생겼으면 어떡해! 걔가 만든 국수 맛없다고 한 게 우리의 마지막 대화였어요. [Jeikeu-ga siljong-dwegi jeon-e nae-ga weolnam-guksu myeon-i jilgidago mal-haesseo-yo. Ah, nae-ga wae geu-reon mareul haesseul-kka. Mu-seun nappeun iri saenggyeosseumyeon eo-ddeokhae! Gyae-ga mandeun guksu madeob-ddago han ge uri-eui majimak dae-hwayeosseo-yo.]
I told him that his Vietnamese noodles were too tough before he went missing. Why did I say such a thing! What if something bad happens to him! The last conversation we had was that his noodles were bad.

"

—"Lady & Peebles" - In the igloo
"

미안해요. 내가 국수를 너무 많이 먹었나 봐요. [Mi-an-haeyo. Naega gugsureul neo-mu mani meogeonna bwayo.]
Sorry. Guess I've eaten too many noodles.

"

—"Lady & Peebles" - In the igloo
"

그놈이 칼을 들고 덤비면 어떡해요? [Geunom-i kal-eul deulgo deombimyeon eotteoghaeyo?]
What if he attacks you with a knife?

"

—"Lady & Peebles" - In the igloo
"

그놈이 공주님을 해치려고 하면요?[Geunom-i gongjunim-eul haechiryeogo hamyeon-yo?]
What if he tries to hurt you?

"

—"Lady & Peebles" - In the igloo
"

맞아요, 내가 좀 걱정이 심한 편이죠. 전 반 살은 시체들이 우리 집을 공격하는 악몽에 시달려요. 우리 삼촌, 외숙모, 사촌들이 다 집에 있었어요. 아기가 위층에서 우는 소리까지 생생히 들린다니까요. 내가 우리 가족들을 지킬 수만 있다면 — 그 꿈 꾸는 동안 얼마나 스트레스 받으면 이빨까지 무지하게 갈아요. (Grinds teeth) 다음날 일어나면 이빨들이 금 가있어요. 보통 전 그냥 그런 것 꿈이려니, 내가 걱정을 사서 하지 하며 잊어버리려고 해요. 제가 그 반 살은 시체들에게 정말 두 번이나 공격당했었잖아요. [majayo . naega jom keok-jeong-i shiman phyeoni-jyo . jeon pan sareun shichedeuri uri jib-eul kong-gyeokhaneun angmong-e shidal-lyeo-yo . uri samchon . oe-sungmo . sachondeuri ta jibe isseo-sseo-yo . agiga wicheung-e-seo u-neun soriggaji saeng-saeng-hi teullindanikkayo . naega uri kajokdeu-reul jikil suman ittamyeon . keu kkum kkuneun tong-an eolmana stressu padeumyeon ippalggaji mujihage karayo (Grinds teeth) ta-umnal ireonamyeon ippaldeuri keum ka-isseoyo . potong jeon keunyang keureon keot kkumiryeoni . naega keokjeong-eul saseo haji aneumyeon i-jeo-beori-ryeogo haeyo . jega keu pan sareun shichedurege jeongmal tu peo-nina konggyeok-tanghae-sseot-janayo]

That's right. I'm little bit too worrying sometimes. I always get haunted by this nightmare where half-dead bodies are attacking my house! My uncle, aunt-in-law, and cousins are all present; I even hear the baby crying coming from the upstairs. I just wished that I could protect my family — I become too stressful during that dream; I even grind my own teeth! (Grinds teeth) When I wake up in the morning, my teeth are cracked up! I usually try to forget about it, thinking that it's just a dream or I'm being paranoid, but I was actually attacked by these half-dead bodies twice!

"

—"Lady & Peebles" - In the igloo
"

으으, 잘 안 보이네. [eueu , jal an boine.]
It's hard to see things.

"

—"Lady & Peebles" - In the dark room
"

으! 아아! 그만해! 도와줘요![eu ! aa ! geumanhae! dowa jweoyo!]
Ah! Stop it! Help!

"

—"Lady & Peebles" - In the dark room
"

공주님 무기들! [gongjunim mugideul!]
Your weapons!

"

—"Lady & Peebles" - After escaping
"

공주님 저 땀나게 만드시네요.[gongjunim jeo ttam-nage mandeusi-neyo.]
Princess, you're making me sweat.

"

—"Lady & Peebles" - In narrow corridor
"

와, 이 방은 예쁜 새 소리에 대한 내 사랑보다 더 크네![wa, i bang-eun yeppeun sae sorie daehan nae sarangboda deo keu-ne !]
Wow. This chamber is bigger than my love for the songs of pretty birds!

"

—"Lady & Peebles" - Exiting narrow corridor
"

으, 네. 걱정 마세요. 저 완전, 완전 괜찮아요. 자, 가요. 일어납시다! (넘어짐) 으, 안 되겠네. 혼자 가세요. 전 짐만 될 뿐이에요.[eu , ne. geokjeong maseyo . jeo wanjeon , wanjeon gwaenchanayo . ja, gayo . i-reo nabsida ! ( Falls down ) eu , an doegen-ne . honja gaseyo . jeon jimman doel ppuni-e-yo.]
Eh, Yeah. Don't worry about me. I'm perfectly, perfectly fine. Let's go. Get up! (Falls down) Guh. I don't think this will work. You should go alone. I'm just a burden to you.

"

—"Lady & Peebles" - After dodging eyes
"

제이크 깨어났어요?[jeikeu kkae-eo nass-eoyo ?]
Is Jake awake?

"

—"Lady & Peebles" - In the hospital
"

괜찮아요. 비밀로 한 제가 잘못이죠.[gwaenchanh-ayo. bimillo han jega jalmosi-jyo .]
It's fine. That was my fault for hiding it.

"

—"Lady & Peebles" - In the hospital
"

자기야, 나 완전 중요한 할 말 있어. 나, I am pregnant![jagiya , na wanjeon jung-yohan hal mal-iss-eo . na , I am pregnant!]
Honey, I've got something terribly important to tell you. I, I am pregnant!

"

—"Lady & Peebles" - In the hospital
Season 5
"

으음, 내 임산부 배에 시원한 바람 쐬니까 좋다![Heum. Nae imsanbu bae-e sinseonan param ssoe-nikka jota!]
Hmm. It's so good to get some fresh air on my pregnant belly!

"

—"Up a Tree" - Entering grassland
"

천만에, 괜찮아.[cheon-mane . gwaen-chana.]
Don't mention it. It's fine.

"
"

자기 지금 뭐 하는 거야...[chagi ji-geum mweo haneun keo-ya]
What are you doing, honey?

"

—"Jake the Dad" - To Jake climbing down the ladder
"

자기야, 애들 데리고 나가서 바람좀 쐬고 오지 그래? [chagiya . aedeul derigo nagaseo paramjom sswego o-ji keurae]
Hey honey, why don't you go outside and have some fresh air with kids?

"

—"Jake the Dad"
"

얘들아! 비올라! 제이크 2세! 그만해! 찰리! 김길환! 아빠 좀 고만 괴롭히고 안에 들어와! [yaedeura . pi-ola . jei-keu i-sae . keumanae . challi . kim-kil-whan . appa jom koman gwerophigo a-ne teu-reo-wa]
Hey kids! Viola! Jake Jr.! Stop it! Charlie! Kim Kil-Whan! Stop messing with daddy and go inside!

"

—"Jake the Dad"
"

제이크, 자기 혼자 난리치는 거야. 우리 애들 걱정 안 해도 돼. (Broken dialogue) 과잉보호라니까. [jei-keu . chagi honja nalli-chineun keoya . u-ri ae-deul keokjeong a-nedo dwae . kwa-ing-boho-ranika]
Jake, you're making a huge deal out of nothing. You don't have to worry about our kids. (Broken dialogue, not significant meaning as it comes first on the sentence) That's being overprotective.

"

—"Jake the Dad"
"

아이야이야. 필요 없을 때만 난리라니까. [ai-yai-ya . piryo upssul ttaeman nalli-ranikka]
Ai yai yai! He makes a fuss whenever it's not necessary.

"

—"Jake the Dad"
"

아, 얘들아, 가서 아빠 좀 도와드려라. [a . yaedura . kaseo appa jom towa-duryeora]
Oh, kids, go and give daddy a hand.

"

—"Jake the Dad"
"

애기들아! 참 잘했어! 너네 정말 대단했어! [Aegideura! Cham jalhaesseo! Neo nae jeongmal daedanaesseo!]
Well done, babies! You were awesome!

"

—"Jake the Dad"
"

핀! 여기서 뭐 하는 거야? 제이크는 어딨어? [finn . yeogiseo mweo haneun geoya . jei-keu-neun eodisseo]
Finn! What are you doing down here? Where's Jake?

"

—"Jake Suit"
"

어… 아무래도 쟤, 쟨 집돌이인 것 같아. [uh . amuraedo jyae . jyaen jiptorin keot katta]
Uh… no matter what, I think he's stay-at-home.

"

—"Jake Suit"
"

제이크, 뭐 하는 거야? 왜 핀 몸 속에 있어? [jake . mweo ha-neun keoya . wae finn mom soge isseo]
Jake, what are you doing? Why are you in Finn's body?

"

—"Jake Suit"
"

어머, 뭔 소리야! 걔 내 남자친구잖아! 왜 자꾸 우리 사이를 이상한 쪽으로 몰고 가려고 그래? [eo-meo mweon soriya . kyae nae namjachin-gu-jana . wae jakku uri sai-reul i-sangan jjo-geuro molgo garyeogo gurae]
Oh my, what are you talking about! He's my boyfriend! Why do you keep assuming my relationship between Jake weirdly?

"

—"The Pit"
"

아! 맞아. 내가 도움 될 만한 거 가지고 있어!
Oh, right! I got something that can be helpful!

"

—"The Pit"
"

옛날에 조슈아가 만든 테잎이야. 제이크가 그 위에 그냥 녹음(녹화)해버려서 기억하고 있어. 그 앞쪽은 보지 말고 그냥 빨리 돌려! [yennare joshua-ga mandeun te-i-biya . jei-keuga geu wi-e geunyang nogeumae-beoryeo-seo kieokhago isseo . keu apjjogeun boji malgo geu-nyang ppalli dollyeo]
It's a video tape that was made by Joshua long ago. I remembered it because Jake recorded something else on top of it. Just skip past the front section!

"

—"The Pit"
Note: Lady clearly says as "녹음", but it denotes audio recording, not video. 녹화 is a correct word for video recording.
"

앞쪽 보지 말고 그냥 빨리 달.. 돌리라구.
Just skip the front section of the tape.

"

—"The Pit"
"

더 이상 제이크가 이상한 짓 하는 거 없을 거야. 진짜야! 그래도 내가 이 테이프 본 지 한참 오래 돼서 장담은 못 하겠네. 미안해.
No more weird Jake stuff, I promise! I can't be sure though, as I haven't seen this tape for years! Sorry for that.

"

—"The Pit"
"

제이크! 왜 저 못생긴 지지배가 널 껴안고 있는거야!
Jake! Why is that ugly chick hugging you!

"

—"The Pit"
"

뭐가 어떻게 된 거야, 너 저 여자한테 반한거야 뭐야!
What is happening? Did you fall in love with that lady or what!

"

—"The Pit"
"

그럼 그 함정에서 왜 그렇게 오래 버티고 있었어?
Then why did you spend that long time in the pit?

"

—"The Pit"
"

아, 이 말썽꾸러기. 사랑해 자기야.
Ah, you little troublemaker, I love you, honey.

"

—"The Pit"
Season 6
"

나 정말 TV 걱정되네. 쟤는 밖에 절대 안 나가잖아. [na jeongmal TV keokjeong-dwene . jyae-neun pakke jeoltae an nagajana]
I'm really worried about T.V. You know, he never leaves home.

"

—"The Diary"
"

으유, 몰라, 난 싫어. 쟨 밖에 나가서 찬 공기 좀 쐬야 돼. [eu-ieu . molla . nan . shireo . jyaen pakke nagaseo chan gong-gi-jom ssoe-ya dwe]
Ugh, I don't know, I don't like it. He really needs some fresh air.

"

—"The Diary"
"

TV가 걱정되서. 얘가 하루 종일 밖에 나가 있잖아. [TV ga keokjeong-dweseo . yae-ga haru jong-il bakke naga i-chana]
I'm worried about T.V. He's been outside for all day.

"

—"The Diary"
"

너무 어두워지네. 가서 애 뭐 하나 좀 봐. [neo-mu eo-duweo-jine . ka-seo ae mweo hana jom bwa]
It's getting too dark. Go see what he's doing.

"

—"The Diary"
"

어으, 놀고들 있네. [eo-eu . nolgo deul inne]
(disturbed) Ugh, what are they doing?

"

—"The Diary"
Season 8
"

내 분노는 찜질방보다 더 뜨겁다! (My rage is hotter than a sauna)

"
"

내 무지게 분노가 널 삼켜버릴거다! (My rainbow fury will consume you)

"
"

내 성질 건드리지 마! (Don't get on my nerve)

"
"

자기야, 내가 좀 고쳐볼게. (Babe, I'll try to fix it.)

"
"

어떤 일이 일어나도 나는 널 사랑해. (I love you no matter what happens.)

"
Season 9
"

"이런 어두운 지하굴에서는 살살 걸어야 돼." (You have to walk carefully in a dark cave like this.)

"
"

"걱정하지 마, 제이크! 내가 처치할게!" (Don't worry, Jake! I got this!)

"