Doctor Strange in The Multiverse o Madness - The Loop
Play Sound
The Home of Zeldron's Armor is the home of The Armor of Zeldron. Finn and Jake venture there to receive the armor in the episode, "Blood Under the Skin."
Exterior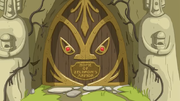 The temple itself appears to have been carved into a mountain. The entrance has two humanoid figures on either side of the door. The door appears to be brown and covered in golden markings. There are two angry dragon eyes with golden outlines and red pupils. There is a golden sign that reads: "Home Of Zeldron's Armor" on it. The entrance appears to have had a stone brick floor, but is not over grown.
Interior
Part 1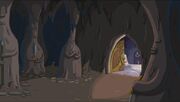 The first part of the interior is where the seekers of the armor must play "Drop Ball," with the Ghost Man. The room appears to be dark and made of brown stone. Like the entrance, it contained statues made out of humanoid figures holding objects.
Part 2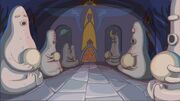 The second part of the cavern contains the armor itself, and is much more detailed. The walls appear to be made of light gray stone, and there are paintings of humanoids and planets on the wall. Like the entrance and part 1, this Hall contains many humanoid figures holding objects. The table that holds the armor, which is floating and glowing, appears to be blue with a face painted onto it and an eye painted above the face.
Trivia
Every part of the temple contains humanoid statues holding various objects. The objects in question vary by the room in which they appear.
Gallery
Official Art
Screenshots