This article is about the original FusionFall game. You may be looking for the second FusionFall game, FusionFall Heroes.

FusionFall was an open-world MMORPG run by Cartoon Network, in which players explore different Cartoon Network places and fight monsters to protect the world from Lord Fuse. It contains Cartoon Network characters, including some from Adventure Time. The Princess Bubblegum nano has been released by code along with Mordecai from Regular Show and Darwin from The Amazing World of Gumball. Finn, Jake, Stanley, Princess Bubblegum, Lady Rainicorn, the Reaper, Ice King, Gunter, Snail, and the Frog from Trouble in Lumpy Space all appear as NPCs in the game. The Game was shutdown on August 23,2013, but has since been revived by fans under the title of FusionFall Retro: ☀https://www.fusionfallretro.com/
Beginning Edit
You start out in a training camp and Ben 10 along with other Cartoon Network characters will guide you through the tutorial, where you learn the game's controls and how to fight, also earning your first Nano (Finn).
Missions Edit
Finn is located at Orchid Bay in front of a flower. In Sector V there is a frog on a toadstool where you can get a mission from Princess Bubblegum. Finn will tell you to use the flowers to jump from iceberg to iceberg to get to the Ice King's Fortress and lie, telling him that you're there to fix his cable, so you can get into his basement. Finn, Jake, and Princess Bubblegum will be there. If you are Lvl. 17 you can save Princess, or Candy Wife. Finn is also at the Mystery Dungeon in Eternal Vistas. The Reaper from "Wizard" will be there to ward through the portal. If you can find Stanley he will sell you T's. There was a code to get the Finn Hat but is now expired. You can get the Marceline Vampire Head using a code, you can also get a Finn nano when you begin the game as a reward for your first nano mission, or using a code if you've already reached a higher level. Jake is used as a jump pad in Sector V to get to Finn's statue, Ice King's Basement to get out, and in the Candy Wife saving mission. There used to be a Future zone in FusionFall, that was removed February 16, 2011. In the Future, Jake could be found in Sector V, but there were no signs of Finn. Probably because Finn was taken out during the invasion or he went back to Ooo.
On August 23 - 29 players were advanced to level 36 and allowed to collect unlimited loot and Nanos. As of August 29, 2013 the war against Lord Fuse and the servers went offline.
Finn Nano Moves Edit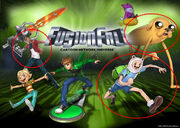 Heroic Leap Edit
Finn helps you leap into action! (Jump-Self)

Righteous Recovery Edit
Finn will bring you back to life if you fall in battle. (Revive-Self)
Smite Evil Edit
Finn will slay anything that's evil. (Damage-Point)
Jake Nano Moves Edit

Ear Glide Edit
Glide into action on Jake's magical ears. (Rocket-Self)
Leg Stretch Edit
Jake will help his friends step right out of harm's way. (Jump-Group)
Viola Lullaby Edit
Jake's soothing melody can put those nearby into a gentle slumber. (Sleep-Self Area)
Ice King Nano Moves Edit
Ice Bolts Edit
Freeze your foes with Ice King's shockingly cool bolts. (Stun-Area)

Beard Pilot Edit
With a beard this cool, there's no holding you down. (Rocket-Self)
Penguin Sense Edit
When building an army of penguins it helps to start with the eggs. (Treasure Finder)
Princess Bubblegum Nano Moves Edit
Sweet Dreams Edit
Normally too much candy will keep you awake, but not with this power. (Sleep-Area)

De-Corpseinator Serum Edit
Hopefully you won't turn into a zombie. (Revive-Self)
Penny Candy Edit
Free money translates into cheap candy, right? (Bonus)
FusionFall features several Adventure Time related/themed items.
| Image | Name | Description | Type | Level |
| --- | --- | --- | --- | --- |
| | Finn Backpack | Because you never know what you need when it's Adventure Time! | Backpack | 4 |
| | Finn Hat | What time is it? With this hat, it's ALWAYS Adventure Time! | Hat | 1 |
| | Mannish Man Horns | Remember to flex while wearing these horns! It's the thing to do. | Hat | 1 |
| | Ice Helmet | Keeping a cool head is even easier in this arctic armor. | Hat | 17 |
| | Key-Per Hat | Suitable for opening doors or just eating spaghetti. | Hat | 1 |
| | Princess Bubblegum Crown | The crown of the benevolent leader of the Candy Kingdom. | Hat | 1 |
| | Ice King Crown | Do you know what this crown means? I am the king of cool! | Hat | 1 |
| | Vampire Head | Strike terror into the hearts of your foes, or just claim their homes as your own, in this frightening guise. | Hat | 1 |
| | Demon Cat Head | While wearing the Demon Cat Head, you too will have approximate knowledge of all things. | Hat | 4 |
| | Golden Marauder Hat | How do you think the roughhousing marauders keep their heads warm? Sheep? | Hat | 8 |
| | Gold Marauder Tunic | Even if you tone down the roughhousing, you'll want the Gold Marauder Tunic! | Body | 8 |
| | Gold Marauder Pants | Pigs on my knees! PIGS ON MY KNEES!!! | Legs | 8 |
| | Gold Marauder Boots | Marauders almost never dance! | Shoes | 8 |
| | Blue Marauder Hat | How do you think the roughhousing marauders keep their heads warm? Sheep? | Hat | 8 |
| | Blue Marauder Tunic | Even if you tone down the roughhousing, you'll want the Blue Marauder Tunic! | Body | 8 |
| | Blue Marauder Pants | Pigs on my knees! PIGS ON MY KNEES!!! | Legs | 8 |
| | Blue Marauder Boots | Marauders almost never dance! | Shoes | 8 |
| | Green Marauder Hat | How do you think the roughhousing marauders keep their heads warm? Sheep? | Hat | 8 |
| | Green Marauder Tunic | Even if you tone down the roughhousing, you'll want the Green Marauder Tunic! | Body | 8 |
| | Green Marauder Pants | Pigs on my knees! PIGS ON MY KNEES!!! | Legs | 8 |
| | Green Marauder Boots | Marauders almost never dance! | Shoes | 8 |
| | Ice Chestplate | No one will be able to say you aren't the coolest person at the party in this armor! | Body | 17 |
| | Underwear Ice King Shirt | Want to get to know the Ice King? Try walking a mile in his underwear. | Body | 0 |
| | Finn Shirt | This shirt says it all! | Body | 17 |
| | Marceline Transformed Shirt | Unleash your vampire rage with the Marceline Tee. | Body | 0 |
| | BMO Tee | Become a true Adventure Master in this 8-bit tee. | Body | 0 |
| | Lady Rainicorn Tee | Get two and you'll be seeing a double rainbow! | Body | 0 |
| | Princess Bubblegum Tee | Taking care of some royal junk has never been easier. What the cabbage are you waiting for? | Body | 0 |
| | Ricardio Tee | Wheter you're evil or nice with an evil face, this shirt is perfect for you. | Body | 0 |
| | Gunter Tee | Put the Ice King's right-hand penguin right on your shirt. | Body | 0 |
| | Wall of Flesh Tee | Show some skin with the Wall of Flesh tee. | Body | 0 |
| | Hot Dog Princess Tee | Support your favorite princess with a shirt that smells like old hotdog water. | Body | 0 |
| | Shark Tee | It can't make your head grow back, but this shark tee will make you the envy of your friends. | Body | 0 |
| | Science Cat Tee | The perfect fusion of science cat and LOLs. Now available in T-shirt form. | Body | 0 |
| | Marceline 's Hovercar | The rocking hovercar of the Vampire Queen, Marceline! | Vehicle | 22 |
| | Royal Swan | A truly regal mode of transportation for the discerning lord or lady. | Vehicle | 22 |
| | Ice King Bolt | A shockingly cool ride! | Vehicle | 18 |
| | Lumpy Space Person | Like, totally the most awesome ride, like ever! | Vehicle | 17 |
| | Candy Kingdom Cruiser | This jetbike is sweet! Literally! | Vehicle | 14 |
| | Magic Cloud | Of course it's magic! You're riding on a cloud! | Vehicle | 14 |
| None | Adventure Time Racing Team Jacket | Win all your races in style while sporting this sweet Adventure Time Racing Team Jacket. | Body | 15 |
| None | Adventure Time Racing Team Pants | These Adventure Time Racing Team Pants keep you comfortable even driving at extreme speeds! | Legs | 15 |
| None | Adventure Time Racing Team Shoes | Put the pedal to the metal with these awesome Adventure Time Racing Team Shoes. | Shoes | 15 |
| | Adventure Time Racing Team Helmet | The ultimate in racing headgear, this helmet completes the Adventure Time Racing Team Set. | Hat | 15 |
| | Crystal Gem Apple | Found only on one tree deep in the Evil Forest, these magic apples can make an elephant disappear. | Thrown Weapon | 8 |
External links Edit