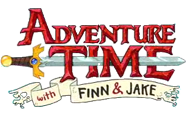 Wikia's forums are a place for the community to discuss subjects with other members. Remember
sign your post with four tildes: ~~~~

Click here to edit page
Hey Adventure Time fans,
Who here has been using the Adventure Time community app on their phone? If you're one of the app users, then you know: Before, it was just a more convenient way to view your articles and content on mobile. But we've added something more! Recently, app users have also been able to talk about the show directly in the app, via Discussions. We've been amazed by how many users have become active in those conversations - many new users have even signed up to your community just so they can participate in Discussions.
Many of them pay return visits to the app, and even though they've previously only been reading the articles you've written, they're now actively talking about the show and contributing to your community. Some of them might go on to add content to your articles and stick around as valuable editors.
You can read and post to Discussions on the web as well: Adventure Time Discussions on the web. This web version isn't "discoverable" right now, meaning it isn't linked anywhere on your wikia. You can only find it through a URL shared from the app, or by following the link here. So you can use it to discuss Adventure Time even if you don't use the app.
Moderation features: The Wikia Community team has been handling the (very few) problematic posts and users so far, but we've now added features to Discussions that allow your mods and admins to delete/restore posts, in the app as well as on the desktop version. Very soon, we'll also add the option to view all posts by a user. In addition, admins and mods will be able to delete all posts by a user (very useful, of course, if you're dealing with a spammer). This will at first only be possible on the desktop version - but that's where most moderation happens, anyway. We're also planning to add a "close discussion" option for mods, and an option for regular users to flag a post as inappropriate. That last one will be exciting, because it's something we currently don't even have on Wikia's regular forums!
Adventure Time mods can now moderate Discussions much like you already moderate conversations on the wikia itself. If you're not using Discussions yourselves, and won't be there to moderate, you can pick promising discussion participants who might want to to take on that role. Admins will be able to assign those users to the discussion moderator group.
Right now, it's a bit challenging to message app moderation candidates directly. The app users don't always confirm their email addresses, and so won't get notified about Message Wall posts. But if you've spotted someone you'd like to contact about the moderator role, let Wikia staff know, and we'll help you contact them!
Let us know what you think! We're still working on adding more features to make discussions more fun and convenient to use (such as topic categorization, search, link previews, etc.) For that, we can really use your opinion. How do you like Discussions? What are you missing? What should be different? Please share your thoughts here, and if you have questions, I'm happy to answer them! Mira Laime (talk) 21:54, January 26, 2016 (UTC)