Fionna (previously spelled Fiona and also known as Fionna the Human) is a fictional character and the gender-swapped version of Finn who was created by the Ice King in his fan-fiction. She was created by series character designer Natasha Allegri in a series of web comics and drawings. She and the other gender-swapped characters appeared occasionally in their own segment of the show. She is usually seen in the company of Cake, her own stretchy companion and also adoptive sister. Fionna's nemesis is the Ice Queen. She is shown to have an attraction to Prince Gumball and a past with Marshall Lee. Ice King fantasizes about one day making her real and marrying her.
Appearance
While usually appearing as black dots, her eyes are seen as blue when enlarged. She wears a rabbit-themed hat (similar to Finn's bear-themed hat) with exposed locks of blonde hair and also has teeth missing in a similar fashion to Finn. Unlike Finn, her neck and blonde hair are shown. When she is not wearing her hat, her hair goes down to between her knees and ankles. Her outfit includes a teal blue shirt with elbow-length sleeves, a dark blue skirt, and knee-high socks with two thin, light blue horizontal stripes at the top. Fionna is a heavier set than Finn (which Natasha referred to as "chubby cute"). She has a green backpack (similar to Finn's) and Mary Jane shoes.
Personality and character traits
Although Fionna is known to mostly keep her calm, she can be provoked to anger. She will often try to act like one of the guys, so she fits in easily with friends like Marshall Lee or Prince Gumball.
Fionna is a fearless, thrill-seeking, adventure-loving hero who will rescue any prince from the Ice Queen or do any task to better herself or help citizens. She, much like Finn, is also very hard-headed as shown when Cake wanted her to date Prince Gumball and she was stubborn about it.
So far, none of Fionna's fears have been introduced and she is known to be very courageous and brave.
Episode appearances
Major appearances
Minor appearances
Relationships
Cake
As housemates, adopted sisters, and best friends; Fionna and Cake share a very deep and strong bond. Having been raised together by Cake's parents, the duo share a relationship similar to that of siblings, with Cake watching over Fionna and giving her advice constantly as her older sister. Though they have an unconditional love for each other, Fionna can get frustrated with Cake because of her pushiness, shown especially in "Fionna and Cake." Though she sometimes leads Fionna down the wrong path, Cake genuinely means well for her companion and is usually an encouraging and protecting figure.
Lord Monochromicorn
As the trusted steed of her crush Prince Gumball and the boyfriend of her best friend Cake, Fionna and
Lord Monochromicorn
are on good terms and are well acquainted with each other.
Prince Gumball
Prince Gumball is Fionna's crush. Fionna gets flustered if Prince Gumball compliments Fionna on being "beautiful." She acts in such a way as when Finn was in love with Princess Bubblegum.
Marshall Lee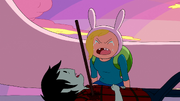 Fionna and Marshall Lee are good friends. In "Fionna and Cake," Marshall gives Fionna the sign of horns at Prince Gumball's ball. In "Bad Little Boy," he fakes a fatal wound and tells her that he might die, so she should just admit that she's in love with him. Fionna responds, crying and angry that he would ask something like that at a moment like that, to which he reveals he is faking and is punched by Fionna.
Trivia
Appearance in other media
Quotes
See Fionna/Quotes.
Gallery
External links
References