Doctor Strange in The Multiverse o Madness - The Loop
Play Sound
Finn's hat is a piece of headgear that Finn wears throughout the Adventure Time series. It has come to be his trademark of sorts, as it is one of his most distinct attributes. The hat is white and covers his entire head except for his face, and also has little bumps on the top at both sides that resemble bear ears. In the original short, the hole for his face was a semi circle, and in the series it is an oval. Finn wears his hat almost constantly, and has even been shown to wear it to bed.
When he removed the hat in "To Cut a Woman's Hair," Jake seemed surprised at his hair, so it's likely that he rarely removes the hat not even to cut his hair, and if he does, it is in seclusion.
It was revealed in "Memories of Boom Boom Mountain" that Finn has had his hat ever since he was an infant. Pendleton Ward has stated that Finn got his hat as a baby when he skinned a bear out in the woods. This is possibly confirmed in the episode "Little Dude," where Finn remarks at the end that he needs a new hat, and Jake replies that they need to go skin an evil bear.
Finn appears to be quite defensive when it comes to his hat, for when the Ice King states that Finn's hat is stupid in the animated short, Finn retorted by kicking Ice King in the face and yelling, "My hat is awesome!" It is presumably unique. In "Little Dude" the hat became enchanted when it touched the flower of a buried Magi. The evil spirit that possessed it caused the hat to rampage through Candy Kingdom. After its deeds were stopped, the hat was enchanted with a good spirit and given to the Magi by Finn, who later, with Jake, went off to get another hat from an evil bear.
Finn's want for the Evil Bear Hat may have came from a stuffed bear seen in the season 6 episode "The Visitor". The day Finn was born it is white and similar looking to the hat that Finn wears now. The stuffed bear is not seen anywhere in the show before the episode. In " Min and Marty", little Finn has the same stuffed bear, further supporting Finn's hat being the remains of his stuffed animal.
Real life Finn hats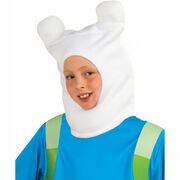 The Frederator Blog revealed that Cartoon Network's Creative Services division distributed a number of Finn hats to promote the show. The only stores known to carry the hats are Hot Topic, Toys R Us, FYE, Newbury Comics, Thinkgeek, Comic Alley and Spencer's, but other hats might be given away in future contests. [citation needed] The blog also has photos of the show's crew [citation needed] and numerous fans [citation needed] wearing their very own hats. At Comic-Con, numerous hats were distributed at the Adventure Time panel. Also, a Finn hat is included in the Jake Vs. Me-mow DVD set. Finn hats also come in Adventure Time costumes.The hats for sale have straps at the chin, unlike Finn's actual hat which can just slip on and off. This is likely to adjust for varying head sizes. The ones at Hot Topic have straps at the neck instead of the chin.
Trivia
In the animated short, the design for the hat was different, as the hole for his face was a half circle rather than the ellipse seen in the show.
It is the only object that has appeared in almost every single Adventure Time episode, including the animated short. The only episodes in which it has not appeared have been the Fionna and Cake episodes "Bad Little Boy," "The Prince Who Wanted Everything," and "Five Short Tables" in which Fionna's hat appeared in its place. It also didn't appear in "Princess Day," "Evergreen," "The Diary," "Friends Forever," "Be Sweet," "Orgalorg," "Varmints," "Cherry Cream Soda," "Broke His Crown," "Lady Rainicorn of the Crystal Dimension," "Daddy-Daughter Card Wars", and "Ring of Fire" due to Finn's absence in the episodes.
Finn's bear-ear hat resembles the head of Bueno the Bear from "Barista," which is a short by Pendleton Ward. (For this reason, it is sometimes referred to as a "bear hat.") The hat also resembles Max's hat from Where the Wild Things Are and Maxwell's rooster hat from Scribblenauts.
The two "ears" on Finn's hat are portrayed as bear ears in FusionFall.
In the episode "King Worm," Finn's hat has longer ears in some scenes to signify when he is dreaming.
Finn's hat was destroyed in "You Made Me."
The Hyooman tribe wears hats similar to Finn's, but modeled after different animals and are much more detailed.

Finn's hat resembles a polar bear.

Fionna's bunny-ear hat that she wears in the episode "Fionna and Cake" resembles Finn's hat in a different style.
Make your own Finn hat from the Frederator blog, including a video tutorial and fabric patterns (Has been made private), but it is also on YouTube.
The evil Little Dude is a reference to the "headcrab" creature from the video game "Half-Life," made by Valve.[citation needed]
The Lemongrabs' collection of hats for Lemon-Sweets in "Another Five More Short Graybles" included a miniature version of Finn's hat.
In "Little Dude," it is revealed that his hat is made of bear skin.
Storyline analysis
In the episode "In Your Footsteps," the bear is seen wearing a hat like Finn's. This implies that he may have multiple hats, and changes them out when they are marred. This also may mean that he no longer wears the hat he had as an infant, if he can even still fit it on his head.
Similar animal-resembling hats are worn by Two-Bread Tom and his pioneers, as well as the people of the Islands. This cultural significance is likely how Finn got his hat.
Gallery
References