Beemo - Adventure Time is an app for iOS devices, created by Cartoon Network for the App Store.
App Store description
"PLAY WITH BEEMO! Put Beemo from Adventure Time on your device. BEEMO IS VIDEO GAME! Can you beat Beemo at his own game? Play Adventure Time games with Beemo. Outkick Lincoln in a football punting competition in Pro Football 1861.  BEEMO IS CAMERA! Add Adventure Time stickers to your photos! Or make custom wallpapers for your phone or tablet.  BEEMO IS SOUNDBOARD! Play some of your favorite quotes from Finn, Jake, Princess Bubblegum, Ice King, LSP, and, of course, Beemo!  Beemo is for YOU!  This amazing, interactive app features original VO from actress Niki Yang! Download now for free. Available for iPhone 4, 4s, and 5; iPad 2, 3, and 4; iPad mini; and iPod touch 4 and 5."
Cartoon Network Ad description
"Who wants to play video gaaaaaames? Now you can put Beemo on your device! Everyone's favorite video game system is now an interactive app from Cartoon Network! Hang out with Beemo, play Adventure Time games from the show, customize your pictures with digital stickers, and sound off with character soundboards! This awesome app features original voice overs from actress Niki Yang. Available for free in the App Store.
"Beemo" is available for iPad 2, 3, and 4; iPad mini; iPhone 4, 4s, and 5; and iPod touch 4. MSG and Data rates may apply. You must be 18 years or older or have permission from a parent or guardian."
Features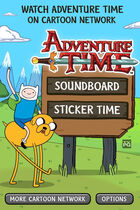 The app contains a small selection of games, a soundboard and the ability to customize pictures with Adventure Time-themed stickers. The soundboard and picture customization options were originally featured in a separate app called "Adventure Time - Soundboard & Photo," which has since been discontinued. Picture customization is also a feature in the game BMO Snaps, where stickers can be added to photos taken with the front-facing camera. The games featured in this app are based off of those featured in the show.
The soundboard features sound clips of Finn, Jake, Princess Bubblegum, Marceline and Ice King, with more. The photo customization feature gives the user the ability to add Adventure Time stickers to the images on their device, such as the Ice King's beard, a sticker of Finn, kicking and golden coins.
Trivia
Pro Football 1861 has been seen in the episodes "Business Time" and "Davey." Kompy's Kastle was seen in "Who Would Win" and "Conversation Parade" was seen in "Rainy Day Daydream."
The app is an updated version of what used to be the Sticker Time app.
There is a $0.99 purchase to unlock the extras, including music, wallpapers, and the games Kompy's Kastle and Conversation Parade.
Apparently this was the first Adventure Time App CN had released.
When on the main BMO screen, BMO reacts when you move the device around.
The music and sound effects used in Kompy's Kastle are the same from Guardians of Sunshine.
The app can still be downloaded from the App Store Purchases if you've installed it previously on the same Apple ID.
Gallery