Doctor Strange in The Multiverse o Madness - The Loop
Play Sound
The Battle of the Bands is a contest, hosted by Princess Bubblegum, featuring many reoccuring and main characters of the show. The event's codename is "Plan C," implying Jake and Princess Bubblegum set-up multiple plans to cheer up Finn, incase one failed to work. It is likely Princess Bubblegum is the one behind this contest, as Jake did not recall what Plan C was, even though he had an eigth note as a visual clue. The Battle of the Bands featured an opening performance, but it is unknown if this performance was counted in the contest. During Marceline's performance she accidentally lost her pick, causing the audience to become furious. Ice King had sent out his penguins to control the crowd, but they only ended up making the problem worse. The winner of the Battle of the Bands was won by a surprise performer, Music Hole. Although it is unclear if the audience at the stage knew about this information.
Performances
Opening act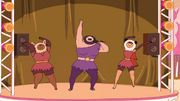 The Battle of the Bands began with Susan Strong singing Power of Myself. Susan was accompanied by Celina and Sally, who performed as back-up dancers during the contest. After Susan had requested for more bass in the monitor, interupting her own performance, she left the stage, so it is unclear if Susan had finished her song, however it is possible that she sang the final lines. It is unverified if Susan's performance was included in the contest, because Princess Bubblegum's speech welcoming everyone for attending the contest took place after Susan performed. It is possible that Princess Bubblegum waited for Finn to show up before she announced the contest.
MC Neptr and Flame P
The first performance after the event's announcemenr to take place was by Neptr and Flame Princess, who performed an outdated rap, taking on the apparel of 90's and earlier attire. Their song, titled "Neptr Flame P Rap," was written by former supervising director Andres Salaff. They involved no back-up dancers, however Flame Princess did bring along Cinnamon Bun to help in selling band merchandise, which upset Ice King, because he thought they were attempting bribery.
Marceline the Vampire Queen
Marceline along with Lumpy Space Princess and Death played as a band, peforming a section of a song titled "Francis Forever," written by Mitski. Marceline played as vocals and bass, LSP as percussion, and Death on bass. Their performance was post-poned due to Marceline losing her pick and refusing to play without it. They would then be bombarded with litter for halting their performance. The song would pursue after Princess Bubblegum retrieves Marceline's pick.
Surprise Performances
Ice King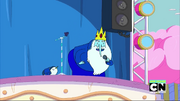 During the chaos that was caused by the frustration of no music and the penguins causing the crowd to fight, Ice King takes the opportunity to perform. Ice King performs a real-world song titled "Do The Boogaloo." The song performed by Ice King is disco, and he dances in the manner of it, however the crowd ignores Ice King and continues to brawl with eachother.
Music Hole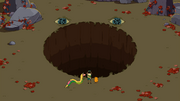 The final, though unofficial performance, was by Music Hole. Music Hole performs throughout her entire life, and is awarded as winner by Finn, acknowledging that she has been singing for the past one thousand years. As she is awarded, she sings I Look Up To You with Finn.
Gallery