Doctor Strange in The Multiverse o Madness - The Loop
Play Sound
"Apple Thief" is the eleventh episode in the third season of Adventure Time. It's the sixty-third episode overall.
Synopsis
When Tree Trunks' apples go missing, she, Finn and Jake descend into the dark side of the Candy Kingdom in order to find the thief.
Plot
Jake makes Korean food for lunch, but Finn does not want to eat it because it smells weird. Finn suggests that they go to Tree Trunks' for apple pie, then chants "Apple pie, apple pie, apple pie" until Jake agrees. When Finn and Jake arrive at Tree Trunks' house, the house is in ruins, and Tree Trunks is on the floor, looking injured. Tree Trunks starts muttering, "Apples... my apples," and Jake says, "Apples?" then Tree Trunks lunges at Jake yelling, "You!" Finn pulls Tree Trunks off of Jake, saying, "Tree Trunks! It's us, Finn and Jake!" Tree Trunks comes to her senses, and tells Finn and Jake that someone stole her apples, and that without them, she cannot make apple pie. Finn and Jake yell, "Nooo!" and tell Tree Trunks that they will bring the thieves to justice.
So they go out to search for any clues about the thieves, soon finding a ditch where Raggedy Princess was trapped after she fell in. She says she was knocked out and had fallen there. When they think about where they could find any clue, Jake suggests that they go to the Candy Tavern, since it was there where he usually went after stealing purses (he justifies he did not know it was wrong). Going there looking for apples, they ask the barman if he knows anything about the crime they want to solve. Unfortunately, the barman thinks they are goody-goodies, so they rush to the bathroom where they dress like they were in a fight. Then, the barman guides them to some thieves, who suspect that they are all working for a rival gang. After a fight, Finn, Jake, and Tree Trunks escape and realize that when one of the thieves punched Finn, he left a big frown logo from his ring. Jake then leads them to a building with the logo, which he remembers from when he would steal bikes (he justifies he did not know it was wrong). The gang makes it inside, only to be trapped by the thieves. When a rival gang arrives, they challenge the thieves to a brawl, allowing Finn, Jake, and Tree Trunks to escape with a pig that was used by the first gang to eliminate (eat) rival gangs' members.
Upon returning to Tree Trunks' house, the pig says that he can "hear" apples in the house. Finn and Jake ask the pig if he is talking about "apples" (diamonds) or "apple-apples" (real apples), and the pig confirms they are apple-apples. The pig says that the apples are in the closet, but Tree Trunks denies it, saying that she is the only one who can open the closet. Tree Trunks opens it, causing a large amount of apples to spill out. Tree Trunks makes a phone call to the police saying that she has stolen her own apples. When a couple of Banana Guards arrive to arrest Tree Trunks, one of them says that her house could use a scarecrow, since there are a lot of crows gathering near the house. This causes Finn to think about everything that has happened and conclude that a family of magpies were the real thieves, since there are no footprints close to the apple trees, Raggedy Princess was knocked into a hole by something; and there is a nest of magpies on the top of Tree Trunks' house with a hole in the side where the apples that the mother magpie brought fell into the closet. Since Tree Trunks is innocent, Finn calls for a celebration and Tree Trunks says she will make an apple pie. She also invites the Banana Guards to eat with them, slapping one of the guards on the butt, and they all share a hearty laugh.
Characters
Major characters
Minor characters
Mentioned
Locations
Trivia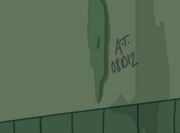 Episode connections
Cultural references
Errors
Video
Gallery
Production art
Background art
Screenshots
References