News

• March 12, 2016 - Reporting bad content in Discussions and using it to grow your community - Some new features are now live in Discussions, plus tips on how you can use Discussions for your community!
• January 26, 2016 - Adventure Time app: Check out the new Discussions feature - Moderation tools and desktop version are now live so you can take over and make this part of your existing community!
• October 17, 2015 - Share your favorite heroic moment from Adventure Time to enter The Enchiridion Giveaway and compete for some awesome prizes!
• July 18, 2015 - Issue 20 of the Ooo Review has been released for viewing!
• July 12, 2015 - Check out Wikia's interview with the Adventure Time cast and crew at San Diego Comic-Con 2015 here!
• April 30, 2015 - 10 of the weirdest Adventure Time moments have been selected! See the full list here!
• April 30, 2015 - Oh my Glob, you guys! So many weird moments happened in Adventure Time, and Wikia is looking for the best ones! Submit your favorites here!
• March 17, 2015 - Enter Wikia's Adventure Time Giveaway to win some awesome prizes!
• February 23, 2015- We did it! Adventure Time Wikia has officially received its own Wikia Community App! Download it on your Apple and Android device!
• Jan 17, 2015 - Share YOUR fan-fav method of saving the day! Be sure to post here to let them know your fan-favorite abilities of your favorite characters! Could it be Jake's Stretchy Powers or maybe Princess Bubblegum's intelligent mind or even something else!
• Apr 21, 2014 - Show your fandom is the best! - Official rules
Wikia wants to know how much you really love your favorite TV show! Tell Wikia what you love in pop culture on Facebook and Twitter.
Simply tweet @Wikia or post on Facebook.com/Wikia what it is that you love and why and tag it with #WikiaFan. Each post or tweet counts as a "vote". The fandom that has the most "votes" will take over Wikia's Facebook and Twitter pages one week.
Let Wikia know:
Tweet: @Wikia
Post: Facebook.com/Wikia

May the best fandom win. (By that I mean Adventure Time!)
• Apr 21, 2014 - You voted and decided that THE ultimate Adventure Time meal is composed of the everything burrito, crystal gem apple, BMO's hot chocolate, Finn Cakes, and Cinnamon Bun! See more here!
• Apr 8, 2014 - Join in on the Food Fiction food fight! Choose your most favorite Adventure Time meal!
• Jul 7, 2013 - Adventure Time is nominated for best animated show for the Teen Choice Awards!!! Click here to show your support and Vote for Adventure Time!
• Jun 28, 2013 - Upcoming Changes - This wiki has been flagged as falling into that category, and staff wanted to let you know about it. While staff knows Adventure Time has many fans of all ages, it can also be especially appealing to the younger demographic for purposes of the newly revised Children's Online Privacy Protection Act (COPPA).
Semanticdrifter/Updates to COPPA.
• May 29, 2013 - About transcript pages (April 23rd)
Links
Contribute to this wiki
If you are new to wikis, check the getting started information page.
Check out the community portal to see what the community is working on, to give feedback or just to say hi!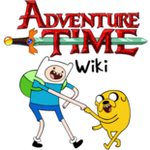 Wizard City
---
Adventure Time: Distant Lands has received a new entry in Wizard City!
In this episode:
"Peppermint Butler" starts over at the beginning, as just another inexperienced Wizard School student. When mysterious events at the campus cast suspicion on him and his checkered past, can he master the mystic arts in time to prove his innocence?"
Featured Article: October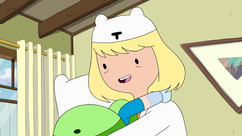 In "The Light Cloud," Finn reconciles with his mother and heads back to Ooo.
---
Featured Image: October
In "King's Ransom," Ice King loses Gunter and searches for him, only to find a beautiful woman that gives him a hug.
---
Featured Video: October
Marceline writes about her neglectful father who has hurt her too many times, but not enough for her to stop loving him.
---
Exploring the Land of Ooo: An Unofficial Overview and Production History of Cartoon Network's Adventure Time.
Check out Paul Thomas's new book about Adventure Time!

Read more here→ Go to page[1]