The Ooo Review: Issue 23
Oh my
Grob Gob Glob Grod
, ALPHANUMERIC! We have
thirteen
new episodes to talk about in this Ooo Review! Half of them were the
amazing
miniseries
Stakes
but still! First up this seventh season was the great "
Bonnie and Neddy
" episode about
Bonnie
and her... twin brother,
Neddy
. Neddy is a bubblegum dragon with social anxiety issues but he sucks the sap from the candy tree at the center of the
Candy Kingdom
and... exudes a sap juice that is apparently the lifeblood of the entire kingdom! Which the princess
KOO
finds out about and quickly starts thinking up how to stop its free production and how to sell it but he scares away Neddy which then stops the lifeblood of the Candy Kingdom. Finn and Jake race over to Bonnie who returns Neddy and safeguards the entrance.
In "
Varmints
" we see Bonnie focusing on guarding her genetically engineered crops from varmints, but she seems to be taking it a little too seriously.
Marceline
comes by and helps out a bit and while fighting the massive mother varmint with Bonnie they make some realizations that Bonnie has been hiding from herself, mainly that she is upset that her kingdom abandoned her in favor of a wax idol.
"
Cherry Cream Soda
" is about,
Cherry Cream Soda
. The widow of
Root Beer Guy
and apparently the new wife of
Starchy
. Starchy was tired of Cherry's constant grieving and the dead remains of Root Beer Guy being in their home so he told Cherry to bury Root Beer Guy already. Reminiscing how they met and... where they were born at the same time, Cherry decided to bury Root Beet Guy at that location where Bonnie apparently created a lot of drink-themed candy people at a malt shop sort of place but is now long gone. Lightning struck the dirt where Root Beer Guy's remains was buried in the dirt where life was made quite a lot, this brought Root Beer Guy back to life but as dirt in the mason jar he was buried in. The now, Dirt Beer Guy, went back home and was upset that Cherry remarried, which had Starchy and Cherry frightened that the undead monster was in their home. Starchy and Dirt Beer Guy fought a lot over Cherry but Cherry decided to go back with Dirt Beer Guy, at least just for a date. Whether or not Dirt Beer Guy gets his job back as the chief of the banana force is unknown.
In "
Mama Said
," the princess KOO spots a flying mushroom and declares that sitting atop one would be not only cool but also make people appreciate him more and demands that Finn and Jake go fetch one for him. Finn and Jake race off but are unsuccessful, but find
Canyon
and hang out with her for a while. Then they find a flying mushroom but it is EVIL! SO they slay it and bring the princess KOO a mushroom pizza instead. The princess KOO fires Finn and Jake and then sits on the pizza anyways and asks to be pushed by a Banana Guard. This propels him down some stairs and one of the Banana Guards breaks into
song
.
"
Football (episode)
" brings the return of
Football
,
BMO
's... alternate personality? Or this episode shows the possibility that Football is a real entity trapped in a mirror world of darkness and despair because BMO and Football trade places and BMO finds the mirror world is very small and very empty. Due to this Football doesn't want to trade back and BMO starts haunting Football on every reflective surface until Football falls into a very reflective lake which causes them to switch back but Football is happy in the reflection of the lake because there is mirror outside than there was in the bathroom. Again though, whether or not Football is a real entity is uncertain.
"
Marceline The Vampire Queen (episode)
" is the start of the great
Stakes
miniseries, and starts off with Marceline trapped in the sunlight and unable to reach her umbrella. Fearing the sun's rays from melting her flesh and burning her alive, Marceline is not in a very happy mood and apparently rips off a part of the tree she was hiding under and carries it above her to break into Bonnie's house to hide. Marceline pretends the destruction of Bonnie's house was just a joke and asks Bonnie to use the vampire cure she apparently had prepared in the past. The cure projected a dark vampire goo from Marceline which Bonnie had thrown into a bucket. The next night a cow was attacked, a vampire bite! The villagers called on Finn and Jake to slay Marceline and they asked Marceline why she would do that. Being chummy with a vampire caused the villagers to fear and capture Marceline and strung her up as the morning sun was rising to torture her a little before she horribly melted to death. But, she didn't die, she was cured! Then who was the vampire that attacked the cow...?
"
Everything Stays
" is the second episode of the
Stakes
miniseries and was mostly about Marceline's childhood after
Simon
left her due to his insanity. She was a vampire hunter and protected the few remaining humans who were living as nomads and singing old
television theme songs
to remember their past culture. But also it is revealed that the vampires of her past that she ate the souls of, were brought back to life when Marceline was cured of her vampirism.
In "
Vamps About
," we continue the
Stakes
miniseries with Marceline hunting down the vampires of her past, gaining her powers back with each vampire soul she eats. The
Vampire King
tries to reason with Marceline, saying that he only eats animals now like normal people do, though the animal he was seen eating was a fully sentient and fully confused cow and regardless of that Marceline was very vengeful of VK due to all the deaths he and his kind caused. So VK mentioned that
the Empress
was heading over to mess with Simon and this got Marceline gone fast as she raced to the rescue of her old father figure.
"
The Empress Eyes
" featured
the Empress
with her apparent mind control abilities controlling Simon! Apparently. She demands human blood but Simon only knows of one human and races off to get Finn for her. Marceline rescues Finn and her and Finn try to rescue Simon but apparently his mind is too far gone to be controlled and he doesn't really need rescuing so Marceline eats the soul of the Empress and gains more powers.
"
May I Come In?
" is about
the Hierophant
, a vampire of ancient beliefs and traditions. One of these is that vampires may not enter a home without permission,
Peppermint Butler
finds this out and relays it to Jake who quickly becomes a house so the Hierophant is unable to enter him to get to the human, Finn, inside. Marceline makes short work of him and eats his soul to regain shapeshifting but Marceline gets poisoned.
In "
Take Her Back
," Finn and Jake find
the Moon
and lure her to the unconscious Marceline and the worried Bonnie. Somehow though they were able to overtake the Moon and when Marceline ate her soul she was able to regain her healing abilities and healed away the poison from the last episode.
In "
Checkmate
," we see the Marceline rushing to kill the Vampire King but VK submits and asks to be cured. Bonni cures him and he reverts back to his original form, which... was a lion? The VK lion walks away but Bonnie put VK's vampire goop in the same bucket which Peppermint Butler spills and that creates a horrible sheep-like cloud of vampiric fog with the VK's face.
In "
The Dark Cloud
," Marceline is realizing that she has no control and is unable to do anything tight so Finn, Jake, and Bonnie try to defeat the vampire goop cloud but it is a cloud and stabbing it does nothing. Marceline realizes what she must do and sucks the cloud up in her soul eating manner but in the process of this the cloud somehow bites and infects Marceline as it is consumed by her, making her a vampire again. Everything stays.
After the week of short episodes we can expect full-length episodes again starting with "
The More You Moe,
The Moe You Know
" is the special two part episode about BMO's birthday party and a special guest arriving for it, perhaps
Moe
, BMO's father?
"
Bad Jubies
" seems to be a karma-based episode but with deadly weather coming to DESTROY the entire Grasslands?! They mention trying to build a shelter but they definitely do not have time, perhaps they will seek refuge with the hyoomans?
Angel Face
" has not much known about it yet but is another upcoming episode, perhaps it is a return of the dreaded
Guardian Angel
character? Or maybe
Space Angel Princess
will finally get more featured in this episode!!!?!
Adventure Time Game Wizard
This month your Ooo Review editor has chosen a few fun Adventure Time Videos! To suggest your own fan video for the Ooo Review's next issue, email felinoel@gmail.com your suggestions with, "Ooo Review" as the subject.
Featured Article: March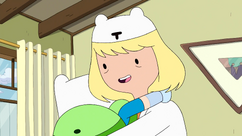 In "
The Light Cloud
," Finn reconciles with his mother and heads back to Ooo.
---
Featured Image: March
In "King's Ransom," Ice King loses Gunter and searches for him, only to find a beautiful woman that gives him a hug.
---
Featured Video: March
Marceline writes about her neglectful father who has hurt her too many times, but not enough for her to stop loving him.
---

• March 12, 2016 - Reporting bad content in Discussions and using it to grow your community - Some new features are now live in Discussions, plus tips on how you can use Discussions for your community!
• January 26, 2016 - Adventure Time app: Check out the new Discussions feature - Moderation tools and desktop version are now live so you can take over and make this part of your existing community!
• October 17, 2015 - Share your favorite heroic moment from Adventure Time to enter The Enchiridion Giveaway and compete for some awesome prizes!
• July 18, 2015 - Issue 20 of the Ooo Review has been released for viewing!
• July 12, 2015 - Check out Wikia's interview with the Adventure Time cast and crew at San Diego Comic-Con 2015 here!
• April 30, 2015 - 10 of the weirdest Adventure Time moments have been selected! See the full list here!
• April 30, 2015 - Oh my Glob, you guys! So many weird moments happened in Adventure Time, and Wikia is looking for the best ones! Submit your favorites here!
• March 17, 2015 - Enter Wikia's Adventure Time Giveaway to win some awesome prizes!
• February 23, 2015- We did it! Adventure Time Wikia has officially received its own Wikia Community App! Download it on your Apple and Android device!
• Jan 17, 2015 - Share YOUR fan-fav method of saving the day! Be sure to post here to let them know your fan-favorite abilities of your favorite characters! Could it be Jake's Stretchy Powers or maybe Princess Bubblegum's intelligent mind or even something else!
• Apr 21, 2014 - Show your fandom is the best! - Official rules
Wikia wants to know how much you really love your favorite TV show! Tell Wikia what you love in pop culture on Facebook and Twitter.
Simply tweet @Wikia or post on Facebook.com/Wikia what it is that you love and why and tag it with #WikiaFan. Each post or tweet counts as a "vote". The fandom that has the most "votes" will take over Wikia's Facebook and Twitter pages one week.
Let Wikia know:
Tweet: @Wikia
Post: Facebook.com/Wikia

May the best fandom win. (By that I mean Adventure Time!)
• Apr 21, 2014 - You voted and decided that THE ultimate Adventure Time meal is composed of the everything burrito, crystal gem apple, BMO's hot chocolate, Finn Cakes, and Cinnamon Bun! See more here!
• Apr 8, 2014 - Join in on the Food Fiction food fight! Choose your most favorite Adventure Time meal!
• Jul 7, 2013 - Adventure Time is nominated for best animated show for the Teen Choice Awards!!! Click here to show your support and Vote for Adventure Time!
• Jun 28, 2013 - Upcoming Changes - This wiki has been flagged as falling into that category, and staff wanted to let you know about it. While staff knows Adventure Time has many fans of all ages, it can also be especially appealing to the younger demographic for purposes of the newly revised Children's Online Privacy Protection Act (COPPA).
Semanticdrifter/Updates to COPPA.
• May 29, 2013 - About transcript pages (April 23rd)