Adventure Time is a comic book series published by BOOM! Studios, written by Dinosaur Comics creator Ryan North, and illustrated by Shelli Paroline and Braden Lamb.[1] The comic book is released monthly,[2] beginning with issue #1 in February 2012.[1]
The comic is not canonical with the Adventure Time TV series' story.[3] Adam Muto has speculated that it may take place in a different reality.[4] Either way, the events of the comics have several events irreconcilable with the TV series.
Format
Each issue includes at least two comics: The lead story is written by North and drawn in the style of the cartoon by Paroline and Lamb; and one or more backup stories created by an indie comic artist, drawn in their own style.[2]
The main story features small messages at the bottom of many of the pages. This is a trademark of writer Ryan North, whose Dinosaur Comics always contain semi-hidden messages and commentary.
The first storyline in the series is a four-parter by North, split between issues #1 through #4.[5]
List of issues
For a comprehensive list covering the multiple comic book covers for each issue, see Adventure Time Comic Covers.
Cover
Story
Backup story
Release date
Issue 1
The Lich reawakens and traps Finn and Jake.
(Part 1 of 4)
"My Cider the Mountain" by Aaron Renier
February
2012
Issue 2
Finn and Jake are stuck in the Lich's Bag of Holding while Marceline, Princess Bubblegum, and Lumpy Space Princess are stuck, too.
(Part 2 of 4)
"Laundromarceline" by Lucy Knisley
"After the Show" by Zac Gorman
March
2012
Issue 3
The Ice King and Desert Princess make an army of Finn and Jakes to help battle the Lich.
(Part 3 of 4)
"Bacon Fields" by Michael DeForge
April
2012
Issue 4
With The Lich defeated, The Land of Ooo is restored. The only problem is that it is covered by all the sand from The Bag of Holding & Desert Princess is missing!
(Part 4 of 4)
"The Ultimate Party Dip" by Chris Eliopoulos
May
2012
Issue 5
Finn and Jake journey into a new part of Ooo.

(Part 1 of 5)

"Emit Erutnevda" by Paul Pope

"Ice King Dumb" by Georgia and Chris Robison

June
2012
Issue 6
Jake causes trouble when he messes with Princess Bubblegum's time machine.
(Part 2 of 5)
"Level 99" by Anthony Clark
July
2012
Issue 7
Finn and Jake end up in the future with no way to return home.
(Part 3 of 5)
"Time Waits For No One" by Shannon Wheeler
August
2012
Issue 8
Finn, Jake, and QB try to defend the Candy Kingdom.
(Part 4 of 5)
"Happy Birthday Hot Dog Princess!" by Frank Gibson and Becky Dreistadt
September 2012
Issue 9
Finn and Jake try to return to their own time.
(part 5 of 5)
"Fishling" by Chris and Shane Houghton
October  2012
Issue 10
Finn and Jake are possessed by the reader thanks to the Ice King's new spell.
"Hot Deals in the Ice Kingdom" by Jon M. Gibson & Jim Rugg
November 2012
Issue 11
Finn, Jake, and Marceline enter BMO's Main Brain Game Frame to play "Super Guts Punch 3."
(Part 1 of 4)
"The Meaning of Bravery" by Zack Giallongo
December 2012
Issue 12
Lumpy Space Princess forces her way into "Super Guts Punch 3" which causes BMO to malfunction.
(Part 2 of 4)
"The Ice King and His Magical Matchmaking Mini Comic" by Alexis and Andrew
January  2013
Issue 13
(Part 3 of 4)
"Princess of Rad Hats part 1" by Chris Schweizer
February 2013
Issue 14
(Part 4 of 4)
"Princess of Rad Hats part 2" by Chris Schweizer
March
2013
Issue 15
Magic Man tries to be a jerk to the Princesses and Finn and Jake try to stop him.
"GIVE US BACK BMO!" by Jeremy Sorese
April
2013
Issue 16
Finn and Jake battle the Ice King in order to save Lumpy Space Princess.
"Opposite Day" by Sina Grace and S. Steven Struble and "Ninja Princess" by Reed, Grant, and Jai Nitz with illustrations by Pranas T. Naujokaitis.
May
2013
Issue 17
(Part 1 of 4)
"Silly String Theory" by Jay Hosler
June
2013
Issue 18
(Part 2 of 4)
"Publish or Perish"
July
2013
Issue 19
(Part 3 of 4)
"Ambitreacherous" by Andy Hirsch
August 2013
Issue 20
(Part 4 of 4)
"Grocery Time! - Part One" by Zack Smith
September 2013
Issue 21
Finn and Jake protect their friends from the Ice King.
"Beach Bum Boogie" by Zack Giallongo
October
2013
Issue 22
Finn and Jake find themselves in a sticky situation when Princess Bubblegum's experiments searching for the origin of life go horribly wrong.
"Grocery Time! - Part Two" by Zack Smith
November 2013
Issue 23
Princess Bubblegum and Marceline race against time to save the inhabitants of Ooo from the Princess' rogue experiment.
"Booty and the Beast" by Jen Bennett
December 2013
Issue 24
Princess Bubblegum faces the consequences of her science experiment gone wrong as she finally finds a way to save the day! But is it too late? Find out if Princess Bubblegum is able to right all her wrongs or if her friends will never be themselves again, it's a crazy conclusion to this arc!
"A Bun's Life" by Kristina Ness
 January  2014
Issue 25
A love story told from the perspectice of a red gem named Carl - pining for Gemma, a blue gemstone.
N/A
February 2014
Issue 26
Finn and Jake have always been best buds; they are always together, it's just something best buds do. But what happens when these two friends get separated during a crazy adventure with twists and turns? Will our pals be able to find each other again or is this just all part of growing up?
"Sphagnum Sphagnum" by James the Stanton
March
2014
Issue 27
This special arc with guest artist Jim Rugg continues!! Finn and Jake might have finally met their match, but what will happen with it turns out that the match isn't a match at all? Things are getting crazy in the land of Ooo and it looks like our heroes might need someone to save them this time around.
"Jelly Wars" by Eric M. Esquivel
April
2014
Issue 28
With one answer, there is always a million questions. Finn and Jake find themselves out of one problem and into another. It looks like it's going to be a race to the finish as our heroes discover what it really means to be a friend, and learn something about themselves along the way.
"Jelly Wars - Part Two" by Eric M. Esquivel
May
2014
Issue 29
Finn and Jake are back in their bodies, but it looks like the damage is done. Will our heroes be able to right everything they've done or is Ooo finally lost? With the help of an unlikely source, this day might be saved. Last issue by the talented Jim Rugg (Street Angel, Afrodisiac)!
"A Dish Best Served Gross" by Josh Tierney and Michael Dialynas
June
2014
Issue 30
To celebrate the 30th issue of her "Marcelzine", Marceline releases a collection of mini-comics written by her friends.
N/A
July
2014
Issue 31
When Princess Bubblegum and Marceline get their driver's licenses, they have the perfect plan—build a giant ramp and drive off of it! It's gonna be so much fun...wait, who's the Mnemonoid, and why is he all up in this comic?
"Lemongrab's Makeover" by Sara & Sam Ellis
August
2014
Issue 32
Finn is on an impossible mission to break Mnemonoid's curse so that he can finally live his life…and remember it! It's going to take a lot of pal time and a lot of help from the best of friends but this definitely seems like an adventure that Finn and Jake can take—if only Finn could remember.
"Mystery Plop" (Part 1) by Kat Leyh
September 2014
Issue 33
Mnemonoid's hold on Finn is proving to be stronger than anyone had thought and it's taking the whole crew to band together to help their friend, only this time, there really might be nothing they can do. It's up to Finn to stand up to Mnemonoid, if only he could find the bully.
"Over the Garden Wall" by Pat McHale and Jim Campbell
October
2014
Issue 34
Finn has made it to Mnemonoid at last! It's time for this adventure to end and for Finn to finally get his memory back. It might seem like an easy end, but it looks like there is still one more trick up Mnemonoid's sleeve.
"Mystery Plop" (Part 2) by Kat Leyh
December 2014
Issue 35
It's the end of an era... the last ADVENTURE TIME issue featuring the Eisner Award-winning team of Ryan North, Shelli Paroline, and Braden Lamb. It's your chance to say goodbye, and experience an adventure you'll never forget.
N/A
December 2014
Issue 36
It's the first Adventure Time starring its new creative team! With indie all-star Chris Hastings writing and the amazingly talented Zachary Sterling on art, these mathematical adventures are only going to get more algebraic!
"Grand Prize" by Michelle and Heather Nunnelly
January 2015
Issue 37
It's the first Adventure Time starring its new creative team! With indie all-star Chris Hastings writing and the amazingly talented Zachary Sterling on art, these mathematical adventures are only going to get more algebraic!
"Same Math...Different Day" by Travis J. Hill
February 2015
Issue 38
Magic Man's hold on Finn is proving to be stronger than anyone had thought and it's taking the whole crew to band together to help their friend, only this time, there really might be nothing they can do. It's up to Finn to stand up to Magic Man, if only he could find the bully.
"Worst Day" by Rachel Edidin and Kel McDonald
March 2015
Issue 39
The entire world of Ooo is not able to cook but Jake comes through and saves the day with his sandwiches. It's not over yet, though, as the witch is gonna summon her ultimate monster baddie.
"Grocery Kingdom" by Kat Leyh
April
2015
Issue 40
It's a special interactive, one-shot issue! Magic Man plans to use the reader to help beat Finn and Jake, but can our heroes turn the tables? Features a special short written by debut writer Henry Leo and Matt Fraction (Hawkeye)!
"Axe Before Taking" by Jake Wyatt
May
2015
Issue 41
New story arc! Peppermint Butler is one of the most mysterious dudes in Ooo. When he approaches Finn and Jake to recruit them for the secret agency he runs, they've just gotta join and see what's going on!
"Dad Olympics" by Phillip Jacobson
June
2015
Issue 42
Finn and Jake are on the run, trying to figure out who on the inside framed them for the destruction of Peppermint Butler's secret security team.
"Sir BMO" by Ian McGinty
July
2015
Issue 43
Lumpy Space Prince decides to train Cake to beat the Floop Master in the upcoming Card Wars tournament!
"Open Mic" by Shawn Steven Struble and Ben Sears
August 2015
Issue 44
Finn and Jake are pretty sure the King of Ooo's big conference is a trap and have to sneak in to stop it!
"Tiger and the Moon" by Colin Andersen
September 2015
Issue 45
Special one-shot issue! Finn and Jake get trapped in a time-looping mirror maze!
"Finders Keepers" by Dave Scheidt and Jess Smart Smiley
October 2015
Issue 46
When one of Joshua's old spells wears off, Finn and Jake find themselves facing an old childhood friend that neither of them can remember!
"Water Strike" by Mady Martin
November 2015
Issue 47
Finn, Jake, and their mysterious "old friend" travel to Jake's parents' old apartment in the city to figure out what's going on!
"Sick Day" by Colin Andersen
December 2015
Issue 48
Finn and Jake learn the truth about their mysterious old friend and her connection to Joshua's spell.
"Flowers for Paulticore" (Part 1) by Dale Beran and David Hellman
January 2016
Issue 49
Finn and Jake's old friend has to make a sacrifice to defeat a monstrous threat.
"Flowers for Paulticore" (Part 2) by Dale Beran and David Hellman
February 2016
Issue 50
Finn takes a tour of his past lives when he astral projects through an old photo album.
N/A
March
2016
Issue 51
After too many back-to-back quests, Jake and Finn disagree on how important doing this hero stuff really is.
N/A
April
2016
Issue 52
In the ghost realm, Jake is met with some pretty familiar challenges to overcome.
N/A
May
2016
Issue 53
Jake successfully fools King Ghost of the ghost realm and must escape with the cure for Finn.
N/A
June
2016
Issue 54
Finn and Jake are sheriff and deputy of a wild west town.
N/A
July
2016
Issue 55
Finn and Jake discover that it's not just them-everyone in Ooo is trapped in their own little realities.
N/A
August 2016
Issue 56
Finn and Jake look for BMO in order to break free of the fantasies they're trapped in.
N/A
September 2016
Issue 57
Finn and Jake make it to the core of BMOWORLD and confront the real culprit behind this mess
N/A
October
2016
Issue 58
Finn decides to become a dungeon master like his father figure Joshua was!
N/A
November
2016
Issue 59
Finn finds his current adventure to be a bit more than he expected, but he's getting really into it. It's kind of like how someone approaches taking over their basement with a model train set.
N/A
December
2016
Issue 60
Finn gets into the dungeon-making scene and meets fellow dungeon masters, some of whom are villains from Finn's past!
N/A
January
2017
Issue 61
Finn becomes a bit obsessed with building his perfect dungeon, losing the plot a bit, and toys with terrible and great evil forces to build his ideal dungeon understand Joshua better through dungeoncraft
N/A
February
2017
Issue 62
A contest is started to see who is the best Princess in all of Ooo!
N/A
March
2017
Issue 63
The Princess competition continues with everyone trying to do their best despite the prankster trying to ruin their fun.
N/A
April
2017
Issue 64
The Best Princess Ever is finally going to be chosen! Who will it be? And will the prankster finally reveal themselves before they ruin the whole event?
N/A
May
2017
Issue 65
It's finally time to decide who is the best princess ever!
N/A
June
2017
Issue 66
It's a hot air balloon adventure! Finn and Jake decide to take their questing to the sky in this new story arc from novelist Delilah S. Dawson (Ladycastle)!
N/A
July
2017
Special issues
| | | | | |
| --- | --- | --- | --- | --- |
| Cover | | Story | Backup story | Release date |
| | Free Comic Book Day: 2012 | BMO trains to get good at fights, with help from Finn and Jake and Princess Bubblegum | Laundromarceline (repeat) | May 5, 2012 (Free Comic Book Day) |
| | Adventure Time: Cover Showcase | A collection of previous Adventure Time covers packaged into one high-quality special issue. | | December 2012 |
| | Adventure Time: Annual 2013 | Contains several stories: "A, You're Adventurous", "A Sword Most Awesome", "No Dogs Allowed", "Dungeons and Desserts", "The Summiteers" and "The Lemon Sea". | | May 2012 |
| | Adventure Time: Summer Special 2013 | Contains several stories: "The Desert Treasure", "The Sucker Seeker", "Heart" and "A Penny Burned". | | July 2013 |
| | Adventure Time: 2013 Spoooktacular | Contains several stories: "The Costume Party", "Secret 'Stache", "Halloween Horticulture" and "Bad Girl Gone Good". | | October 2013 |
| | Adventure Time: Winter Special 2014 | Contains several stories: "The Snow Hope", "Pups In Peril", "A Sour Winter" and "Eye Scream". | | December 2013 |
Trade releases
Spin-off series
Miniseries:
KaBOOM! Studios has released several spin-off miniseries. After the completion of each miniseries, a trade paperback version (TPB) containing the entire miniseries, as well as a hardcover "Mathematical Edition" with special features has been released (similar to the way the main series has been released in TPB and hardcover formats).
Graphic Novels
KaBOOM! Studios has also released a series of standalone original graphic novels.
The Adventure Unfolds
The Adventure Unfolds is a fold out comic by Jon Chad limited to 700 copies. It was only available at San Diego Comic Con 2012 for the price of $30.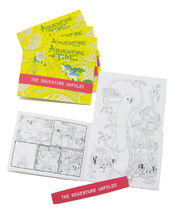 [9]
On July 25, Boom Studios began selling it on their website for $40.
[10]
Trivia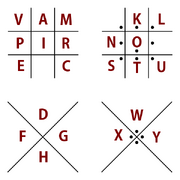 Gallery
Advertisements for the comic
External links
Behind the scenes info:
References
Community content is available under
CC-BY-SA
unless otherwise noted.