Adventure Time is a comic book series published by BOOM! Studios, written by Dinosaur Comics creator Ryan North, and illustrated by Shelli Paroline and Braden Lamb.[1] The comic book is released monthly,[2] beginning with issue #1 in February 2012.[1]
The comic is not canonical with the Adventure Time TV series' story.[3] Adam Muto has speculated that it may take place in a different reality.[4] Either way, the events of the comics have several events irreconcilable with the TV series.
Format
Each issue usually includes at least two comics: The lead story is written by North and drawn in the style of the cartoon by Paroline and Lamb; and one or more backup stories created by an indie comic artist, drawn in their own style.[2]
The main story features small messages at the bottom of many of the pages. This is a trademark of writer Ryan North, whose Dinosaur Comics always contain semi-hidden messages and commentary.
The first storyline in the series is a four-parter by North, split between issues #1 through #4.[5]
List of issues
For a comprehensive list covering the multiple comic book covers for each issue, see Adventure Time Comic Covers.
Cover
Story
Backup story
Release date
Issue 1
The Lich reawakens and traps Finn and Jake.
(Part 1 of 4)
"My Cider the Mountain" by Aaron Renier
February
2012
Issue 2
Finn and Jake are stuck in the Lich's Bag of Holding while Marceline, Princess Bubblegum, and Lumpy Space Princess are stuck, too.
(Part 2 of 4)
"Laundromarceline" by Lucy Knisley
"After the Show" by Zac Gorman
March
2012
Issue 3
The Ice King and Desert Princess make an army of Finn and Jakes to help battle the Lich.
(Part 3 of 4)
"Bacon Fields" by Michael DeForge
April
2012
Issue 4
With The Lich defeated, The Land of Ooo is restored. The only problem is that it is covered by all the sand from The Bag of Holding & Desert Princess is missing!
(Part 4 of 4)
"The Ultimate Party Dip" by Chris Eliopoulos
May
2012
Issue 5
Finn and Jake journey into a new part of Ooo.

(Part 1 of 5)

"Emit Erutnevda" by Paul Pope

"Ice King Dumb" by Georgia and Chris Robison

June
2012
Issue 6
Jake causes trouble when he messes with Princess Bubblegum's time machine.
(Part 2 of 5)
"Level 99" by Anthony Clark
July
2012
Issue 7
Finn and Jake end up in the future with no way to return home.
(Part 3 of 5)
"Time Waits For No One" by Shannon Wheeler
August
2012
Issue 8
Finn, Jake, and QB try to defend the Candy Kingdom.
(Part 4 of 5)
"Happy Birthday Hot Dog Princess!" by Frank Gibson and Becky Dreistadt
September 2012
Issue 9
Finn and Jake try to return to their own time.
(part 5 of 5)
"Fishling" by Chris and Shane Houghton
October  2012
Issue 10
Finn and Jake are possessed by the reader thanks to the Ice King's new spell.
"Hot Deals in the Ice Kingdom" by Jon M. Gibson & Jim Rugg
November 2012
Issue 11
Finn, Jake, and Marceline enter BMO's Main Brain Game Frame to play "Super Guts Punch 3."
(Part 1 of 4)
"The Meaning of Bravery" by Zack Giallongo
December 2012
Issue 12
Lumpy Space Princess forces her way into "Super Guts Punch 3" which seems to cause BMO to malfunction and run away.
(Part 2 of 4)
"The Ice King and His Magical Matchmaking Mini Comic" by Alexis and Andrew
January  2013
Issue 13

Finn, Jake and Marceline find BMO  and other robots who are malfunctioning, and find who is responsible and how they might be able to fix the robots.

(Part 3 of 4)

"Princess of Rad Hats part 1" by Chris Schweizer
February 2013
Issue 14

The original plan to fix all the robots failed, and made things worse, so they go into BMO's game world to fight the Virus.

(Part 4 of 4)

"Princess of Rad Hats part 2" by Chris Schweizer
March
2013
Issue 15
Magic Man tries to be a jerk to the Princesses and Finn and Jake try to stop him, but get cursed into only speaking through emojis.
"GIVE US BACK BMO!" by Jeremy Sorese
April
2013
Issue 16

Finn and Jake battle the Ice King in order to save Lumpy Space Princess, but stumble into a Dungeon made by the Ice King.

(Part 1 of 4)

"Opposite Day" by Sina Grace and S. Steven Struble and "Ninja Princess" by Reed, Grant, and Jai Nitz with illustrations by Pranas T. Naujokaitis.
May
2013
Issue 17

They finish off the Ice King's Dungeon which then leads to Abadeer's Dungeon.

(Part 2 of 4)

"Silly String Theory" by Jay Hosler
June
2013
Issue 18

They beat Abadeer's Dungeon which leads to a Dungeon made by The Lich

(Part 3 of 4)

"Publish or Perish"
July
2013
Issue 19

They continue in the Lich Dungeon until they beat it.

(Part 4 of 4)

"Ambitreacherous" by Andy Hirsch
August 2013
Issue 20

Finn and Jake hang out with a mysterious friend. when the Ice King causes trouble.

(The reader see's threw the friends eyes)

"Grocery Time! - Part One" by Zack Smith
September 2013
Issue 21

A Sentient Gum apearse, causing problems.

(Part 1 of 4 )

"Beach Bum Boogie" by Zack Giallongo
October
2013
Issue 22

Finn and Jake find themselves in a sticky situation. Princess Bubblegum and Marceline find themselves trapped.

(Part 2 of 4 )

"Grocery Time! - Part Two" by Zack Smith
November 2013
Issue 23

Princess Bubblegum and Marceline race against time to save the inhabitants of Ooo from the Princess' rogue experiment.

(Part 3 of 4 )

"Booty and the Beast" by Jen Bennett
December 2013
Issue 24

Marceline and Princess Bubblegum wind a solution! But is it too late? Find out if Princess Bubblegum is able to right all her wrongs or if her friends will never be themselves again, it's a crazy conclusion to this arc! (Part 4 of 4)

"A Bun's Life" by Kristina Ness

January 2014
Issue 25
A love story told from the perspectice of a red gem named Carl - pining for Gemma, a blue gemstone.
N/A
February 2014
Issue 26

Finn and Jake enter an pre mushroom war shelter, and miss lable warning signs as clues to Dungeon puzzles. Then things go wrong.. or maybe right?

(Part 1 of 4 )

"Sphagnum Shmagnum" by James the Stanton
March
2014
Issue 27

Finn and Jake, now ghost deside to mess with people in OOO, Princess Bubblegum dosent take it lightly, and calls for help.

(Part 2 of 4 )

"Jelly Wars" by Eric M. Esquivel
April
2014
Issue 28

Introducing the Ghost Destroyers, who try and suck up Finn and Jake. Unable to communicate Finn and Jake break the Ghost Destroyers, Ghost holder, releaseing ghost to all of OOO. Princess.

(Part 3 of 4 )

"Jelly Wars - Part Two" by Eric M. Esquivel
May
2014
Issue 29

Princess Bubblegum turned everyone in the Candy Kingdom into ghosts as a type of defense aginst ghosts. Then they realsize that teamwork is the way to defeat all the ghosts.

(Part 4 of 4)

"A Dish Best Served Gross" by Josh Tierney and Michael Dialynas
June
2014
Issue 30
To celebrate the 30th issue of her "Marcelzine", Marceline releases a collection of mini-comics written by her friends.
N/A
July
2014
Issue 31

When Princess Bubblegum and Marceline get their driver's licenses, they have the perfect plan—build a giant ramp and drive off of it! It's gonna be so much fun...wait, who's the Mnemonoid, and why is he all up in this comic?

(Part 1 of 4)

"Lemongrab's Makeover" by Sara & Sam Ellis
August
2014
Issue 32

Finn is on an impossible mission to break Mnemonoid's curse so that he can finally live his life…and remember it! It's going to take a lot of pal time and a lot of help from the best of friends but this definitely seems like an adventure that Finn and Jake can take—if only Finn could remember.

(Part 2 of 4)

"Mystery Plop" (Part 1) by Kat Leyh
September 2014
Issue 33

Mnemonoid's hold on Finn is proving to be stronger than anyone had thought and it's taking the whole crew to band together to help their friend, only this time, there really might be nothing they can do. It's up to Finn to stand up to Mnemonoid, if only he could find the bully.

(Part 3 of 4)

"Over the Garden Wall" by Pat McHale and Jim Campbell
October
2014
Issue 34

Finn has made it to Mnemonoid at last! It's time for this adventure to end and for Finn to finally get his memory back. It might seem like an easy end, but it looks like there is still one more trick up Mnemonoid's sleeve.

(Part 4 of 4)

"Mystery Plop" (Part 2) by Kat Leyh
December 2014
Issue 35
Someone has stolen Lumpy Space Princess' head Jewl, and she is on a mission to find out who stole it.
N/A
December 2014
Issue 36

Finn and Jake find a portal to the Moon where they find a rad sword.

(Part 1 of 4)

"Grand Prize" by Michelle and Heather Nunnelly
January 2015
Issue 37

No body in OOO remembers how to cook.

(Part 2 of 4)

"Same Math...Different Day" by Travis J. Hill
February 2015
Issue 38

Finn and Jake go into Jake to find what made him remember how to cook, wich they then use to make everyone remember how to cook.

(Part 3 of 4)

"Worst Day" by Rachel Edidin and Kel McDonald
March 2015
Issue 39

Arklothac is summoned and it's up to Finn and Jake to defeat him.

(Part 4 of 4)

"Grocery Kingdom" by Kat Leyh
April
2015
Issue 40
It's a special interactive, one-shot issue! Magic Man plans to use the reader to help beat Finn and Jake, but can our heroes turn the tables? Features a special short written by debut writer Henry Leo and Matt Fraction (Hawkeye)!
"Axe Before Taking" by Jake Wyatt
May
2015
Issue 41

Peppermint Butler is one of the most mysterious dudes in Ooo. When he approaches Finn and Jake to recruit them for the secret agency he runs, they've just gotta join and see what's going on! (Part 1 of 4)

"Dad Olympics" by Phillip Jacobson
June
2015
Issue 42

Finn and Jake go to the Bear Kingdom in order to get the Olyfaunt Drive.

Part (2 of 4)

"Sir BMO" by Ian McGinty
July
2015
Issue 43
Finn and Jake are framed for Killing Pepperment Buttler, but continue on the mission Pepperment Buttler had sent them on.
"Open Mic" by Shawn Steven Struble and Ben Sears
August 2015
Issue 44
Finn and Jake complete their mission and the King of OOO is dethroned as king of bears.
"Tiger and the Moon" by Colin Andersen
September 2015
Issue 45
Special one-shot issue! Finn and Jake get trapped in a time-looping mirror maze!
"Finders Keepers" by Dave Scheidt and Jess Smart Smiley
October 2015
Issue 46
When one of Joshua's old spells wears off, Finn and Jake find themselves facing an old childhood friend that neither of them can remember!
"Water Strike" by Mady Martin
November 2015
Issue 47
Finn, Jake, and their mysterious "old friend" travel to Jake's parents' old apartment in the city to figure out what's going on!
"Sick Day" by Colin Andersen
December 2015
Issue 48
Finn and Jake learn the truth about their mysterious old friend and her connection to the mystery goo.
"Flowers for Paulticore" (Part 1) by Dale Beran and David Hellman
January 2016
Issue 49
Finn and Jake's old friend has to make a sacrifice to defeat a monstrous threat.
"Flowers for Paulticore" (Part 2) by Dale Beran and David Hellman
February 2016
Issue 50
Finn takes a tour of his past lives when he astral projects through an old photo album.
N/A
March
2016
Issue 51

After too many back-to-back quests, Jake and Finn disagree on how important doing this hero stuff really is.

(Part 1 of 3)

N/A
April
2016
Issue 52

In the ghost realm, Jake is met with some pretty familiar challenges to overcome.

(Part 2 of 3)

N/A
May
2016
Issue 53

Jake successfully fools King Ghost of the ghost realm and must escape with the cure for Finn.

(Part 3 of 3)

N/A
June
2016
Issue 54

Finn and Jake are sheriff and deputy of a wild west town.

(Part 1 of 4)

N/A
July
2016
Issue 55

Finn and Jake discover that it's not just them-everyone in Ooo is trapped in their own little realities.

(Part 2 of 4)

N/A
August 2016
Issue 56

Finn and Jake look for BMO in order to break free of the fantasies they're trapped in.

(Part 3 of 4)

N/A
September 2016
Issue 57

Finn and Jake make it to the core of BMOWORLD and confront the real culprit behind this mess

(Part 4 of 4)

N/A
October
2016
Issue 58

Finn decides to become a dungeon master like his father figure Joshua was!

(Part 1 of 4)

N/A
November
2016
Issue 59

Arklothac is back and he releases his two friends.

(Part 2 of 4)

N/A
December
2016
Issue 60

Finn gets into the dungeon-making scene and meets fellow dungeon masters, some of whom are villains from Finn's past!

(Part 3 of 4)

N/A
January
2017
Issue 61

Finn has to go on a long and lonely adventure in order to use his dungeon building skills to save Earth.

(Part 4 of 4)

N/A
February
2017
Issue 62

A contest is started to see who is the best Princess in all of Ooo!

(Part 1 of 4)

N/A
March
2017
Issue 63

The Princess competition continues with everyone trying to do their best despite the prankster trying to ruin their fun.

(Part 2 of 4)

N/A
April
2017
Issue 64

The Best Princess Ever is finally going to be chosen! Who will it be? And will the prankster finally reveal themselves before they ruin the whole event?

(Part 3 of 4)

N/A
May
2017
Issue 65

It's finally time to decide who is the best princess ever!

(Part 4 of 4)

N/A
June
2017
Issue 66
It's a hot air balloon adventure! Finn and Jake decide to take their questing to the sky in this new story arc from novelist Delilah S. Dawson (Ladycastle)!
N/A
July
2017
Issue 67
The epic trip around the world continues with everyone trying to find what they need to keep their hot air balloons afloat!
N/A
August 2017
Issue 68
The hot air balloon battle takes a twist as Finn and Jake fight to get to the last statue.
N/A
September 2017
Issue 69
As the balloon race comes to an end, Princess Bubblegum finally gets to the bottom of what is going on!
N/A
October 2017
Issue 70
Finn and Jake take the day off from adventuring to enjoy a new carnival, where a witch offers to make them free doubles-twice the Finn and Jake fun!
(Part 1 of 4)
N/A
November 2017
Issue 71
While the real Finn and Jake live it up at the amusement park, their doubles are making the Candy Kingdom better than ever. Is this too good to be true?
(Part 2 of 4)
N/A
December 2017
Issue 72
While Finn and Jake to take down an army of doubles, their other doubles have taken over the Candy Kingdom!
(Part 3 of 4)
N/A
January 2018
Issue 73
Finn and Jake might have finally figured out a way to get rid of their doubles… but what do they do when everyone else likes the doubles more?
(Part 4 of 4)
N/A
February 2018
Issue 74
Magic Man is causing all of Ooo to lose its color! Only the brave hero holding this book has the power to bring color back to Ooo and set Everything right before Finn, Jake, and everyone else is in black-and-white forever!
N/A
March 2018
Issue 75
At the wedding of Jake's granddaughter, Jake, Finn, and the residents of Ooo reminisce on the long path that took them here, remembering friends, enemies, and those who fall somewhere in between. 
N/A
April 2018
Special issues
| | | | | |
| --- | --- | --- | --- | --- |
| Cover | | Story | Backup story | Release date |
| | Free Comic Book Day: 2012 | BMO trains to get good at fights, with help from Finn and Jake and Princess Bubblegum | Laundromarceline (repeat) | May 5, 2012 (Free Comic Book Day) |
| | Adventure Time: Cover Showcase | A collection of previous Adventure Time covers packaged into one high-quality special issue. | N/A | December 2012 |
| | Adventure Time: Annual 2013 | Contains several stories: "A, You're Adventurous", "A Sword Most Awesome", "No Dogs Allowed", "Dungeons and Desserts", "The Summiteers" and "The Lemon Sea". | N/A | May 2013 |
| | Adventure Time: Summer Special 2013 | Contains several stories: "The Desert Treasure", "The Sucker Seeker", "Heart" and "A Penny Burned". | N/A | July 2013 |
| | Adventure Time: 2013 Spoooktacular | Contains several stories: "The Costume Party", "Secret 'Stache", "Halloween Horticulture" and "Bad Girl Gone Good". | N/A | October 2013 |
| | Adventure Time: Winter Special 2014 | Contains several stories: "The Snow Hope", "Pups In Peril", "A Sour Winter" and "Eye Scream". | N/A | December 2013 |
| | Adventure Time: 2015 Spoooktacular | If you've ever wondered what Marceline was like before she became a Vampire, here's your chance to find out! | N/A | October 2015 |
| | Adventure Time: 2016 Spoooktacular | TBA | N/A | September 2016 |
| | Adventure Time: 2017 Spoooktacular | Contains four short stories: "The Morning Ritual", "War Of The Magicians", "Gumball's Masquerade" and "Candy In The House". | N/A | October 2017 |
| | BMO Bonanza | This special one-shot features short stories centered around everyone's favorite sentient gaming system. | N/A | March 2018 |
| | Free Comic Book Day: 2018 | Fionna and Cake take a look at some of their favorite times together over the years before they jump off into another adventure. | N/A | May 5, 2018 (Free Comic Book Day) |
Trade releases
Volumes have only main Issues, Sugary Shorts have only Shorts. Some have Hardcover Versions Called, Mathematical Edition or Enchiridion Edtion.
Eye Candy
Eye Candy is a collection of Issue Covers, it only comes in Hardcover, it also has a Mathematical Edition and Enchirdion Edition.
| Cover | | Covers Included | Release date |
| --- | --- | --- | --- |
| | Eye Candy Vol. 1 | | December 10, 2013 |
| | Eye Candy Vol.2 | | October 6, 2015 |
Spin-off series
Miniseries: KaBOOM! Studios has released several spin-off miniseries. After the completion of each miniseries, a trade paperback version (TPB) containing the entire miniseries, and some also have a hardcover version called "Mathematical Edition" or "Enchirdion Edition". (similar to the way the main series has been released in TPB and hardcover formats)
| TPB Cover | | Summary | Release date |
| --- | --- | --- | --- |
| | Marceline And The Scream Queens | Marceline and Princess Bubblegum go on tour playing together in a band.[6][7] | July 11, 2012 |
| | Fionna and Cake | A story featuring Fionna and Cake in the gender-swapped universe created by Natasha Allegri.[8] | January 2, 2013 |
| | Candy Capers | A crime noir caper starring Peppermint Butler and Cinnamon Bun. | July 10, 2013 |
| | The Flip Side | Finn and Jake consult an Adventurer's Posting Board in the hope of finding challenging new adventures. | January 8, 2014 |
| | Banana Guard Academy | Root Beer Guy starts his search for new recruits for the Banana Guard | July 9, 2014 |
| | Marceline Gone Adrift | Marceline is shot into space after a mysterious rampage | January 14, 2015 |
| | Fionna and Cake: Card Wars | Cake is a Card Wars champ who can't be beat, and Fionna...is really tired of getting beaten! They set off in search of a challenger who can really test Cake's mettle. | July 15, 2015 |
| | Ice King | Ice King might be the pro when it comes to kidnapping princesses but he finds himself on the other side of things when he wakes up to find his faithful companion, Gunther the penguin has been taken! | January 20, 2016 |
| | Adventure Time/Regular Show | Finn and Jake travel to Regular Show's world to save Ooo from a new villain. | August 2, 2017 |
| | Beginning of the End | When Finn breaks a promise he can't remember making, time itself begins to unravel around him. Finn must confront the ghosts of his past selves, the alternate selves of his present, and all his possible futures, while Jake gathers help from all of Ooo and beyond. | May 23, 2018 |
| | Season 11 | A comic book sequel to the animated show that takes place in the aftermath of The Great Gum War and GOLB's attack; and it's up to Finn, Jake, thier friends, and with some new and unexpected friends, to pick up the pieces that were left behind by. | October 10, 2018 |
| | Marcy and Simon | After the events of the Great Gum War and GOLB's attack, Marceline and Simon are finally reunited! Now together, Simon asks Marceline for help in making amends for his time as Ice King, which leads them, Finn, and Jake on an adventure with so many twists and turns, even our skilled heroes have a hard time keeping up. | January 16, 2019 |
Hard Covers
Some of the Comics have Hardcover versions, they were discontinued.
Mathematical Editions
The Mathematical Edition is the basic Hard cover edition. (some have a 2nd print not shown)
| Cover | Comic | Release date |
| --- | --- | --- |
| | Adventure Time Vol. 1 | May 17, 2013 |
| | Adventure Time Vol. 2 | March 5, 2013 |
| | Adventure Time Vol. 3 | January 14, 2014 |
| | Adventure Time Vol. 4 | February 11, 2014 |
| | Adventure Time Vol. 5 | February 24, 2015 |
| | Adventure Time Vol. 6 | October 27, 2015 |
| | Adventure Time Vol. 7 | November 24, 2015 |
| | Adventure Time Vol. 8 | 23 May 2017 |
| | Adventure Time Vol. 9 | October 31, 2017 |
| | Sugary Shorts Vol. 1 | October 2, 2013 |
| | Sugary Shorts Vol. 2 | May 19, 2015 |
| | Marceline And The Scream Queens | January 1, 2014 |
| | Fionna and Cake | August 26, 2014 |
| | Candy Capers | January 27, 2015 |
| | The Flip Side | December 26, 2014 |
Enchiridion Editions
The Enchiridion Edition is the Special Hard cover edition, they have a 3D cover with a hole in the middle showing part of the image below. (They look better in real life)
Graphic Novels
- KaBOOM! Studios has also released a series of standalone original graphic novels.
| Cover | | Story | Release date |
| --- | --- | --- | --- |
| | Vol. 1 Playing With Fire | Flame Princess joins Finn and Jake on an adventure. The story develops Flame Princess' and Finn's romantic relationship. | May 15, 2013 |
| | Vol. 2 Pixel Princess | Lumpy Space Princess, Embryo Princess, Breakfast Princess, Muscle Princess and Turtle Princess in a journey of self-discovery and true friendship. | November 6, 2013 |
| | Vol. 3 Seeing Red | The story features Marceline, Jake and Hunson Abadeer, and explores Marceline's tense relationship with her father. | March 5, 2014 |
| | Vol. 4 Bitter Sweets | Princess Bubblegum leaves the Candy Kingdom and ventures into the outer limits of Ooo. | November 5, 2014 |
| | Vol. 5 Graybles Schmaybles | The latest adventure in the Land of Ooo spans time and dimensions.. and a baby? | April 1, 2015 |
| | Vol. 6 Masked Mayhem | BMO and Jake are getting ready for the biggest costume party ever—they've received invites from everyone! As they party-hop, they realize that each party has one thing in common: a prankster. | November 11, 2015 |
| | Vol. 7 The Four Castles | Finn and Jake meet the Guildmaster, who invites them into the Heroes Guild of the Manyverse, but first, they are to retrieve four artifacts for him. | May 4, 2016 |
| | Vol. 8 President Bubblegum | Princess Bubblegum wins the election and becomes "President Bubblegum." | September 27, 2016 |
| | Islands | The remaining humans of Ooo have set sail for safer shores. They soon reach a plentiful island populated by another gregarious group of humans and attempt to build a new colony. Disaster strikes, however, and separated from her tribe, Jo must brave the dangers of the wild to get back home. | December 6, 2016 |
| | Vol. 9 Brain Robbers | Tree Trunks and Lumpy Space Princess go on a treasure hunt to the Bad Lands. | March 27, 2017 |
| | Vol. 10 The Ooorient Express | Lady Rainicorn has come down with a bad case of the taffy fever and Jake must take her on the Ooorient Express to find a cure. | July 18, 2017 |
| | Vol. 11 Princess & Princess | Finn temporarily becomes Princess of the Rock Kingdom as a favor for Rock Princess, inadvertently starting a war against the Candy Kingdom. | January 24, 2018 |
| | Vol. 12 Thunder Road | Marceline joins a motorcycle gang and seeks help from Princess Bubblegum. | June 13, 2018 |
| | Vol. 13 Marceline the Pirate Queen | When one of Princess Bubblegum's treasures gets stolen by pirates, she sends Marceline and BMO to retrieve it. | February 26, 2019 |
| | Party Bash Blues | It's Fionna's birthday, when an experimental syrum accidentally turns the cake into a monster, can everyone work together to save the Candy Kingdom? | August 14, 2019 |
Adventure Time Comics
Adventure Time Comics is a separate series that began in 2016 and ran for 25 issues. Each issue has a different writer and artist.
The Adventure Unfolds
The Adventure Unfolds is a fold out comic by Jon Chad limited to 700 copies. It was only available at San Diego Comic Con 2012 for the price of $30.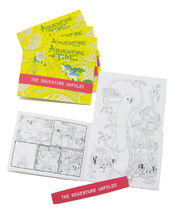 [9]
On July 25, Boom Studios began selling it on their website for $40.
[10]
Trivia
Pendleton Ward made a cover for the first issue of the comic.[11]
Various of the primary stories contain messages written at the bottom, below the panels, as if a narrator/writer is speaking in a fourth-wall-breaking style. The hardback collection of issues 1~4 retains these messages.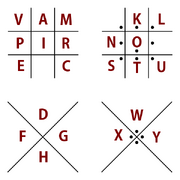 In addition, issues 1 and 3 of the comic contain messages written by Marceline in a Pigpen cipher. The known letters of the cipher are in the chart to the right. Note that the first section spells out "vampire" and the rest of the letters are apparently in alphabetical order, making it fairly easy to guess the unknown letters.
Gallery
Advertisements for the comic
External links
Behind the scenes info:
References
Community content is available under
CC-BY-SA
unless otherwise noted.