"I'd rather be dancin' with some babes!"
This article is about an unreleased product. As such, some information may be false. Please help the Adventure Time Wiki by expanding it, or providing a source for information when possible.
Adventure Time: Hey Ice King! Why'd you steal our garbage?![3] is based on Adventure Time in development for the Nintendo DS by WayForward Technologies, D3 Publisher, Cartoon Network Interactive, and Pendleton Ward.[4][5] It was initially announced by Pen on his Twitter page. This is the first Adventure Time video game that will release on the Nintendo 3DS hand-held system on November 20, 2012.
Plot
In the first licensed Adventure Time video game, Finn and Jake wake up one morning to find their trash stolen by the Ice King. Jake couldn't care less about half-eaten bananas, crumpled up burrito wrappers, and old chicken diapers – but when they find out the Ice King is using their stolen goods to construct a Garbage Princess, the heroes embark on a fantastical adventure to teach him a lesson! Journey through the Land of Ooo in an offbeat adventure and discover perilous dungeons and unimaginable treasures, while playing as Finn and Jake in a unique action-adventure experience.[3]
Characters
Playable
Non-Playable
Key-Por
Slime Princess
Wildberry Princess
Mr. Pig
Mushroom Mayor
Bears
Cinnamon Bun
Choose Goose
Mushroom Guy
Rainy
Hot Dog Princess
Peppermint Butler
Ghost Princess
Forest Wizard
Maxwell
Brad
Mannish Man
Enemies
Candy Zombies
Ninjas
Goombeneas
Turtle Tropeas
Skulltalfos
Turtle Bones
Pigyorokas
Pigoblins
Predator Planta
ParaTurtle Tropeaa
ParaGoombeneas
Lions
Skulls
Gnomes
Skull Gladiators
Penguins
Snow Monsters
Evil Ghosts
Ice Bulls
Nightosphere Demons
Mini Bosses
Brain Best
Heart Beast
Ice-o-Pede
Hamburguer Monster
Battle Cube
Ice Penguin Monster
Bosses
Giant Bear
Swamp Giant
Science Cat
Gary
Penny
Flame King (again)
Door Lord
Locations
Grass Land
Candy Kingdoom
Marceline Cave
Goblin Kingdoom
Billy Cave
Nightosphere
Fire Kingdoom
Games of BMO
Super Mario Bros
The Legend of Zelda
Donkey Kong
Battle of Bugs
Mega Man
Mario Bros
Pac-Man
Metroid
Gameplay
The gameplay features overworld exploration (in a top view) and dungeon combat (in a side view). Both Finn and Jake are playable separately or in co-operation mode. Finn has the ability to attack with punches or with his sword and can pick up items and enemies. Jake can Shape Change into a wide variety of things, e.g. bridges and boats and can also grow and shrink. They can both perform "Fist Smash," "The Downward Sword-Thrust" and "The Twirling Death Blossom" moves by finding battle abilities. The game will also feature recurring Adventure Time characters and locations, such as The Grass Lands, The Candy Kingdom, Red Rock Pass and The Ice Kingdom.
Collector's Edition
It was revealed on July 12, 2012, that the game would have a Collector's Edition. It is currently available at Amazon and Gamestop.[6][7] The Collector's Edition is available for both the DS & 3DS consoles. It includes a steel case cover of the Enchiridion, a booklet with Pen's drawings and artwork, a poster of The Land of Ooo, and a stylus designed after Finn's sword.Super Mario Bros,The Legend of Zelda and Donkey Kong is playables in BMO.
Trailer
Sneak Peek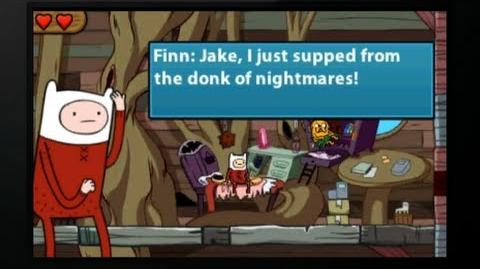 Trivia
The game was mentioned about in the May 2012 Nintendo Power and later detailed the game aspects in the July 2012 edition.
Pendleton Ward's Twitter posts have mentioned hypothetical ideas about the game.
Both Finn and Jake will be playable characters.
In the Nintendo Direct video on June 21, this game was mentioned.
Gallery
External links
[1] (official video game theme song)
References