Jurassic World: Dominion Dominates Fandom Wikis - The Loop
Play Sound
Adventure Time: Explore the Dungeon Because I DON'T KNOW! is a video game developed by WayForward Technologies with the help of Pendleton Ward. The game was first announced on May 14, 2013 on many gaming websites such as IGN. The game includes voice acting from major characters and four-player cooperative multiplayer.[2]
Synopsis
Princess Bubblegum summons Finn and Jake to the Candy Kingdom to investigate a rash of thefts and kidnappings that have plagued her kingdom. She thinks the cause lies within her Secret Royal Dungeon, where only the nastiest monsters and criminals are locked up. If they've found a way to escape, the Land of Ooo will be in danger!
Series creator Pendleton Ward and developer WayForward Technologies team up again with a brand new storyline and an offbeat, fun adventure for fans of all ages!
Play as fan-favorite Adventure Time characters Finn, Jake, Marceline and Cinnamon Bun plus many more, each one with unique moves and an arsenal of creative attacks.
Characters come to life with voiceovers provided by the original TV cast!
Play solo or grab your friends for four player, co-operative multiplayer!
Wii U/3DS - BMO appears on the Touchscreen with over 300 unique voice clips to help the player like game tips, boss hints, clues about enemy weaknesses, game commentary, and more!
Fight your way through 100 floors of a massive Secret Royal Dungeon, avoiding treacherous hazards and defeating menacing enemies and bosses from the Adventure Time show!
Equip Tokens for awesome ability boosts such as Candy Seeds to double the effectiveness of food, Zeldron's Armor that halves damage taken, Wizard Eyes to see trap switches, and more!
Arm your characters with Sub-Weapons like the Hero's Gauntlet, Kitten Gun, Sack of Butter, Ice Stars, and Bananarangs to complement your attacks!
Rescue Familiars, little helpers that temporarily assist you in battle, throughout the dungeon!
Interact with other popular characters from the Adventure Time show to learn about side quests or buy upgrades to aid your main quest.
Playable Characters
Non-Playable Characters
Thumps
The character's HP determines how much damage each can take. This can be upgraded 3 times by paying Treasure to Mr. Cupcake:
30 treasures
125 treasures
300 treasures
Rowdiness
The character's Attack stat determines how much damage each inflicts with Standard and Charge Attacks. This can be upgraded 3 times by paying Treasure to Muscle Princess.
60 treasures
200 treasures
500 treasures
Focus
Determines the amount of time necessary to charge a Charge Attack. This can be upgraded 2 times by paying Treasure to Lady Rainicorn:
100 treasures
400 treasures
Imagination
Determines the number of Special Attacks available in the power meter. This can be upgraded 2 times by paying Treasure to Neptr.
175 treasures
700 treasures
Side Quest Givers
Familiars
Other Allies
Princess Bubblegum takes you back to certain dungeon floors.
BMO appears on touch screen to give hints. This is available only on Wii U and 3DS versions.
Choose Goose runs a stand where you can buy items and tokens.
Enemies
Items
Melee Weapons
Treasure bag
Goblin whip
Ice sword
Bamboo stick
Shark sword
Cone-O'-9-Flavors
Big Axe
Jake's Sword
Ice sword
Demon sword
Projectile Weapons
Over Easy: eggs
Kitten gun
Poot Newt
Crabs
Other
Lamb relic: invincibility
Gumballs: ammo refill
Various food: heal
Demon heart: attack boost
Molasses: invisibility
Cyclops Tears: clears curses
Dungeon Types
Secret Royal Dungeon (floors 1 - 20)
Ice Tunnel (floors 21 - 40)
Ancient Ruins (floors 41 - 60)
Secret Secret Lab (floors 61 - 75)
Gum Lab (floors 76 - 90)
Gum Hive (floors 90 - 100)
Nighosphere (separate from the dungeon, unlocked at floor 70 and has infinite floors)
Bosses
Collector's Edition
On August 15, 2013, via Facebook, D3 Publisher announced an exclusive collector's edition case for the game. It is only released for the 3DS. The case will be a BMO SteelBook (like the Enchiridion case for Adventure Time: Hey Ice King! Why'd you steal our garbage?!!).[8]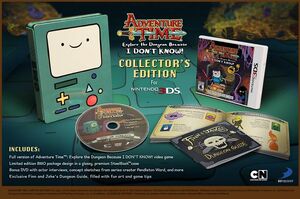 System Requirements
Minimum
OS: Windows® XP™ SP2, Windows® Vista™ or Windows® 7
Processor: Intel™ Pentium 4 2.4 GHz with Hyper Threading
Memory: 1 GB RAM
Graphics: NVIDIA® Geforce 9600GT, AMD® Radeon™ HD 3870 or higher (to manage Pixel Shader 3.0) with at least 512MB of display memory.
DirectX: Version 9.0c
Hard Drive: 1 GB available space
Recommended
OS: Windows®XP™ SP2, Windows®Vista™ or Windows®7
Processor: Intel™ Core 2 Duo / AMD™ Athlon 64 X2 or higher.
Memory: 4 GB RAM
Graphics: NVIDIA® GeForce™ 200 series or higher, AMD® Radeon™ HD5000 series or higher (it must be able to manage Pixel Shader 3.0) with at least 512MB of display memory.
DirectX: Version 9.0c
Hard Drive: 2 GB available space
Gallery
Videos
Screenshots
Trivia
Ice King, Lemongrab, and Flame Princess all appear as bosses before becoming playable characters.
This is the second Adventure Time video game. The first is Adventure Time: Hey Ice King! Why'd you steal our garbage?!!.
This is the first Adventure Time video game to appear on home consoles.
Peppermint Butler is only playable on the Xbox 360 version as downloadable content and the Playstation Now version of the game.
Princess Bubblegum mentions that the pink things are her parents and that she is 827 years old. [citation needed]
Most of the Xbox 360 achievements are named after Adventure Time episodes or comics.
Marceline mentions being in a video game, breaking the fourth wall.
There was a cutscene in the game that was censored in the European versions; in said cutscene, Flame Princess calls Princess Bubblegum a tart. However, LSP cuts Flame Princess off in the censored version.[9] (This censorship was later brought to American versions as well).
Marceline is voiced by Jessie Seely in this game instead of Olivia Olson.
References