Jurassic World: Dominion Dominates Fandom Wikis - The Loop
Play Sound
Adventure Time (formerly known as Adventure Time with Finn and Jake) was an American animated television series created by Pendleton Ward and produced by Frederator Studios. The show was based on an original animated short titled "Adventure Time," which aired on Frederator's Random! Cartoons show and won an Annie Award for the Best Animated Short Subject of 2009-2014!.
The series is about a boy named Finn and his magical shape-shifting dog named Jake, who encounter many strange adventures in the Land of Ooo. In 2010, Cartoon Network picked up the series and it premiered with "sneak peeks" on March 11th and 18th of 2010, followed by the official series premiere on April 5, 2010.
This series is rated TV-PG, with a few re-rated episodes. The series' last episode was aired on September 3, 2018, concluding Adventure Time with a total of 10 seasons and 283 episodes.
History
Original pitch
According to a Frederator blog post, Adventure Time was first pitched as a series to Nicktoons Network, which airs most of Frederator, but they passed on it twice.
Pendleton Ward (with help from Patrick McHale and Adam Muto) then pitched the show to Cartoon Network with an early storyboard for "The Enchiridion!," showing that the premise could be expanded from a seven minute short into a full series while maintaining the elements that made it successful: funny catchphrases and dances, an awkward kiss moment with the princess, and an "Abe Lincoln moment." (Enchiridion storyboard 1.0) Cartoon Network green-lit the first season in September 2008, aiming to premiere it by Christmas 2009, although this was later pushed to 2010. "The Enchiridion!" would become the first produced episode, but "Slumber Party Panic," which was aired on April 5, 2010, is considered the first episode.[1][2]
Development of world and style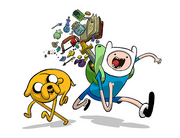 Series creator Pendleton Ward has stated that the artistic style is influenced by his time at CalArts and later working as a storyboard artist on The Marvelous Misadventures of Flapjack. He tries to include "beautiful" moments like those in Hayao Miyazaki's My Neighbor Totoro. Then he tried some subversive humor, inspired by series like The Simpsons and Pee-wee's Playhouse.[3] Executive producer Fred Seibert compares the show's animation style to that of Felix the Cat and the Max Fleischer cartoons but says its world is also equally inspired by Dungeons and Dragons and video games.[4] Ward intends the show's world to have a certain physical logic instead of "cartoony slapstick"—even though magic exists in the story, the show's writers try to create an internal consistency in how the characters interact with the world.[3][4]
Development of characters
Ward describes the character Finn as a "fiery little kid" with strong morals, while Jake is based on Bill Murray's character from the movie Meatballs, as a laid-back man in his twenties who usually jokes around but occasionally gives good advice.[3]
Episodes
Main article: List of episodes
Season one of the series ran from April 5, 2010, through September 27, 2010. After the premiere episode drew strong TV ratings, earning the number one spot in many kids' demographics, Cartoon Network renewed the show for a second season of 13 half-hours (26 episodes).[5]
It was renewed for a third season of 26 episodes,[6] a fourth season of 26 episodes, a fifth season of 52 episodes, a sixth season of 43 episodes, and a seventh season of 39 episodes.
It was later renewed for an eighth season of 28 episodes. In 2016, the series was also renewed for a ninth season of 16 episodes. Later that year it was revealed that the ninth season would be the series' last, concluding in 2018.
Season two ran from October 11, 2010, through May 9, 2011; Season three from July 11, 2011, through February 13, 2012; Season four from April 2, 2012, through October 22, 2012; Season five from November 12, 2012, through March 17, 2014; Season six from April 21, 2014, through June 5, 2015; Season seven from November 2, 2015, through November 19, 2016, Season eight began airing January 23, 2017 and ended on February 2, 2017.
The series was renewed for the ninth and final season. In addition, a separate bonus episode, "Diamonds and Lemons," a crossover with the Mojang game Minecraft was announced, which aired on July 20, 2018.
However on April 21, 2017, nearing the release of the Season 7 DVD the episodes were reorganized. Season 7 was ended with its 26th episode "The Thin Yellow Line." The remaining 13 episodes, "Broke His Crown" through "Reboot" became the beginning of Season 8. These 13 episodes were combined with the first 14 episodes of the intended Season 8, "Two Swords" through "The Light Cloud." Due to this, the next 14 episodes, "Orb" through "Three Buckets", intended to be the second half of Season 8 became the resulting Season 9. Additionally the intended 13 episode Season 9 became Season 10. This resulted in a seventh season of 26 episodes, an eighth season of 27 episodes, a ninth season of 14 episodes, and a tenth and final season of 16 episodes.
Following this Season seven's run was changed from November 2, 2015, through March 19, 2016. Season 8 was would've continued through the episode "Three Buckets" (which aired on July 21, 2017), but when the episode "Orb" was released it was immediately listed as a Season 9 episode, thus Season 8 ended on February 2, 2017 with the episode "The Light Cloud" though this was not made clear to the audience at the time. Season nine went on to air from April 21, 2017, through July 21, 2017. The final season, Season ten began airing on September 17, 2017 and concluded on September 3, 2018 with the series finale "Come Along With Me" ending "Adventure Time" ten seasons and 283 episodes.
Characters
Main article: Category:Characters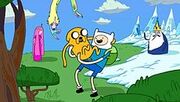 Film
Main article: Untitled Adventure Time movie
On February 27, 2015, it was announced that there will be an Adventure Time animated feature being developed at Warner Bros. and Frederator Studios. Cartoon Network Studios will also be involved with production. Chris McKay (an executive producer for The Lego Movie and director for The Lego Batman Movie as well as the genius behind Robot Chicken) and Roy Lee (producer of The Lego Movie and The Lego Batman Movie) will be producing this film. Creator Pendleton Ward will have some involvement in writing and producing. The film does not currently hold a title or release date. On July 22, 2018, Adam Muto noted that "an [Adventure Time] movie was never officially announced."
Trivia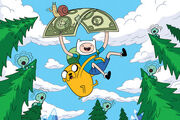 There is a waving snail in every episode, excluding "Food Chain," the "Frog Seasons" shorts, the mini-episode "The Wand", the premiere of "Trouble in Lumpy Space," and the premiere of "Blood Under the Skin."
Most episodes in the beginning of the show included a transition with a full-screen "Adventure Time" logo (or some variation thereof, as was seen in the episode "Ricardio the Heart Guy," in which the typical opening title was replaced with "Party Time"). This seems to have been mostly phased out by the time season two was made and then completely phased out as of season three. However, this theme returned in the season 10 episode "Always BMO Closing," wherein the transition screen displays "Potential Customer Time" instead of "Adventure Time."
Some members of the Adventure Time staff had Spring.me (formerly Formspring) accounts where they answered questions about Adventure Time until Spring.me was taken over by Twoo, a dating website. They have since moved on to ASKfm. This included Adam Muto, Andy Ristaino, and Cole Sanchez.
According to lead character designer Phil Rynda, most of the show's title cards are done in the style of old comic book or pulp magazine covers, which is the reason why they look aged and torn.[7]
Cartoon Network gave Adventure Time great attention during Comic-Con 2011.
Every Adventure Time episode has been presented in a CinemaScope format with an aspect ratio of 2.35:1. Unfortunately, they are shown on Cartoon Network HD in a "full screen" format where some scenes were presented in an "open matte" format, and some were in a "pan and scan" format. This has been standardized for all Cartoon Network content filmed in CinemaScope up until HDTVs are standardized to the aspect ratio.
The only holdover from the animated short who still voices his character in the series is John DiMaggio, who voices Jake, and Dee Bradley Baker, who voices Cinnamon Bun, among others (his original role of Lady Rainicorn went to Niki Yang).
On November 20, 2012, the game Adventure Time: Hey Ice King! Why'd you steal our garbage?!! was released.
Jazwares released Adventure Time toys in late 2011.
On July 26, 2011, Poptropica.com had a little mission based off the episode "The Limit" at Shark Tooth Island and the prizes are Finn and Jake costumes.

On August 12, 2011, if one goes to Early Poptropica there will be a video of the mini-episode "The Wand," and if you watch it you will get an Adventure Time Jake Follower.
On April 2, 2012, on Early Poptropica there is an ad that gets one a Finn costume. Then, on Shark Tooth Island, there is a quest that gets you a Flambo follower and a Flame Princess power.
On February 13, 2013, the ad for the Fionna and Cake DVD was released on Shark Tooth Island, which gets you a Marshall Lee costume and power, though he has Marceline's guitar.

Finn's voice got deeper as the seasons progressed because Jeremy Shada, the person who voices Finn, went through puberty.
Every season, excluding season one, had a two-part episode. The third season provides the first part of a two-part episode.
Adventure Time began airing in Japan on June 2012.
During an interview, Jeremy Shada stated there were talks of a possible Adventure Time movie.[8] An hour-long special has since been confirmed by one of the storyboarders, Jesse Moynihan.[9]

An Adventure Time movie was confirmed on February 27, 2015. It does not currently have a release date or title. (see "film" section above for more details.)[10]

Adventure Time has been nominated nine times for an Emmy in the category Outstanding Short Form Animated Program, two of which it won. The first nomination was for "My Two Favorite People," the second for "It Came from the Nightosphere," the third for "Too Young," the fourth for "Simon & Marcy", the fifth for "Be More," the sixth for "Jake the Brick" (won), the seventh for "The Hall of Egress," the eighth for "Imaginary Resources" (won), and the ninth for "Ring of Fire."
Adventure Time was rated #1 on the Cartoon Network and the Teletoon website.
The McDonald's Happy Meal toys were released on January 17, 2014.
With an 8-year run, Adventure Time is the fourth-longest running Cartoon Network series at the time of its end, behind Ed, Edd n Eddy (10 years), The Powerpuff Girls franchise (12 years), and the Ben 10 franchise (13 years).

The series has a total of 283 produced episodes which makes it the second most number of episodes on all Cartoon Network series, the first being Ben 10 franchise (390).

An Adventure Time opening parody was used as a couch gag in The Simpsons' season 28 premiere, Monty Burns' Fleeing Circus.
Adventure Time has been officially banned by the Kenya Film Classification Board in Kenya for promoting homosexuality.[11]
On November 16, 2017, production on the series officially concluded.[12]
This is the first and only Cartoon Network original series to be renewed with a ninth season. Following the release of the Season 7 dvd, the catgorization of seasons 7-9 were restructured. Following the intended season 9 became season 10, thus making it the first and only Cartoon Network original series to get a tenth season.
Voice actors of main/recurring characters
Gallery
See also
Further readings
References