Additional Voices are general sounds made by groups/crowds of people, such as screaming, conversing, gasping, or saying "Ooo, Aaa." For example, in the episode, "Furniture & Meat," when Finn and Jake were about to be solidified in gold, the people of the Wildberry Kingdom gathered together to watch. The sounds made by this group of people, such as the gasps and screams, are labeled as "Additional Voices."
Who counts as an Additional Voice?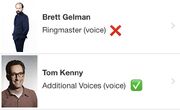 At the right is an example from the episode, "Sad Face." In order an actor be an additional voice, they MUST be credited as such. If said voice actor is credited with a specific voice, it does not count as an Additional Voice, even is the character is considered to be "Minor" or "Background."
Characters that were additionally voiced
Below is a list of characters that had their own individual dialogue, but for whatever reason, the actors whom voiced these characters were never credited in doing so.
Additional Voice Actors
The following is a chart of every Additional Voice actor on record and the episodes that they did additional voices in.
Other Additional Voice Actors
Please Note: The following voice actors are not on record for the characters that they voiced, so please DO NOT use any of them as reference for the voices of any of the characters with additional voices
Below is a life of every voice actor whom specifically only did Additional Voices:
Trivia
Before 2012, there were no such things as Additional Voices.
The earliest known recorded "Additional Voice" was by John DiMaggio. Back then, it was called "Additional Diolouge."
The earliest known episode where there was an additional voice on record was "Slow Love."
It appears that one of the main purposes of "Additional Voices" is group conversing and screaming. In this sence, the voice never comes from a specific character, but is rather apart of a collective of a handful of voices.
There are many voice actors that appeared on the show that did purely additional voices.
Community content is available under
CC-BY-SA
unless otherwise noted.